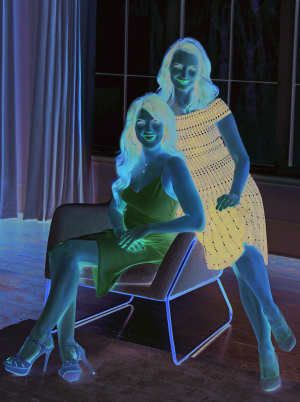 Kristy Katzmann and Kristin Davis from "Labor of Love"
Putting baby first: Ready for a new kind of dating show that puts baby first? It's been nearly 13 years since Kristy Katzmann tried to win Brad Womack's affection on ABC's "The Bachelor." She's giving reality TV another shot this week with Fox's "Labor of Love," premiering Thursday, May 21. And while she's the one making the big decision this time, the men competing for her affection aren't just bachelors -- they're all aspiring fathers.
Katzmann's vision of "happily ever after" includes a child, and at 41 years old, she's ready to make that happen. In "Labor of Love," she's hoping to find a potential father among the 15 paternal-minded participants. It's an unconventional journey to motherhood, and there's no better person to host this kind of series than baby-minded Charlotte of "Sex and the City," aka actress Kristin Davis.
Her latest project since Netflix's "Holiday in the Wild" (2019), Davis serves as both host and producer of this new dating show. "When I first heard the premise of 'Labor of Love,' I knew I had to be a part of this show," Davis said in a statement from the network. "I believe every woman should feel empowered to go after their dreams, whether it be professional or personal, and to be at Kristy's side as she took her future into her own hands was truly exciting."
In each episode of "Labor of Love," Davis will guide viewers and serve as Katzmann's sounding board as the would-be baby daddies and wannabe family men are put through a series of challenges. If their parenting and partnership skills pass the test, they'll continue onto the next round. Will Katzmann find her ideal partner or will she opt for single motherhood? We'll find out at the end of the series' eight-episode run.
Opioid oceanside: With its sun, sand and seaside towns, Cape Cod isn't your typical setting for a dark crime drama from Jerry Bruckheimer ("CSI").
But even this picture-perfect summer destination has been plagued by the opioid epidemic. In fact, in 2018, Massachusetts was one of the states with the highest rates of drug overdose deaths involving opioids, and it's a well-documented problem in Cape Cod.
That world of addiction is explored, albeit fictionally, in "Hightown," premiering Sunday, May 17, on Starz. The series was previously titled "P-Town" after its locale, Provincetown, Massachusetts. It stars "Chicago Fire's" Monica Raymund as Jackie Quiñones, a hard-partying National Marine Fisheries Service agent. Jackie is left traumatized by her discovery of a body on the beach. But instead of indulging in self-destructive tendencies, Jackie finds purpose in the ensuing murder investigation. She believes it's up to her to solve the case and that launches her on a journey to sobriety, even as she is pulled deeper into Cape Cod's heroin epidemic.
Her partner is state police detective Ray Abruzzo (James Badge Dale, "24"), who has a few secrets of his own and has ties to the deceased. The cast also includes Riley Voelkel ("The Newsroom"), Shane Harper ("Good Luck Charlie"), Amaury Nolasco ("Prison Break") and Dohn Norwood ("The Sinner").
There's a lot of talent behind the camera, too. Series creator Rebecca Cutter served as a writer for both "The Mentalist" and "Code Black," and is a former producer of "Gotham." Cinematographer Rachel Morrison, who worked on "Black Panther" (2018) and earned an Oscar nomination for "Mudbound," directed the first two episodes.
Horror on HBO: According to Deadline, HBO is busy developing a new TV series based on the Hellraiser films.
This news has been a long time coming. Rumors have been circulating since last June, when it was revealed that producers had secured the TV rights. The plan now is to build on, and expand, the mythology that was first introduced in the 1987 film. That means HBO's project won't be a remake, and it won't interfere with Spyglass Media Group's big screen "reimagination" of the horror classic (there's your reboot).
If you're a fan, the good news keeps on coming. It was also revealed that David Gordon Green, director of the 2018 film "Halloween," has signed on to helm several episodes of the HBO series, including its pilot episode.
Green is known for frequently collaborating with Danny McBride ("The Righteous Gemstones"), and both names appear on the list of those who will serve as executive producers. That list includes Mark Verheiden ("Heroes") and Michael Dougherty ("X2: X-Men United," 2003), two veterans of the horror and action genres who are also on board as series writers.
Of course, the writer behind it all is British author Clive Barker, whose novella was the basis for the first movie. After directing the R-rated film, the author sold his rights to the characters, including Pinhead, the monstrous leader of the extra-dimensional Cenobites. Nine films and countless licensed products later, the franchise is still going strong and Barker's film is considered a horror classic (albeit a gory one).