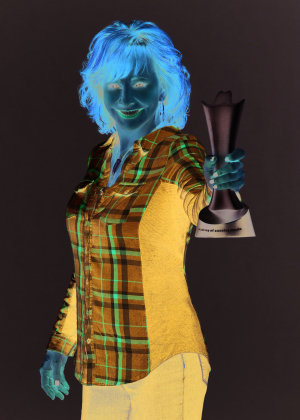 Reba McEntire hosts the 54th Academy of Country Music Awards
Pure country: Pull up those boots and pull down the brim of your hat, it's country time! It's the time of year when the country music industry honors its best with the Academy of Country Music Awards, and this year the show is live from Las Vegas at the MGM Grand Garden Arena on Sunday, April 7, on CBS.
Country music legend and former sitcom star Reba McEntire ("Reba") returns to host for the 16th time, an incredible honor and accomplishment for a woman who lacks neither. The list of nominees across all categories reads like a who's who of modern country music, and quite a number of them will be taking to the stage to help celebrate in the best way possible -- by performing.
Performers lined up for the evening include George Strait, Miranda Lambert, Jason Aldean, Kane Brown, Little Big Town, Chris Stapleton, Thomas Rhett, Brothers Osborne and many more.
This year's ceremony is the last one of the 2010s, and that makes it a special one. The Artist of the Decade Award is handed out every 10 years to an artist who has dominated the genre, someone who has found success in radio, streaming and album sales while also touring and showing distinguished artistic merit. This decade's recipient is "Tonight Looks Good on You" singer Aldean, who joins a group of very distinguished artists such as Strait, Garth Brooks, Loretta Lynn, Marty Robbins and the band Alabama.
There has been some controversy lingering over this year's show, spearheaded by the host herself. Not long after the nominees were announced in February, McEntire publicly expressed her disappointment that there is not a single woman among those nominated in the Entertainer of the Year category, calling attention to the struggles that talented women face when it comes to gaining recognition in the industry.
Of course, that's not to take away from the accomplishments of the nominees themselves. Find out who takes home trophies when the 54th Academy of Country Music Awards airs live on CBS on Sunday, April 7.
Dancing with the stars: A pair of stage legends has made it to the screen. The names Bob Fosse and Gwen Verdon loom large in the theater industry, even years after their deaths, and FX brings the couple's story to the small screen in the gripping new miniseries "Fosse/Verdon," which premieres Tuesday, April 9.
Sam Rockwell ("Three Billboards Outside Ebbing, Missouri," 2017) and Michelle Williams ("Manchester by the Sea," 2016) star as the iconic duo. He's a director and choreographer of plays and films with innovative ideas and unquenchable appetites. She's arguably the greatest dancer that Broadway has ever seen. Only Fosse has what it takes to create musicals groundbreaking enough to show off her talent, and only Verdon has the dancing ability to bring his dreams to life.
Their partnership leads them into a romantic relationship, and eventually they get married. But, like so many Hollywood romances, their relationship comes with more than its fair share of conflicts. Of course, a show about some of history's most revolutionary choreographers needs some show-stopping choreography itself, and "Fosse/Verdon" doesn't disappoint on that front. There are dazzling displays of music and dancing in every episode.
Rounding out the cast are Kelli Barrett ("The Punisher") as a young Liza Minnelli, Norbert Leo Butz ("Dan in Real Life," 2007) as playwright Paddy Chayefsky, Margaret Qualley ("The Leftovers") as up-and-coming performer Ann Reinking, and Nate Corddry ("Mom") as playwright Neil Simon.
The relationship between Fosse and Verdon had its highs and its lows, and they're all on full display in "Fosse/Verdon," premiering Tuesday, April 9, on FX.
Windy City wins: This can be a tense time of year for anyone who has a favorite TV series. It's a culling of sorts, the time of year when cancellations and renewals are announced, and the suspense the fans feel as they wait to learn the fates of their favorite series can be almost as gripping as the shows themselves.
Well, I have some good news for fans of NBC's Wednesday night lineup: the peacock network has renewed all three shows in its hit Chicago franchise, solidifying its ratings position on that evening for another season.
Really, though, it's pretty unsurprising. "Chicago Fire," "Chicago P.D." and "Chicago Med" are all hits, with these renewals bringing them their eighth, seventh and fifth seasons, respectively. Although each show can be watched as a stand-alone, many characters pop up in all three shows, and their storylines often intersect, especially when a major event strikes and the city's firefighters, police officers and doctors are called in to help.
Despite the success of all three Chicago shows, the Dick Wolf-created franchise does have one major black mark on its record. A fourth series, "Chicago Justice," aired in 2017 but was canceled after a single season when it failed to capture audiences' attention in the same way that the other three had.
Despite "Justice's" failure, the Chicago franchise is still going strong. All three shows return next fall to NBC.