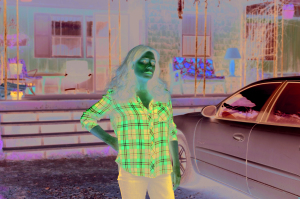 Maura Tierney stars in "American Rust"
As the television universe expands with access to seemingly endless streaming series, one-off specials and feature films, a few programs stand out as ones to watch, with brilliant casts and riveting source material. One such series examines the decline of small-town America against the backdrop of a murder investigation.
Two-time Emmy winner Jeff Daniels ("The Newsroom") returns to prime-time television as Del Harris, the police chief of a struggling steel town in southwest Pennsylvania, in "American Rust," premiering Sunday, Sept. 12, on Showtime. Emmy nominee Maura Tierney ("The Affair") co-stars as Grace Poe, the woman trying to convince her co-workers at a dress factory to join a union. In love with Poe, Harris faces a difficult choice when her son, Billy (Alex Neustaedter, "Colony"), is accused of murder.
The nine-episode series is based on the novel of the same name by acclaimed writer Philipp Meyer, winner of the Los Angeles Times Book Prize for First Fiction. This is not the first TV adaptation of one of Meyer's books; in 2017, his novel "The Son" was adapted for the small screen as a western drama starring Pierce Brosnan ("GoldenEye," 1995) for AMC.
Billed as a "compelling family drama" in an official Showtime release, the project has actually been in the works since 2017, when it was announced that USA Network had given it a straight-to-series order. Unfortunately, plans for the show fell through at that time because producers couldn't find the right leading man. In 2019, however, the project was revived for Showtime with Daniels as both the star and an executive producer.
The project reunites Daniels with Oscar nominee Dan Futterman ("Capote," 2005), who has signed on as an executive producer, writer and showrunner. The pair previously worked together on the 2018 Hulu miniseries "The Looming Tower," which earned four Emmy nominations. Showtime Networks President of Entertainment Gary Levine had high praise for the duo in an official release announcing the details of the production.
"Jeff Daniels is a bona fide giant on stage and screen, and Dan Futterman is a special writer, and we couldn't be more thrilled to have them together at Showtime," Levine said. "With vibrant characters caught in an unpredictable murder mystery, 'Rust' will tell the relevant and touching human story of the corrosion of the American dream."
With a television and film career that spans five decades, Daniels is one of Hollywood's most prolific actors. Since his film debut in "Ragtime" in 1981, he's proven his versatility in a bevy of big-screen projects, including "Gettysburg" (1993), "Dumb and Dumber" (1994), Disney's "101 Dalmatians" (1996), "The Hours" (2002), "Good Night, and Good Luck" (2005) and "The Martian" (2015). On television, he's perhaps best known as news anchor Will McAvoy in HBO's "The Newsroom," a role that earned him an Emmy in 2013. He earned another Emmy for his work in the Netflix miniseries "Godless" in 2017. Daniels brings that versatility to "American Rust" as Harris, who struggles to decide how far he is willing to go to protect Billy.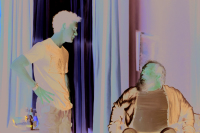 David Alvarez and Billy Camp in "American Rust"
More than a straightforward murder mystery, "American Rust" shows viewers the realities of once-bustling towns in what is known as the Rust Belt -- an area of the United States hit hard by economic decline and rising crime rates. Tierney's Grace is a direct reflection of that decline as she frets about her job at the dress factory. The actress is no stranger to Showtime.
From 2014 to 2019, Tierney starred as Helen Solloway in the mystery drama "The Affair" on the cable channel. She's also well known for her role as Abby Lockhart in the classic medical drama "ER" and as Lisa Miller in the sitcom "NewsRadio."
As Billy, Neustaedter portrays a young man torn between personal loyalties and his own desires. A former high school football star, Billy turned down an athletic scholarship to stay in town. While Neustaedter is best known for his work on USA Network's sci-fi series "Colony," his credits also include "A.X.L." (2018), "American Woman" (2018) and "Josie & Jack" (2019).
David Alvarez plays Billy's friend, Isaac English, who decides to run away from his ailing father and sets out to hitchhike across the country. A military veteran, Alvarez won a Tony Award for his starring turn in "Billy Elliot the Musical" on Broadway, and has been cast in Steven Spielberg's upcoming big-screen production of "West Side Story."
Fellow Broadway actor and Emmy nominee Bill Camp ("The Outsider") portrays Isaac's disabled father, Henry English. A former steelworker and a widower, Henry has burdened Isaac with his full-time care. Camp earned a Tony nominee for his role in "The Crucible" in 2016 and was honored with an Emmy nod for his work in the HBO miniseries "The Night Of" in 2017. More recently, he appeared in the Netflix miniseries "The Queen's Gambit."
When Isaac runs away, Henry calls upon his daughter, Lee (Julia Mayorga, "It Is Decidedly So," 2018). A Columbia law school graduate, Lee is forced to return to her hometown. Mayorga was studying acting at the Terry Knickerbocker Conservatory when she was cast in "American Rust."
With Daniels leading the charge and a mix of seasoned actors and talented newcomers, this powerful tale about the tattered American dream is one to watch.
Catch the premiere of "American Rust" Sunday, Sept. 12, on Showtime.