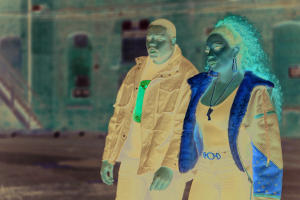 Preston Christopher Lawrence and Mary J. Blige in "Power Book II: Ghost"
The crime-drama series "Power Book II: Ghost" began its own seat-edge narrative just six months after the original series, "Power," wrapped up its sixth and final season in February 2020. Now at the end of its second season, the cast and crew are preparing to deliver an action-packed finale fans won't want to miss. "Power Book II: Ghost" Season 2 draws to a close on Sunday, Nov. 21, on Starz.
In a shocking, pseudo-Shakespearean move, fans looked on as Tariq (Michael Rainey Jr., "The Butler," 2013) killed his father, Ghost, in Season 1. As he dealt with the consequences of his actions, Monet (Mary J. Blige, "Mudbound," 2017), the Tejada family matriarch, was left to take the fall for Ghost's murder, and now she's without her trusted bodyguard, Owl (Preston Christopher Lawrence, "The Punisher").
Ever since the murder, Tariq has been battling haunting reflections of the father he killed, the mother he doomed and the life he chose.
So far, Tariq has struggled to save his family business. While trying to obey Monet's wishes and attend high school, the ruthless Tejada family's hold over the young man is strong, gunning for him to take control of the streets. If "Power Book II: Ghost" has taught audiences anything, it's that looks can be deceiving, and your biggest ally might just be your greatest enemy.
"Power" was created and produced by Courtney A. Kemp ("The Good Wife") in collaboration with Curtis "50 Cent" Jackson ("Freelancers," 2012) and aired from 2014 to 2020. The series follows the story of James "Ghost" St. Patrick (Omari Hardwick, "For Colored Girls," 2010), who was an intelligent drug dealer trying to leave the criminal world behind to pursue a legitimate business as a nightclub owner. All the while, he evaded arrest and his crumbling family life.
Meanwhile, his son had plenty of other plans and problems stemming from his father's world. On top of that, Tariq deals with his own dilemmas, chief among which involves his love interest, Diana (LaToya Tonodeo, "The Oath," 2018), part of the Tejada family, with whom Tariq has a (quite literal) love-hate relationship.
Tariq transitions from a side character in "Power" to a morally grey anti-hero in "Power Book II." It's a role that, given Tariq's faces, needed an actor who could grasp the character's complex and conflicting emotions -- something Rainey Jr. does with ease.
After freeing Monet from the death penalty and putting her into witness protection, Tariq faked his Uncle Tommy's (Joseph Sikora, "Shutter Island," 2010) death. Yes, Tommy is "dead," but he'll no doubt be back -- he has a score to settle with the two of them, after all. To make matters more complicated, just because there's been an effort to save Monet doesn't mean there isn't bad blood between her and Tariq. The young man now appears rather stuck; he knows that making Monet disappear would be an end to his grief, but he also feels a sense of duty toward her.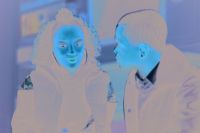 LaToya Tonodeo and Michael Rainey Jr. in "Power Book II: Ghost"
In "Power Book II," family is hardly family. It's a business. Tariq entered a world he's trying to get out of, not unlike his father, and in the meantime, he's become a businessman, a high-performing drug dealer and a killer (also rather like "Ghost"). But he's still just a kid.
Rainey Jr. also rose to fame as a kid. At 10 years old he starred in the Italian film "Un altro mundo" (2010), even learning to speak Italian for the role. Since then, he has worked alongside Hollywood household names Danny Glover ("The Drummer," 2020), Charles Dutton ("Carter High," 2015) and Nicholas Cage ("Pig," 2021), to name a few.
For those not caught up on the Power universe, the second installment, "Ghost," has also featured cameos from other strong and influential actors this season, from Daniel Sunjata ("Manifest") to Lovell Adams-Gray ("Christmas in the Rockies," 2020) and Melanie Liburd ("This Is Us"), among others.
The series has also had time to rack up a few awards over the course of its first season. The winner of the 2021 Image Awards (NAACP) for Outstanding Drama Series, "Power Book II" also won Method Man ("Venom," 2015) the Image Award for Outstanding Supporting Actor, while Blige won for Outstanding Supporting Actress.
In addition, the Women's Image Network Awards of 2021 recognized Kemp's behind-the-scenes talent, honoring her with awards for Outstanding Show Produced by a Woman, Outstanding Drama Series and Outstanding Film or Show Written by a Woman. In addition to the Power franchise and "The Good Wife," Kemp is a screenwriter and producer who has written for "The Bernie Mac Show," "Hawaii Five-0" and "Beauty and the Beast," the 2012-13 contemporary crime drama centered on the legendary fable.
With the direction of gifted creatives and artists dedicated to their craft, this season of "Power Book II: Ghost" has left us wanting and waiting for more. Fans finally get to see how it all goes down when the Season 2 finale of "Power Book II: Ghost" airs on Starz on Sunday, Nov. 21.