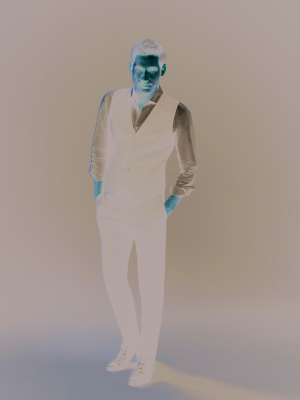 Tom Ellis to voice star in Netflix series based on "Exploding Kittens" card game
Playing games: The popular card game "Exploding Kittens" is getting the Netflix treatment.
Just a few weeks ago, the streamer announced it would be launching an exclusive "Exploding Kittens — The Game" app this month. Available to Netflix subscribers without any extra fees or in-app purchases, the mobile version of the Kickstarter darling features both single and multiplayer options, and the gameplay remains largely the same — players draw cards and hope to avoid the Exploding Kitten — though Netflix's game includes two new cards, Radar and Flip Flop.
Netflix's interest in "Exploding Kittens" isn't strictly game-related, however: An adult animated comedy series is also in the works for a planned 2023 debut, marking the first time Netflix would launch both a TV series and a mobile game from the same franchise.
"Exploding Kittens" (the TV show) hails from "King of the Hill" creators Mike Judge and Greg Daniels, who are attached as executive producers via their animation company, Bandera Entertainment.
According to Netflix, the series tells the story of how "the eternal conflict between Heaven and Hell reaches epic proportions when both God and the Devil are sent to Earth — in the bodies of chunky house cats." It will feature the voices of Tom Ellis ("Lucifer"), Abraham Lim ("The Boys"), Lucy Liu ("Elementary"), Ally Maki ("Wrecked"), Mark Proksch ("What We Do in the Shadows") and Sasheer Zamata ("Woke").
Fans can also expect the mobile game to further evolve once the Netflix series arrives, as Netflix is already promising "future cards and game mechanics will be themed around the animated series."
"The co-development of a game and animated series breaks new ground for Netflix," Mike Moon, Netflix's head of adult animation, said in a statement. "And we couldn't think of a better game to build a universe around than 'Exploding Kittens,' one of the most inventive, iconic and original games of this century."
Boarding call: "Luther" and "Sonic the Hedgehog 2" (2021) star Idris Elba has teamed up with Apple TV to take down hijackers — fictional ones, of course.
The multi-hyphenate performer will soon star in "Hijack," a tense thriller drama set aboard a hijacked airplane. Elba will play the role of Sam Nelson, an accomplished business negotiator who steps up and uses his guile to try to save the lives of passengers onboard a plane bound for London. It's a risky move for his character; for viewers, the story will play out in real-time, as the harrowing seven-hour journey is chronicled across seven installments.
"Hijack" is the first project to result from Elba's Green Door Pictures' first-look deal, which was signed with Apple TV in 2020. Elba will executive produce alongside "Lupin" creator George Kay, who is also writing "Hijack." Jim Field Smith ("Criminal: UK") is attached to direct.
Elba founded Green Door Pictures in 2013 to champion diversity, and the company's most recent TV credits include "Idris Elba's Fight School," which launched last month on BBC Two in the U.K., "In the Long Run" for Sky One and Starz, and Netflix's "Turn Up Charlie."
Next up for Elba is the movie thriller "Beast," which roars into theaters this August, as well as Netflix's feature film continuation of "Luther."
Straight-to-series 'Man': In early April, before "Better Call Saul" had even kicked off its final season, AMC announced it was fast-tracking a new project involving series star Bob Odenkirk.
That project was "Straight Man," an adaptation of Richard Russo's novel of the same name, and at the time, it was only announced as being "in development." But barely two weeks later, "Straight Man" has been handed a series order. It's slated to premiere in 2023 on AMC and its streaming platform, AMC .
"Straight Man" follows William Henry Devereaux Jr., played by Odenkirk. In the novel, the protagonist is the interim chair of the English department at a badly underfunded college in the Pennsylvania rust belt, and the story follows Devereaux as he endures a very bad week.
This will be Odenkirk's third series at AMC after "Breaking Bad" and its prequel, "Better Call Saul."
"The saying goes 'the third time's a charm,' but when it comes to Bob Odenkirk on AMC, the first and second times were about as charming, captivating and viscerally entertaining as it gets," Dan McDermott, president of entertainment and AMC Studios, said in a statement.
Sony Pictures Television, which signed Odenkirk to a first-look deal in 2020, is producing the project via its TriStar Television, Inc. division and alongside Gran Via.
"Damages" creator Aaron Zelman and "The Office" writer/producer/star Paul Lieberstein are adapting the novel for TV and will serve as showrunners, while Peter Farrelly ("Green Book," 2018) is set to direct.