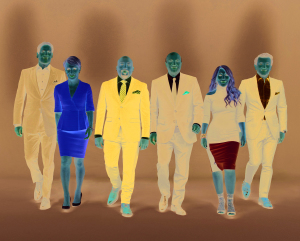 Mark Cuban, Barbara Corcoran, Daymond John, Kevin O'Leary, Lori Greiner and Robert Herjavec from "Shark Tank"
America's entrepreneurs and business owners have been toiling away, developing the perfect pitches to present to the investors of "Shark Tank," and on Friday, Oct. 8, ABC will reveal just how many deals were made in the hit reality television series' 13th season premiere.
"Shark Tank" places aspiring businesspeople and passionate inventors in front of its panel of outlandishly successful Sharks, business investors who determine whether the pitches provided by the contestants are enough to pique their financial interest. If the Sharks like what the contestants are selling, they shake on lucrative deals (often after some negotiation), and contestants come out with immeasurably more than what they walked in with.
Four of the Sharks that business mogul hopefuls must face have paneled "Shark Tank" since its very first episode in 2009. Among them are American business giants Daymond John, CEO of apparel giant FUBU, and real estate titan Barbara Corcoran.
Alongside John and Corcoran are Canadian Sharks Robert Herjavec, who built his millions in the business of internet security, and Kevin O'Leary, who began his career in the world of education software and recently took a stab at politics. Both O'Leary and Herjavec appeared in early seasons of the hit Canadian version of the show, "Dragons' Den," in addition to their full-series run on the American "Shark Tank."
While both Canadian software entrepreneurs, Herjavec and O'Leary represent very different viewpoints on the Sharks panel, with Herjavec's fairly soft-spoken and understanding energy and O'Leary's cutthroat, abrasive attitude showing that budding entrepreneurs and business people have got to be ready for anything if they make it in to pitch to the Sharks.
Billionaire Mark Cuban, meanwhile, became a Shark in Season 3, and in Season 4 the show welcomed seasoned QVC-TV personality Lori Greiner to the panel.
Greiner showed the other Sharks exactly what makes her such a savvy businessperson in her debut season when she invested in the Scrub Daddy, a uniquely textured smiley sponge. The Scrub Daddy has remained the most successful product to ever come out of "Shark Tank," its deal boasting more than $200 million in lifetime sales.
One of the most interesting deals struck in Season 12 of "Shark Tank" had four of the Sharks — Herjavec, Cuban, Greiner and guest Shark KIND snack company founder Daniel Lubetzky — going in together on a deal with the honey winery Bee D'Vine after sampling the product during founder Ayele Solomon's pitch. After debating the price point of the bottles, the Sharks made an uncontested deal for a 40 per cent stake in the company for a whopping $750,000.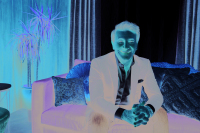 Robert Herjavec from "Shark Tank"
Lubetzky is one of many exciting guest Sharks who have appeared on "Shark Tank" to shake things up and make handshake deals. ABC revealed at an August 2021 Television Critics Association presentation that this upcoming season will feature four more guest Shark appearances.
These guest Sharks include actor and HartBeat Productions creator Kevin Hart ("Night School" 2018), British entrepreneur and original panelist on BBC's "Dragons' Den" Peter Jones, co-founder and CEO of apparel brand Good American and founding partner of SKIMS Emma Grede, and neighborhood social networking service Nextdoor co-founder and former CEO Nirav Tolia. Each guest will appear on separate episodes throughout the season, bringing their individual expertise to the tank.
There is something so inspirational about watching people pitch their passion project to someone who could make their wildest dreams come true. With an investment and some guidance, the Sharks are changing the face of small businesses and startups. The American "Shark Tank," just one of nearly 30 versions worldwide, is based on the format of Japan's "Tigers of Money," which began in 2001. It was later adapted in Britain as "Dragons' Den" in 2005 as other national versions began popping up around the globe.
The "Tigers of Money" and "Shark Tank" format has been so popular since then that even as late as 2020, countries such as France and Switzerland have premiered their own local versions. Similarly, as is a popular trend among many beloved series in Canada, a French-language version of "Dragons' Den" was launched in Quebec called "Dans l'oeil du Dragon" (translated from French as "in the eye of the Dragon").
Not only has the "Tigers of Money" concept seen global success, but "Shark Tank" has remained a consistent ratings hound on ABC, a popularity further reflected by the critics as the show won a whopping four consecutive Primetime Emmy Awards in its category for Outstanding Structured Reality Program between 2013 and 2017. In this respect, "Shark Tank" was unseated by the incredibly popular fashion TV sensation "Queer Eye" in 2018.
With fans, critics and award-voting bodies behind "Shark Tank," there is no stopping this phenomenon. And just like the sharks of the wild, open ocean, the show keeps on moving forward.
Don't miss the start of an exciting new season of "Shark Tank," premiering Friday, Oct. 8, on ABC.