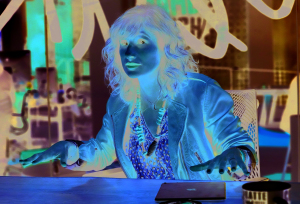 Sarayu Blue as seen in "I Feel Bad"
Being everything to everyone is no easy feat. In fact, it's darn near impossible, and yet it's a level of perfection many of us have felt the pressure to attain. From executive producer Amy Poehler ("Saturday Night Live") comes a comedy about a woman's guilt in her pursuit to have it all. "I Feel Bad" airs Thursday, Oct. 4, on NBC and shares the life of a perfect boss, wife, mother, daughter and friend who may not be quite as perfect as she tries to be.
Working mom Emet (Sarayu Blue) experiences the struggles that many women experience while trying to have it all. She works to balance her career as a video game storyboard artist and her family life as a mother and wife with her own personal happiness. Emet feels pulled in several directions as she manages her guilt over leaving the kids with a babysitter while she's at work, her worry over whether she's turning into her mother, and the desire to be seen as cool and not feel old around her coworkers.
You may recognize series star Blue from appearances in comedy favorites such as "The Big Bang Theory" and "Veep." Before landing the role of Emet, the actress appeared in 2013's short-lived medical drama "Monday Mornings" as Dr. Sydney Napur, and was in this summer's hit comedy, "Blockers." Happy to return to her comedy roots in a starring role, Blue told Kathy Lee Gifford on "Today" that getting the chance to bring the character of Emet to life has been "a dream come true on every level."
Each episode of "I Feel Bad" sees Emet confront an aspect of the guilt she feels as a result of contemporary womanhood and its expectations of perfection on all fronts. One of those expectations Emet struggles to meet is the standard of modern motherhood. In the trailer for the series, Emet struggles with allowing her young daughter, Lily (Lily Rose Silver, "NCIS"), to participate in a dance group that performs some provocative moves.
That isn't to say that Emet is the only character who struggles with the demands of adult life. Paul Adelstein ("Scandal") plays Emet's husband, David, who has trouble becoming a more sensitive father, having been raised to be a man's man.
The series is based on the illustrated book, "I Feel Bad. All Day. Every Day. About Everything," from author Orli Auslander. Auslander sketched depictions of why she felt bad to make herself laugh, eventually showing the pieces in a gallery and later pursuing a publisher to collect them into a book.
There is one moment in the trailer for the series that sparked discussion at the recent Television Critics Association summer press tour. Emet pushes some boundaries at work when she asks her team of younger male employees if she's still "do-able." This scene was raised as a possible faux pas in a world that has embraced the Me Too movement and with it, workplaces free from harassment.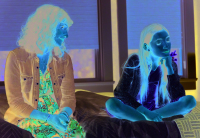 Sarayu Blue and Lily Rose Silver in a scene from "I Feel Bad"
Series creator Aseem Batra quickly related the scene to what it takes to fit in in male-dominated comedy writers rooms, sharing, "I wouldn't be sitting here today if I said, 'Stop it. This is wrong.'" The scenario is familiar to many women who've been the only female voice in the room. Batra has built a career over 13 years as a writer and producer of hits such as "Scrubs" and "A.P. Bio," and she shared that success in the industry comes with both tolerating and being responsible for those uncomfortable moments.
"I Feel Bad" does not appear to strive to contribute to the narrative that women can have it all and maintain perfection in all aspects of their lives simultaneously. Rather, it seems to make the point that to have it all means to make mistakes in the process, like Emet does.
The series packs some star power behind the scenes with executive producer Poehler, who, among many other memorable roles, portrayed the iconic perfectionist Leslie Knope in "Parks and Recreation." The series will likely be yet another hit for Poehler, who recently judged the handiwork of crafters in NBC's "Making It" and also produces Comedy Central's "Broad City."
Though "I Feel Bad" is not Poehler's first producing credit, it is her first pilot to be ordered to series on a major network. With the projects she's chosen to produce, Poehler appears to be interested in sharing the perspectives of the relatably unruly, less likable women not typically portrayed on screen.
Elevating points of view not typically included in the production of a sitcom was important to the assembly of the "I Feel Bad" writers room. Batra shared at a TCA event that "it wasn't checking off boxes or mandates, but I finally brought in voices that aren't always heard, to create an opportunity to make something fresh, from age to sexuality to ethnicity."
Make sure to check out "I Feel Bad" when its official premiere airs Thursday, Oct. 4, on NBC.