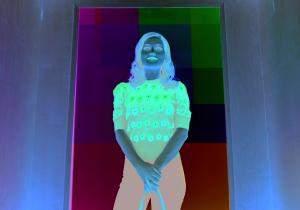 Jane Levy stars in "Zoey's Extraordinary Playlist"
If you'd told me a few years ago that musicals would be this culturally relevant in 2020, I would have been skeptical. For a while, tastes had changed -- movies like "My Fair Lady" (1964) and "West Side Story" (1961) won Oscars in the '60s, but it's been many years since a musical has been taken quite that seriously. Today, though, musicals are popular enough to get both Academy Award nominations and prime-time network slots.
The musical has come a long way. Critically acclaimed movies like "La, La, Land" (2017), shows like "Glee" and "Crazy Ex-Girlfriend" and a stream of live-action Disney remakes have brought the genre back into the limelight, and its rebirth spans film, television, theater and podcasting. NBC is set to offer its own addition to the trend with its brand-new musical dramedy "Zoey's Extraordinary Playlist," premiering Tuesday, Jan. 7.
Starring Jane Levy ("Suburgatory") as the titular character, the show centers on the life of Zoey Clarke, a computer programmer whose extremely brainy, rigid nature often gets in the way of her ability to make an impression on the people around her. "All Zoey wanted was a connection ...," narrates the first trailer for the show, "... what she got, was so much more."
In an event not unlike your standard superhero origin story, an MRI scan gone wrong leaves Zoey with the ability to access people's innermost thoughts and feelings. It's like she becomes a mind reader overnight, her desire to fully understand what people want from her seemingly fulfilled. And it doesn't end there -- remember, we're playing with musical rules here, there's a campy twist to all of this. "People are singing to me," Zoey explains. "Almost as if they were singing what they were thinking out loud."
One second, Zoey's having a regular conversation with her best friend, Max, played by Skylar Astin ("Pitch Perfect," 2012). Next thing she knows, he's singing and dancing to the Jonas Brothers' groovy hit "Sucker," making his secret feelings for her abundantly clear. In another scene from the musical dramedy, Zoey's at a café with her neighbor Mo (Alex Newell, "Glee"), trying to come to terms with her new ability, when she witnesses an elaborate, fully choreographed performance of DJ Khaled's "All I Do is Win," but Mo only sees "a bunch of mostly white people drinking overpriced coffee."
It's a fun premise for a show, one that indulges the typical musical's over-the-top, performative nature as much as it subverts what the genre tends to be. And the rest of the cast is nothing to sneeze at, either -- John Clarence Stewart ("Luke Cage"), Lauren Graham ("Gilmore Girls"), Mary Steenburgen ("The Last Man on Earth") and Peter Gallagher ("The O.C.").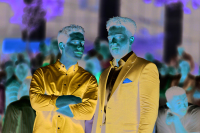 Skylar Astin and John Clarence Stewart in "Zoey's Extraordinary Playlist"
Creator and showrunner Austin Winsberg, whose diverse credits working on melodramas such as "Gossip Girl" and the "The Sound of Music Live!" sum up the unique tone of his new creation perfectly, has come up with a concept that I've never seen before: a musical that, through its lead, breaks its own fourth wall. It's pretty remarkable when you think about it, given that one of the biggest gripes surrounding the genre is the amount of suspension of disbelief required from the audience.
How do you make people buy into the emotional life of characters who transition from dialogue to song as though it were nothing? Taking it at face value, people singing and dancing out of nowhere is very off-putting and absurd, right? Well, "Zoey's Extraordinary Playlist" kind of agrees, but it seems to have found its own solution to the problem. Instead of expecting the viewer to accept the musical numbers without question, why not have the lead character find the singing out of place, too?
It's brilliant, and it gives the new series an edge that other shows of the musical genre don't have. It makes it more accessible to audiences, gives them a greater ability to attach to Zoey's character, and makes the comedy land beautifully (what's funnier than a de facto one-woman audience for huge musical numbers?). But, most importantly, it gives the singing even more of a punch and allows the characters to speak their most vulnerable truths. It's hearing what people are feeling, which is what musicals are all about.
"[The show] is about how we express ourselves," said Graham, who plays Zoey's no-nonsense boss, Joan. For a character who struggled to communicate her whole life, Zoey is handed the chance to hear others' innermost thoughts through music, a language as universal as they come -- a gift curious in that it sends her on a journey that doesn't necessarily highlight her own voice but her ability to listen to others. It's a journey that's going to be hard to resist diving into. Tune in to a show that both reinvents and completely stands by the heart of the musical genre, when "Zoey's Extraordinary Playlist" premieres Tuesday, Jan. 7, on NBC.