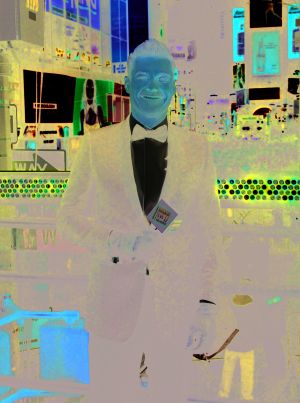 Ryan Seacrest hosts "Dick Clark's New Year's Rockin' Eve With Ryan Seacrest"
Out with the old: It's almost time to say goodbye to 2018 and welcome 2019 with open arms, and that can mean only one thing: it's time to party, to send off the old year and ring in the new with music, spectacle and celebration.
As has been the case for decades, the biggest New Year's Eve party of all -- at least if you're ranking them by sheer number of viewers -- is on ABC. Ryan Seacrest ("American Idol") returns to host "Dick Clark's New Year's Rockin' Eve With Ryan Seacrest" on the alphabet network, with co-host Jenny McCarthy ("The View") also back to help ring in the new year.
In addition to the live show from New York City's Times Square, "Rockin' Eve" also features the festivities going on in New Orleans, hosted by actress Lucy Hale ("Pretty Little Liars"), while singer Ciara brings a number of musical acts from Hollywood, including the Chainsmokers, Charlie Puth, Dua Lipa and Macklemore with Skylar Grey.
After taking a year off due to some scheduling conflicts, "New Year's Eve With Carson Daly" returns to NBC. The eponymous Daly ("The Voice") is joined this year by co-hosts Chrissy Teigen ("Lip Sync Battle") and Leslie Jones ("Saturday Night Live"), while country music legend Keith Urban takes the stage in Nashville to belt out some farewell tunes for 2018.
It's been an eventful year, and a new one is always cause for celebration. Whatever your tastes may be, the TV networks have all of the bases covered to send off 2018 and welcome in the new year.
Out of the darkness: Gotham City's dark night is coming to an end. Since it premiered back in 2014, Fox's "Gotham" has spent four seasons spinning a new origin story for Batman and his gallery of roguish villains, and the fifth season is to be the end of that story.
Premiering Thursday, Jan. 3, on Fox, the 12-episode final season aims to wrap up the ongoing storylines while setting up a young Bruce Wayne (David Mazouz, "Touch") to finally face his destiny as the Caped Crusader.
"Gotham" has taken a different tack for the Batman story than the one that's usually told. Instead of focusing on the young orphan and his path to vigilantism, the series has focused on detective James Gordon (Ben McKenzie, "The O.C."), the man who eventually goes on to become one of Batman's staunchest allies.
Of course, it isn't just Gordon and Batman who have new origin stories thanks to this prequel series; the superhero's iconic villains have, too. In its run, the show fleshed out the stories of The Riddler (Cory Michael Smith, "First Man," 2018), Penguin (Robin Lord Taylor, "Accepted," 2006), Ra's al Ghul (Alexander Siddig, "Star Trek: Deep Space Nine"), Two-Face (Nicholas D'Agosto, "Masters of Sex") and Catwoman (Camren Bicondova, "Battlefield America," 2012).
Details on the plot of the final season have been kept tightly under wraps, but a trailer does provide a few hints. After the events of last season, Gotham City remains under martial law with criminals ruling the streets, and it looks like a certain back-breaking baddie is due to finally make an appearance.
"Gotham" has always been a dark and gloomy kind of show, and it looks like things in the fictional city have become even more dire. The fifth and final season premieres Thursday, Jan. 3, on Fox.
Scripted forensics: NBC is searching for its next big procedural, and it may have found what it's looking for in a 1999 film. Although it wasn't loved by critics at the time, "The Bone Collector" was a big hit at the box office, and the peacock network has ordered a script for a potential new series based on the movie and the 1997 novel of the same name.
Like the movie and novel before it, the series -- if it sees the light of day -- will follow a retired forensic criminologist who became paralyzed after a tragic workplace accident. Played by Denzel Washington ("The Equalizer 2," 2018) in the film, he's brought out of retirement by a young detective -- Angelina Jolie ("Maleficent," 2014) in the film -- to investigate a horrific series of murders that turn out to have a very personal connection.
While the cinematic "Bone Collector" only had the single film, the novel it was based on was a huge hit and went on to spawn an entire series of 11 books, providing a lot of material for script writers to work with for a TV series.
With the pilot script still in the early stages of production, it's too early for any casting announcements, but more news should be forthcoming as we enter pilot season. Stay tuned for more news on a potential "The Bone Collector" series.