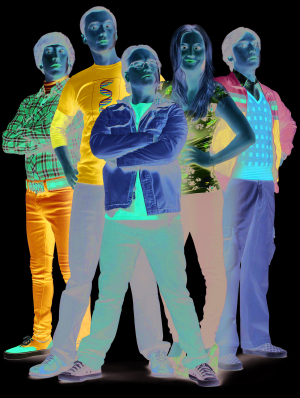 "The Big Bang Theory" stars Simon Helberg, Jim Parsons, Johnny Galecki, Kaley Cuoco and Kunal Nayyar
Out with a 'Bang': After 12 incredible seasons, TV's top comedy is calling it quits, with Sheldon, Leonard and the rest of the gang all headed off into the sunset. For "The Big Bang Theory" fans, there is a silver lining, though: there's still one more season to go, and it premieres Monday, Sept. 24, on CBS.
There aren't a lot of sitcoms that can claim to have that many seasons under their belt, but this beloved series has more than that: it's the most-watched comedy on television right now, and rather than "jump the shark" and end the series after a period of decline, it's ending things while it's still at the top of its game.
"The Big Bang Theory" premiered back in 2007 with a shaky first season that struggled to find either an audience or favorable critics, but it found its footing in the second season and has been unstoppable ever since. The series revolves around a group of socially awkward and nerdy scientists, including Sheldon Cooper (Jim Parsons, "Hidden Figures," 2016), a character so popular that he earned his own sitcom, "Young Sheldon."
Johnny Galecki ("Roseanne"), Kaley Cuoco ("8 Simple Rules"), Simon Helberg ("Studio 60 on the Sunset Strip"), Kunal Nayyar ("Trolls," 2016), Melissa Rauch ("True Blood") and Mayim Bialik ("Blossom") also star as members of the group, with Kevin Sussman ("Burn After Reading," 2008) rounding out the cast as the owner of the local comic book shop.
The final season picks up with the gang in remarkably different places in their lives than they were back when the series started. Sheldon and Amy (Bialik) were married at the end of last season, joining already-married couples Leonard (Galecki) and Penny (Cuoco), who wed in season 10, and Howard (Helberg) and Bernadette (Rauch), who married in an earlier season and now have two children together.
There have been some big life changes for the "Big Bang Theory" pals since the series began, and the last season of their geeky adventures begins Monday, Sept. 24, on CBS.
Potential found: HGTV has found its newest star, and the specialty channel isn't letting her get away any time soon. California builder and designer Jasmine Roth has found a hit with her freshman series "Hidden Potential," and a second 17-episode season has already begun production with a planned premiere date sometime next year.
The series feels right at home among HGTV's offerings, and viewers clearly agree: it's been a huge hit with audiences, and a big part of that popularity no doubt has to be credited to the charming host, whose combination of a winning personality, design chops and building know-how all conspire to make her a force to be reckoned with onscreen.
Each 30-minute episode of "Hidden Potential" finds Roth setting out on her continuing mission to take cookie-cutter homes and transform them into anything but. These days, most houses are built to a standard plan, but when Roth steps into a home, she's immediately a font of ideas for how to customize it.
Whether she's turning a tiny cupboard under a staircase into a charming playroom for children, transforming a cramped dining nook into a foodie's paradise or ripping out awkward walls that break up a house's flow, her renovations are all completely customized to please the homeowner.
All houses deserve to have a unique flair, and Jasmine Roth is just the person to build it. Watch for a new season of the freshman hit "Hidden Potential" sometime next year.
In their words: It's been almost 50 years since the gruesome Manson murders shocked the world, but fascination with the enigmatic man and the cult that he built around him has done anything but wane. Now, a new two-hour special that premieres Monday, Sept. 17, on Fox will reveal new footage to the world that sheds new light on Charles Manson and his band of followers.
Narrated by Liev Schreiber ("Ray Donovan"), "Inside the Manson Cult: The Lost Tapes" comes just 10 months after the notorious cult leader's death. Along with new interviews with former Manson cult members and key people involved in the case, the special also features a wealth of footage culled from more than 100 hours of film made by a young filmmaker who was given access to the cult at a time when no one suspected that its leader, who preached a message of peace and love, would persuade his followers to commit several horrific murders in 1969.
That filmmaker died in 2016, leaving a massive collection of interviews, photos and film footage that illustrate the charismatic cult leader's increasing control over his followers, to an extent that they eventually killed on his orders. It's a grisly story to be sure, but it's one that's long fascinated people.
With the new film footage and interviews finally seeing the light of day, "Inside the Manson Cult: The Lost Tapes" shines a new spotlight on this dark piece of history. The documentary premieres Monday, Sept. 16, on Fox.