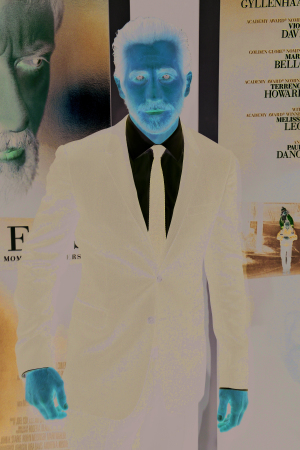 Jake Gyllenhaal to star in "The Son"
From Oslo to HBO: Last month, fans of director Denis Villeneuve were left disappointed when the release of his highly anticipated film adaptation of "Dune" was postponed to October 2021.
If you're stuck trying to get your sci-fi/Villeneuve fix by rewatching "Dune" trailers or "Arrival" (2016), you might want to preemptively pick up Jo Nesbø's bestselling novel, "The Son": HBO recently gave a series order for a TV adaptation, with Villeneuve attached as both director and executive producer.
What's more, Villeneuve is reteaming with his "Prisoners" (2013) star Jake Gyllenhaal to bring the crime story to the small screen. Gyllenhaal is on board as the star of the limited series, which, if it remains faithful to the source material, is a tale of vengeance and corruption set in Oslo, Norway. The story is centered on Sonny Lofthus, an escaped convict on the lam and an opioid addict who can't recall his past.
Gyllenhaal, who is also teaming up with his "Southpaw" (2015) director Antoine Fuqua for Netflix's "The Guilty," will serve as executive producer to the adaptation of "The Son" through his Nine Stories production company. It's interesting to note that Gyllenhaal and his producing partner, Riva Marker, were the ones who optioned the film rights back in 2016. According to Deadline, Gyllenhaal had been looking for another opportunity to collaborate with Villeneuve and gave him a copy of "The Son"; sources said that Villeneuve read it overnight and was immediately on board.
There was talk of it being a feature film adaptation, but a limited series allows them to cover more of the story. Jonathan Nolan and Lisa Joy of Kilter Films are also on board as executive producers and showrunners alongside Lenore Zion, who will write the series.
"Jonah and Lisa are a formidable creative force, and we are excited to collaborate with them again, alongside the brilliant Lenore, to adapt Jo Nesbø's novel," said Francesca Orsi, executive vice-president of HBO Programming. "Denis is a master at weaving visually exquisite and unique narratives, Jake is a gifted actor and producer whose work often traverses provocative and compelling terrain, and, of course, he and Denis have collaborated brilliantly in the past. We are beyond excited to see how this powerhouse team tackles this exceptional work."
Walken in: If you look at Christopher Walken's ("Catch Me If You Can," 2002) impressive acting resume on IMDb, you'll notice two things: he's been consistently employed since the 1970s, and he got his start on TV with a 1953 appearance on "The Wonderful John Acton" (he was credited as "Ronnie Walken").
Known for his distinctive and often-parodied delivery, Walken has shown no signs he's slowing down — his next film project, "Wild Mountain Thyme," with Jamie Dornan ("Fifty Shades of Grey," 2015), Emily Blunt ("A Quiet Place," 2018) and Jon Hamm ("Mad Men"), is scheduled to be released next month. And you can add one more project to the ever-growing list: the 77-year-old Oscar winner has been added to the cast of Apple TV 's upcoming workplace thriller, "Severance."
This will be Walken's first regular role on a TV series, and he'll be joined by quite a few familiar names. In fact, "Severance" marks a behind-the-scenes reteaming of "The Secret Life of Walter Mitty" (2013) co-stars Ben Stiller ("Zoolander," 2001), who is on board as director and executive producer, and "Big Little Lies" star Adam Scott (aka Ben Wyatt from "Parks and Recreation"), who will produce and star in the series.
Scott will play the role of Mark, a Lumen Industries employee with a dark past. The thing is, Lumen Industries is taking the idea of a work-life balance to an entirely new level with its "severance procedure" that separates work and out-of-work memories.
Walken will play the role of Burt, head of optics and design at Lumen Industries, while his "The Jesus Rolls" (2019) director, John Turturro, stars as a longtime, dependable employee. Oscar, Golden Globe and Emmy winner Patricia Arquette ("The Set") will also star as Mark's boss, while "Man Seeking Woman" actress Britt Lower will play the part of Helly, a woman who struggles after undergoing the severance procedure.
Eve leaves: After four seasons of co-hosting "The Talk," Eve is ready to move on.
The Grammy-winning "Gangsta Lovin'" rapper and actress announced her exit on the Nov. 2 episode of the CBS daytime talk show. "It's been a crazy year, obviously for all of us," Eve said. "And I'm so grateful that I'm able to stay here in London and do the show, but I can't see, for me, the foreseeable future of traveling back at the moment and have decided that, at the end of December, this will probably be my last time on the show in this capacity as a host."
A stepmom to four kids, Eve has been co-hosting the show from her home in London, U.K., where a new nationwide lockdown was implemented earlier this month due to rising COVID-19 cases and hospitalizations.
"We're on another lockdown from Thursday [Nov. 5]," Eve explained. "And that's another reason, obviously, staying home has been such a blessing, because my husband and I got to know each other in a different way, a beautiful way. So, I want to be closer to him. I want to concentrate on expanding our family, being with my family."
Eve joined "The Talk" in 2017 when she was brought in as a replacement for departing panelist Aisha Tyler. Reflecting on her time with the show, Eve thanked co-hosts Sharon Osbourne, Sheryl Underwood and Carrie Ann Inaba and said, "I have had the most beautiful experience. I've grown as a woman, as a person. I've said it once, I'll say it again: I never thought that being on a talk show would be this much of an opening of my spirit, soul, personality, everything. Sitting on stage with all you women has been the best thing ever. I truly love you."