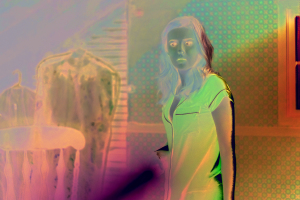 Kennedy McMann stars in "Nancy Drew"
You can't keep a good woman down. Nancy Drew may be close to 100 years old, but she's still going strong. Few characters have captured the imagination of millions of fans like the iconic teenage sleuth, and she's back on television with a fresh new series.
Kennedy McMann ("Gone") stars as the eponymous character in "Nancy Drew," airing Wednesday, Oct. 30, on CW. The episode will mark the fourth in the series, which is set in modern-day Horseshoe Bay, Maine. Nancy, who'd given up crime solving following the devastating death of her mother, has been drawn back into a new mystery when she and four of her peers find themselves suspects in a murder case.
Nancy Drew first appeared in 1930's "The Secret of the Old Clock," written by Mildred Wirt Benson under the pseudonym Carolyn Keene. She was strong-willed and intelligent, not unlike the new Drew, but CW's take on the character is a tad more edgy.
"Nancy's not the prim and proper, perfect Nancy Drew you know from the 1930s books," McMann explained in an October interview with cosmopolitan.com.
It isn't uncommon for Drew to change with the times, of course -- she's undergone many a makeover since her 1930 debut, including a very 1970s version of the sleuth in "The Hardy Boys/Nancy Drew Mysteries" starring Pamela Sue Martin ("Dynasty"). Here's a fun fact: Martin guest stars in the pilot of this new series.
CW's drama offers not just a character makeover, but a whole new element to the story: a supernatural storyline. Not only will our heroine be investigating mysteries new and old, she'll also be dealing with some very creepy clues, from a bloody wedding dress to a cryptic message hidden behind wallpaper. Judging by early trailers for the series, this isn't your grandmother's Nancy Drew.
When the series premiered, Nancy had been working at a local diner as she counted down the days until she could reapply for college -- her academic career stalled by the untimely death of her mother. But when a socialite was murdered, police suspected Nancy and other teens near the scene of the crime could be linked to the case. Despite their differences, the teenagers realize they'll have to work together to clear their names.
McMann's castmates include Leah Lewis ("Charmed") as George Fan, Nancy's high school nemesis. Maddison Jaizani ("Into the Badlands") appears as Bess Marvin, a wealthy girl hiding a secret past. Fans of the novels may remember Bess and George as Nancy's best friends who often helped her solve mysteries. However, the characters are getting a whole new treatment in the CW series. Nancy's boyfriend, Ned "Nick" Nickerson, is played by Tunji Kasim ("Nearly Famous"). Alex Saxon ("The Fosters") rounds out the cast of teens as "amiable burnout" Ace.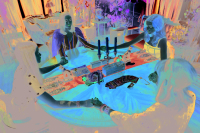 Leah Lewis, Maddison Jaizani, Kennedy McMann and Pamela Sue Martin in "Nancy Drew"
Nancy's return to sleuthing puts her at odds with her widowed father, Carson Drew (Scott Wolf, "Party of Five"). Originally, Freddie Prinze Jr. ("I Know What You Did Last Summer," 1997) had been cast as Carson Drew, but in May it was announced that Wolf would take over the role in a reportedly amicable split. Complicating matters for Nancy is the fact that her dad is now dating Detective. Karen Hart (Alvina August, "The Boys").
Nancy's investigation not only uncovers secrets from her father's past, but it also unearths a link to a long unsolved local murder. As she delves into the mystery behind the death of Horseshoe Bay's most infamous Sea Queen, Lucy Sable, who wore her crown for just one night. The ghost of Dead Lucy (Stephanie Van Dyck, "Legion"), as she's known, seems to haunt Nancy as she hunts down clues.
It may be difficult for fans of the book series to accept this paranormal new take on Drew. After all, the level-headed teen sleuth has been known for crime solving, not ghost hunting, but CW seems to know what it's doing. The network has seen great success with another reimagining of classic characters in "Riverdale," which follows the lives of Archie Andrews (KJ Apa, "A Dog's Purpose," 2017), Jughead Jones (Cole Sprouse, "The Suite Life of Zack & Cody"), Betty Cooper (Lili Reinhart, "Hustlers," 2019), Veronica Lodge (Camila Mendes, "The New Romantic," 2018) and their pals from the "Archie" comics. Since premiering in 2017, the teen-centered drama has become a phenomenon among teenage viewers, as evidenced by the 20 Teen Choice Awards the show has won to date.
CW's "Nancy Drew" has also been drawing comparisons to the network's former mystery series "Veronica Mars," which starred Kristen Bell ("The Good Place") as a teen detective who solved crimes while living with her single dad. However, it would seem Mars was more a take on Drew than the other way around. Nancy's been around much longer and has been the subject of movies and TV series, some of which predate "Mars," which ran from 2004 to 2007. Four short films featuring Nancy Drew were released by Warner Bros. between 1938 and 1939. In the 1970s, she appeared on television in "The Hardy Boys/Nancy Drew Mysteries" and again in a 1995 TV series. ABC aired the made-for-television film "Nancy Drew" in 2002, and an unrelated feature film followed in 2007 starring Emma Roberts ("American Horror Story") in the title role. The character hit the big screen again in March in "Nancy Drew and the Hidden Staircase" (2019).
Nancy Drew's story has been told many times before, but CW offers a new twist on the character with its new show. Fans of the traditional Nancy may be reluctant to give the series a chance, but it's worth a look. Check out "Nancy Drew," airing Wednesday, Oct. 30, on CW.