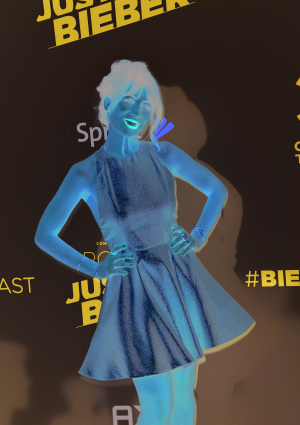 Natasha Leggero stars in "Yearly Departed"
Sometimes, goodbyes are hard. Other times, not so much. Around this time last year, millions of North Americans were preparing to ring in the new year, blissfully oblivious to what 2020 had in store. Now that it is time to bid 2020 farewell, some comedians are preparing to kiss the year goodbye in prime time.
Phoebe Robinson ("Ibiza," 2018) hosts as other female comedians take the stage to lay 2020 to rest in the special "Yearly Departed," premiering Wednesday, Dec. 30, on Amazon Prime Video. The program features a series of eulogies as the women talk about the year's many losses, from casual sex to TV cops to beige Band-Aids.
The premise may sound a bit off the wall, but it's gone over well with audiences before. Nathalie Love ("20th Century Women," 2016) and Samantha Ressler ("Home Again," 2017) of the production company We the Women had used the idea in previous live stage shows. In November, Ressler explained the premise in an article on wmagazine.com.
"The concept is to have the world's funniest women have the last word on this horrible year," Ressler said.
The women credited Emmy-nominated writer and friend Bess Kalb ("Jimmy Kimmel Live!") for her collaboration in coming up with the idea, and Kalb will serve as head writer for "Yearly Departed." In addition to an all-female writers room, the production snagged a female director. Linda Mendoza ("Tiffany Haddish Presents: They Ready") has signed on to direct "Yearly Departed," while Amazon Studios teamed up with We the Women and global production house Done Dusted to bring the special to life.
For her part, the multi-talented host Robinson couldn't be happier to put 2020 six feet under.
"All kidding aside, the world is beyond stressful and confusing, so I'm honored to help take everyone's minds off the heaviness with some much-needed comedy while wearing a fresh wig," she said in an Amazon Prime official release.
A comedian, author and actress, Robinson is known for co-creating and co-hosting the podcast "2 Dope Queens" alongside Jessica Williams ("The Daily Show"), which served as the basis for a four-episode HBO series of the same name. She'll guide viewers through "Yearly Departed," welcoming fellow fabulous female comedians.
Thanks to the Amazon Prime streaming service, the buzzworthy program will be available in more than 240 countries and territories worldwide and will feature some of North America's most popular comedians. Among the other performers in the Prime special is Emmy winner and "The Marvelous Mrs. Maisel" star Rachel Brosnahan, who serves as executive producer. In addition to "Maisel," the actress is known for her work in TV's "House of Cards" and "Manhattan."
And she's in good company as her co-stars read like a who's who of the modern comedy scene. Last month, it was announced that none other than Tiffany Haddish was set to perform in the special. After guest starring in a number of TV series, the actress rose to fame in NBC's "The Carmichael Show." However, it was her performance in the film "Girls Trip" (2017) that made her a breakout star. Other credits include the Showtime special "Tiffany Haddish: She Ready! From the Hood to Hollywood!" and the TBS sitcom "The O.G."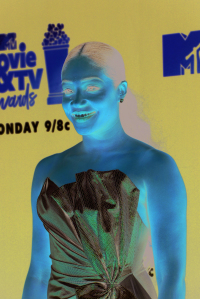 Tiffany Haddish stars in "Yearly Departed"
Natasha Leggero is also scheduled to eulogize 2020 in "Yearly Departed." TV fans may know her from her time as a roundtable panelist on the late-night talk show "Chelsea Lately" or from her starring role in Showtime's "Dice." Yet she may be most recognizable as Lillian Abigail Bellacourt from Comedy Central's "Another Period," which she co-created with co-star Riki Lindhome ("The Big Bang Theory").
Outspoken comedian Sarah Silverman is known for her edgy humor, making her a natural choice to say goodbye to 2020 in "Yearly Departed." After getting her start as a writer and performer on the legendary sketch comedy TV show "Saturday Night Live," she hit her stride with "The Sarah Silverman Program" on Comedy Central, earning an Emmy nomination for Outstanding Lead Actress in a Comedy Series. She has since won two Emmys, one for Outstanding Original Music and Lyrics for a song on "Jimmy Kimmel Live!" and another for Outstanding Writing for a Variety Special for "Sarah Silverman: We Are Miracles."
Silverman's fellow "SNL" alum Natasha Rothwell will also appear in the upcoming Amazon Prime special. She's known for her role as Kelli in HBO's "Insecure," for which she does triple duty as a series regular, writer and supervising producer. Rothwell's other credits include "Brooklyn Nine-Nine" and "A Black Lady Sketch Show."
Ziwe Fumudoh cut her teeth writing for such high-profile comedy shows as "The Daily Show" and "The Colbert Report," so she will surely have some choice words as she kisses 2020 goodbye. She is currently a writer for the late-night talk show "Desus & Mero" and co-hosts the Hysteria podcast "Crooked Media."
Comedian Patti Harrison rounds out the cast of "Yearly Departed," as, in 2019, Variety named the up-and-comer one of "10 Comics to Watch." Though Harrison may be known for her role on the Hulu series "Shrill," perhaps her biggest claim to fame so far has been an appearance on "The Tonight Show Starring Jimmy Fallon," in which she joked about Donald Trump's ban on transgender people in the military.
As they prepare to bid farewell to 2020, these women are sure to kill it. Don't miss "Yearly Departed," premiering Wednesday, Dec. 30, on Amazon Prime.