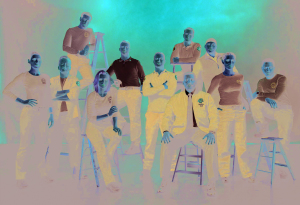 The cast of "Chicago Fire"
Chicago may not have the stature of New York City or the glitz and glamour of Los Angeles, but the Windy City is no slouch in its flair for drama and excitement. NBC has made this clear to audiences for nearly a decade through its ever-growing One Chicago franchise.
Get ready to return to Chi-town when "Chicago Fire," "Chicago P.D." and "Chicago Med" begin their new seasons Wednesday, Sept. 21, on NBC.
Whether you prefer excitement to come from the pursuit of justice, the fight against the elements or the race against the clock to save a life, One Chicago has you covered.
Created by the unofficial king of police procedurals, Dick Wolf ("Law & Order"), NBC's Chicago block of programming began with "Chicago Fire" in 2012. Since then, the series has expanded into a sort of "Chicago-verse" of interconnected spinoffs. Following a backdoor pilot (an episode intended to lay the groundwork for a new series) for each of them, "Chicago P.D." premiered in 2014, followed by "Chicago Med" in 2015.
The eldest series, "Chicago Fire," follows the dramatic lives of the Chicago Fire Department's bravest firefighters, rescue workers and paramedics. For the crews of Firehouse 51 — which include, among others, Gallo (Alberto Rosende, "Shadowhunters"), Cruz (Joe Minoso, "Boss"), Ritter (Daniel Kyri, "The T"), Lt. Severide (Taylor Kinney, "The Forest," 2016) and District 4 Deputy Chief Boden (Eamonn Walker, "Oz") — the drama of responding to the city's emergencies may be the underlying structure of each episode, but the real draw for viewers is the strong cast of characters and their relationships.
Last season saw quite the shakeup to Firehouse 51's operations when Lt. Matthew Casey (Jesse Spencer, "House") surprised everyone with a move to Portland, Ore. His sudden departure called into question whether chief paramedic — and Casey's girlfriend — Sylvie Brett (Kara Killmer, "Beyond the Mask," 2015) would stick around for Season 11.
The Season 10 finale reassured fans of both Brett's commitment to the service and to Casey (whose guest appearance leaves the door open for potential future drop-ins). Only time will tell if fans will see more of Casey (or other former favorites) this season.
Guest appearances by former stars aren't unheard of for the series. Audiences have already seen former chief paramedic Gabby Dawson (Monica Raymund, "Hightown") make a crowd-pleasing appearance since departing "Fire" at the end of Season 6. The interconnectedness of the One Chicago series means familiar faces can pop up in any of its three shows.
"Chicago P.D." frequently sees its officers enlist the help of characters from "Fire" and "Med."
"P.D." follows Det. Sgt. Hank Voight (Jason Beghe, "Californication") as he leads the CPD's Intelligence Unit to investigate the most serious crimes in the city. Voight's morally dubious past leaves him with a somewhat ruthless reputation that may help him professionally but causes strife in his personal life.
Tracy Spiridakos, Jason Beghe and Jesse Lee Soffer in "Chicago P.D."
The ninth season of "P.D." saw the Intelligence Unit investigating a drug-running cartel. As the case escalated, detectives Jay Halstead (Jesse Lee Soffer, "The Brady Bunch Movie," 1995), Hailey Upton (Tracy Spiridakos, "Bates Motel") and Voight found themselves in a tense standoff resulting in the death of a trusted criminal informant.
The big question for Season 10 is how Voight and the team manage the fallout of a death they worked so hard to avoid.
Where "P.D." and "Fire" have more action-packed set pieces to drive their stories, "Chicago Med" leans harder into the interpersonal drama of Gaffney Chicago Medical Center's emergency staff. The drama/trauma pairing is a tried-and-true television staple and "Med" nails the combination.
Headed by former plastic surgeon Dr. Will Halstead (Nick Gehlfuss, "Shameless"), the emergency department is the kind of high-stress environment that leads to fast friendships and faster fall-outs among staff, two of whom are Dr. Ethan Choi (Brian Tee, "Jurassic World," 2015) and RN Maggie Lockwood (Marlyne Barrett, "The Wire").
Wolf's connected universe allows for a much stronger sense of world-building between the shows. Favorite characters from one show often appear in another, be it "Fire's" Violet Mikami (Hanako Greensmith, "Bull") and Brett dropping off a patient in "Med" or Voight and the "P.D." team aiding senior firefighters Christopher Herrmann (David Eigenberg, "Sex and the City") and Mouch McHolland (Christian Stolte, "Public Enemies," 2009) as Firehouse 51 is targeted by a serial bomber.
The ability to carry plotlines between series can raise the stakes without needing to introduce new characters. The shared universe expands past the Windy City, however, as Wolf's interconnected prime-time empire stretches as far as the Law & Order and FBI franchises — both of which have had crossovers of their own with One Chicago.
Speaking with Variety, Wolf hinted at his strategy for keeping things fresh on so many series.
"There is the possibility of interconnectivity between the brands," said Wolf. "In the fall, characters on any of the shows could appear in the other eight. The potential is algorithmic."
The runaway success of the Chicago franchise (not to mention the other two) suggests that Wolf's bet on "algorithmic potential" is certainly paying off. Despite a short-lived "Chicago Justice" spinoff that lasted one season, the One Chicago family is going strong.
Don't miss the newest seasons of "Chicago Fire," "Chicago P.D." and "Chicago Med" when they premiere back to back Wednesday, Sept. 21, on NBC.