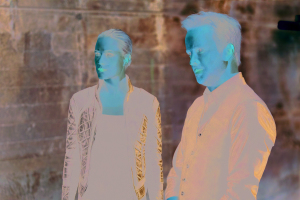 Evan Rachel Wood and Aaron Paul in "Westworld"
From its very first episode, "Westworld" has captivated viewers with the promise that "violent delights have violent ends." Over its three seasons to date, HBO's science fiction epic has fulfilled this promise and more. After two years, the promise of new worlds, the return of old friends and even higher stakes, fans are already theorizing where the series will take them next.
Prepare to be dazzled once again when Season 4 of "Westworld" premieres Sunday, June 26, on HBO and HBO Max.
First launched in 2016, "Westworld" is the nine-time Emmy-winning prestige TV adaptation of Michael Crichton's 1973 film of the same name – think "Jurassic Park" but with robot cowboys instead of dinosaurs. HBO's adaptation flips the script, however, and follows the perspective of the futuristic theme park's main attraction, its artificially intelligent hosts.
The dark twist of the series is that Westworld is a playground for the ultra-wealthy to act out their darkest, most violent fantasies. During its three-season run, audiences have seen the hosts progress from the punching bags of the elite to self-aware freedom fighters working to emancipate themselves from humanity's control.
Central to this struggle is Delores (Evan Rachel Wood, "Across the Universe," 2007), a host who was programmed as the archetypal rancher's daughter with a gentle soul. The first to gain sentience and retain memories of the actions inflicted upon her, Delores spreads the malicious code, thus granting consciousness to her fellow hosts and raising a bloody rebellion.
Running in opposition to Delores's crusade against humankind are Maeve (Thandiwe Newton, "Mission: Impossible II," 2000) and Bernard (Jeffrey Wright, "The Batman," 2022).
Maeve is a host assigned to play the role of madam in the town's brothel, but she is plagued by memories of a past life with her daughter. Maeve's quest to find her daughter becomes her driving force and leads to her tenuous alliance with humanity against Delores in exchange for her lost child. Bernard, on the other hand, is a park technician who discovers he is, in fact, a host. He struggles to reconcile his humanity with this realization.
Season 3 saw Maeve and Delores reach the real world, a future version of Los Angeles that's equal parts beautiful and bleak. Hell-bent on revenge and armed with the central cores of key host intelligences, Delores sets her plan to overthrow humanity into motion.
Placing a copy of herself in the body of high-level park executive Charlotte (Tessa Thompson, "Annihilation," 2018) and recruiting disaffected former mercenary Caleb (Aaron Paul, "Breaking Bad"), Delores sets her sights on the A.I. secretly steering humanity away from self-destruction. Without giving too much away, after a shift in alliances, Maeve aligns with Caleb and Delores and joins the fight to destabilize the society that harmed them.
Tessa Thompson stars in "Westworld"
This latest season appears to be upping the ante even further, although specifics about the story are scant.
The Season 4 poster features an homage to Michelangelo's "The Creation of Adam" — two robotic arms reaching for one another with a human skull stuck in the way. The tagline reads "Adapt or die," hinting at a further escalation in the "dark odyssey about the fate of sentient life on Earth."
Wood will be playing a new role this season, stepping away from Delores's "violent delights" to play a young writer known only as Christina. Joining the cast as Christina's roommate is Academy Award-winning actress Ariana DeBose ("West Side Story," 2021). Fans of the series — which is notorious for its myriad shocking plot twists and complicated storylines — are already speculating on Christina's significance and whether she's another version of Delores.
Further complicating matters in an already confusing story, the copy of Delores inhabiting Charlotte's body declared her independence from the original at the end of last season, leaving both her motivations and the fate of Delores's ultimate plan unclear.
"Westworld's" run has seen quite the accumulation of notable stars, the most iconic being Anthony Hopkins ("The Silence of the Lambs," 1991) throughout its first two seasons as park founder Robert Ford.
James Marsden ("Dead to Me") also returns for Season 4, after his character, the do-gooding gunslinger Teddy, was killed off in the second season. Season 4 also stars Ed Harris ("The Truman Show," 1998), Luke Hemsworth ("Neighbours"), Angela Sarafyan ("Reminiscence," 2021) and Daniel Wu ("Into the Badlands").
A trailer for the new season has shown snippets of an apparent return to the park that started it all, as well as breadcrumbs for potential new locales. Already, the series has divulged quite the portfolio of Delos' theme parks, including Warworld, Shogunworld (a fan favorite) and The Raj. A few clips from the trailer now seem to suggest a Prohibition-era, mafia-themed addition to the robot fantasy vacation destinations may be in the cards.
Series co-creator Lisa Joy ("Reminiscence," 2021) told Deadline that Season 4 will be, in a word, an "inversion," and that promise of a shake-up will certainly have fans dusting off their spurs ahead of the new season. Because, after two years without any good, old-fashioned robot cowboy action, viewers are ready for more.
Saddle up (or maybe just find a comfy spot on the couch) and tune in to the Season 4 premiere of "Westworld," airing Sunday, June 26, on HBO and HBO Max.