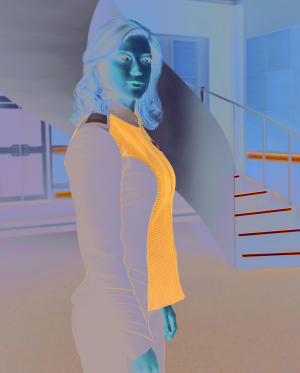 Adrianne Palicki stars in "The Orville"
When it comes to television, science fiction fans can be a fickle bunch. As loyal as they are to the series they adore, they can also be highly critical of those that don't live up to their expectations. However, a sci-fi series turned the genre on its head last season and won over skeptics.
Seth MacFarlane ("Family Guy") returns as Capt. Ed Mercer, commanding officer of a mid-level exploratory spaceship, in the special two-hour season premiere of "The Orville," airing Sunday, Dec. 30, on Fox. This season comes with a slew of new challenges for him and his crew as they embark on another mission to explore the universe.
Combining classic science fiction with comedy, drama and even romance, "The Orville" is a departure for MacFarlane, who's not only the series star but also its creator. He's best known for his work in animation as the creator and star of Fox's "Family Guy," as well as co-creator of "American Dad!" and "The Cleveland Show." A true renaissance man, MacFarlane is also a singer, writer and filmmaker.
"The Orville" marks his first leading-man role in a live-action prime-time comedy, and he's been mostly well received by viewers as Mercer. The show got off to a rough start with TV critics when it premiered on Sunday, Sept. 10, 2017, but it soon won over audiences with its unique mix of comedy and drama. Despite criticism that the series was a blatant spoof of the iconic sci-fi series "Star Trek," millions of fans tuned in each week to witness the antics of MacFarlane and his cast, leading to an early renewal for another season of the show. Season 2 was announced in November 2017, before the first season had even finished airing.
Fox executive Michael Thorn had high praise for MacFarlane and his cohorts when the network announced the show had been renewed for a second season.
"Once again, Seth has struck a powerful chord with viewers," Thorn said in an official release. "He has delivered a series full of optimism, drama and his trademark humor. We want to thank him and the rest of the talented cast, as well as the producers and crew, for an incredible first season. We can't wait to see where the Orville travels in the second."
Mercer and his crew are in for an exciting sophomore season as they encounter new aliens and face off with their old adversaries, the Krill. They'll make first contact with a brand new civilization, an exciting prospect for a crew of space explorers. Fans of the show may also recognize a familiar planet from season 1 as the U.S.S. Orville revisits Moclus.
On a personal level, Mercer's relationship with ex-wife Kelly Grayson (Adrianne Palicki, "Marvel's Agents of S.H.I.E.L.D.") takes a turn this season. They broke up when Mercer found out she'd had an affair with an alien, and he was surprised to discover she had been assigned as his first officer aboard the Orville at the beginning of season 1. What he doesn't know is that Grayson lobbied his superiors to give him the command.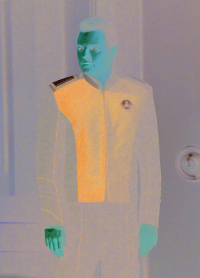 Seth MacFarlane in a scene from "The Orville"
The crew also includes Scott Grimes ("ER") as Mercer's best friend, Lt. Gordon Malloy, the ship's helmsman, who's known for his juvenile pranks. Penny Johnson Jerald ("The Larry Sanders Show") stars as the ship's chief medical officer, Dr. Claire Finn. Lt.-Cmdr. Bortus (Peter Macon, "Supernatural") serves as the ship's second officer. Hailing from Moclus, he and his mate, Klyden (Chad Coleman, "The Walking Dead"), welcomed a baby last season. The Orville's young chief of security, Lt. Alara Kitan (Halston Sage, "How to Rock"), comes from a high-gravity planet, and as a result has super-human strength. Lt.-Cmdr. John LaMarr (J. Lee, "Family Guy") was promoted from navigator to chief engineer last season. The crew's science and engineering officer, Isaac (Mark Jackson, "Peppermint," 2013), is a member of a non-biological race from Kaylon-1 who's using his post to study human behavior.
Jessica Szohr ("Gossip Girl") joins the regular cast as new crew member Talla in season 2, though details about her character have been kept under wraps. It's been reported that Szohr's fellow "Gossip Girl" alum Leighton Meester and up-and-coming actor Chris Johnson ("47 Meters Down," 2017) have snagged roles this season, but little information has been released about their appearances as of press time.
Season 1 boasted a roster of high-profile guest stars that included Charlize Theron ("Monster," 2003), Rob Lowe ("Parks and Recreation"), Jeffrey Tambor ("Transparent"), Holland Taylor ("The Practice") and Liam Neeson ("Schindler's List," 1993), so viewers may want to keep their eyes peeled for notable guest stars in season 2.
With any luck, "The Orville" will continue to defy the critics in season 2 and prove it's more than a collection of sci-fi cliches. Despite naysayers, the first season earned a number of accolades and won a Saturn Award for Best Science Fiction Television Series, a surprise win against such popular series as "Doctor Who," "The X-Files" and "Colony." "The Orville" was even immortalized in this season's Halloween episode of "The Simpsons."
While many sci-fi shows offer viewers a dreary look at the future, MacFarlane's series takes a more lighthearted, optimistic approach. Find out what the universe has in store for Mercer and his colleagues when "The Orville" returns Sunday, Dec. 30, on Fox.