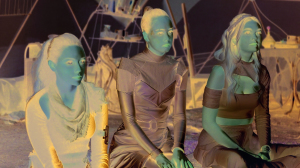 Danielle Rose Russell, Kaylee Bryant and Jenny Boyd in "Legacies"
School is back in session in prime time, and some students are about to discover that homework is not their biggest enemy. Teenage witches, vampires and other supernatural creatures once again encounter a malicious entity determined to wipe them out, and this time one of their own could pay the ultimate price.
The students at the Salvatore Boarding School for the Young & Gifted face another perilous semester in the new season of "Legacies," premiering Thursday, Oct. 14, on CW. Disguised as a school for troubled rich kids, Salvatore is actually a place where supernatural beings learn to use their "gifts" and control their often-dangerous impulses.
A spinoff of CW shows "The Vampire Diaries" and "The Originals," "Legacies" centers around teenager Hope Mikaelson (Danielle Rose Russell, "Wonder," 2017), an orphan who is descended from powerful vampire, werewolf and witch bloodlines, making her a rare tribrid. She is the daughter of Klaus Mikaelson (Joseph Morgan, "Hex") and Hayley Marshall (Phoebe Tonkin, "The Secret Circle"), who each appeared in both earlier series.
As the new season of "Legacies" opens, it appears that Hope may be in trouble -- at least that's the impression given by CW's official Season 4 trailer. A voice warns: "This is a warning for what this fight is going to cost you. They're going to keep coming and keep coming until all your friends are dead." A little later, a voice that appears to be Hope's vampire friend and fellow Salvatore student Milton Greasley, aka MG (Quincy Fouse, "The Goldbergs"), can be heard saying: "I think Hope's gonna die."
While that does sound ominous, fans know this is no ordinary boarding school and these are no ordinary students. The trailer sparked plenty of speculation among fans online when it was released in September, but there is hope for, well, Hope.
Some fans have proposed that when she eventually "dies," the vampire part of her will emerge and she'll become immortal. Characters were similarly "saved" or "turned" in both "The Vampire Diaries" and "The Originals," though only time will tell what fate will befall Hope.
In any case, it's pretty clear that Hope will face plenty of danger in the new season, as her witch roommate, Cleo (Omono Okojie, "NCIS"), tells her that she should have left when she had the chance.
It also appears that this season's "big bad" is once again the malevolent entity known as Malivore (Douglas Tait, "Hellboy," 2019). Fortunately, Hope has plenty of allies at the Salvatore Boarding School to come to her aid.
Eternal optimist MG has been with the show from the beginning, and Hope's friends include powerful witch sisters Josie (Kaylee Bryant, "American Horror Story") and Lizzie (Jenny Boyd, "Hex," 2018) Saltzman, whose father, Alaric Saltzman (Matt Davis, "Legally Blonde," 2001), is the Salvatore headmaster.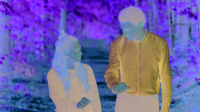 Danielle Rose Russell and Nick Fink as seen in "Legacies"
Hope's once boyfriend Landon (Aria Shahghasemi, "No Alternative," 2018) seems to be on the Season 4 roster as well, but it isn't clear in what capacity he'll return. A phoenix, Landon appeared to perish in Season 3, while in August, news broke that Okojie's Cleo had been upped from recurring character to part of the main cast for the newest season.
There is no official word yet as to whether Malivore's creation Ryan Clarke (Nick Fink, "Judas and the Black Messiah," 2021) will make an appearance this season following his shocking return at the end of Season 3.
As with many teen-focused series, there is no shortage of romantic entanglements in "Legacies." This season's big twist will likely revolve around the fact that Lizzie has started dating Ethan (Leo Howard, "Kickin' It"), a human, even though MG has had a crush on her since the very beginning of the series.
"Legacies" offers viewers that magical mix of science fiction and teen drama, continuing a longstanding CW tradition that reaches back to the network's early days. From "Buffy the Vampire Slayer" to "The 100" to "Roswell, New Mexico," the network has established itself as the go-to channel for young adults, thanks to its shows' talented and beautiful young stars. Much of that success, of course, also relies on those behind the scenes, and "Legacies" is no different.
Julie Plec, creator of "The Originals" and co-creator of "The Vampire Diaries," worked her magic again when she created "Legacies." Known for her work as a co-producer on blockbuster hits "Scream 2" (1997) and "Scream 3" (2000), her fellow "Legacies" executive producer Brett Matthews once worked on such hits as "Buffy the Vampire Slayer," "Angel" and "Firefly."
Like all those series, "Legacies" has been a solid performer in the ratings department for CW, averaging more than a million viewers per episode for each of its three seasons to date, a trend that is expected to continue in Season 4 given the show's loyal fan base. The popular review site RottenTomatoes.com awards the series an approval rating of 82% and deems the show an "unexpected delight."
And much to the delight of fans, Hope and her friends will return for another supernatural season.
Find out what fate will befall the students of Salvatore Boarding School for the Young & Gifted when the season premiere of "Legacies" airs Thursday, Oct. 14, on CW.