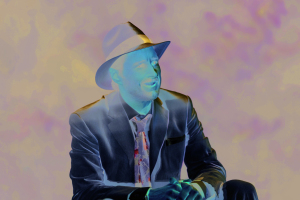 Luke Wilson as seen in "Room 104"
If you've been waiting to pick up where you left off in "Room 104," your wait is over. Season 4 will be hitting your screen on Friday, July 24, for its premiere on HBO with 11 new episodes.
Curiously eclectic as always, the series has had a traditionally great cast, with past lineups having included stars such as Luke Wilson ("All the Bright Places," 2020) and David Paymer ("Bad Therapy," 2020). This time, there's a brand new set of remarkable performances to look forward to, with actors such as Logan Miller ("Love, Simon," 2018), Dave Bautista ("My Spy," 2020) and Linda Lavin ("Alice").
An anthology series, "Room 104" offers something different with every episode -- a different plot, a different set of characters and a different genre. From horror to comedy to romance and even sci-fi or fantasy, anything's possible. The only permanent thing is the hotel room where new guests check in, bringing with them their own unique tale and experience for viewers.
Now, with Season 4, the first episode couldn't get more interesting. Executive producer Mark Duplass ("The Morning Show") is stepping in front of the camera as a character himself, while also writing, directing and performing the original music. That kind of dynamic doesn't happen very often, whether on TV or in the cinema, so you definitely won't want to pass this up.
Get ready for a dollhouse that spooks, time travelers who provoke your thoughts, and a woman who turns to drugs to escape her past -- not to mention an unprecedented animated episode.
While each episode's storyline is unique from the others, there is a common thread that ties everything together into an overarching plot. In Season 3, we learned about the story behind the room and its powers, so it's safe to assume that Season 4 will be no different. But it might be bolder in challenging boundaries. So much bolder, in fact, that traditional TV viewers might not be able to resist questioning the show's direction.
Nonetheless, the show's creators have clearly been perfecting the show's formula from Day 1, and it's proven to keep viewers coming back for more.
The series aired its first season in 2017 and has been serving up a brand new season every year, each one fiercer than the last. If you've seen even one episode, you'll know why it hasn't only hooked viewers but critics as well. "Room 104" has been nailing performances more often than not.
It helps that each episode's physical space and plot are well confined, but there's no doubt that "Room 104" has found that sweet spot in terms of engaging viewers. The control between characters shifts quickly, sometimes unnoticed, leaving everyone clueless about who ends up at an advantage or how. If anything, that only keeps audiences reeling and hungry for the next installment, and the next, and the next.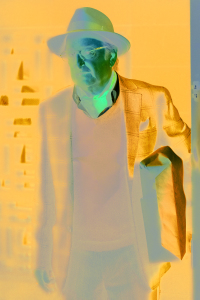 David Paymer in "Room 104"
Aside from Mark Duplass, Season 4 packs in more directorial power with a large team, including Patrick Brice ("Creep," 2014), Karan Soni ("Deadpool," 2016), Ross Partridge ("Stranger Things"), Mel Eslyn ("The One I Love," 2014), Sydney Fleischmann ("Blue Jay," 2016), Natalie Morales ("Parks and Recreation") and Jenée LaMarque ("The Pretty One," 2013).
Lauren Budd ("Slay," 2019) will be directing and writing one episode, joining the season's pool of writers that also includes Lauren Parks ("The Feels," 2017) and Bryan Poyser ("Dear Pillow," 2004). The series is executive-produced by Mark Duplass and his brother Jay Duplass ("Transparent," 2014), as well as Sydney Fleischmann, Mel Eslyn and Tyler Romary ("Gamer," 2009).
Uniquely, "Room 104" episodes were produced at a mere quarter of the cost of your usual HBO series. He calls this style "fast and loose," where, for example, a director may shoot an episode in only two days with a smartphone and not get a copy of the final edit. Instead, it may be screened to at least 20 viewers (usually their own employees), who will then serve as critics as part of the polishing process. In any case, "Room 104" episodes were always products of internal think tanks, where writers generated tons of ideas before finding a filmmaker they felt would do justice to the episode.
Shooting for Season 4 had wrapped up by September 2019, which means the COVID-19 pandemic didn't hamper production. But unfortunately, HBO recently announced that the fourth season would be the last for the series.
"Room 104" is hardly a first for the Duplass brothers with HBO. Their longtime partnership has also spawned other well-received shows on the channel, such as "Togetherness," their first series, in which Mark also stars, the animated series "Animals" and the docuseries "On Tour with Asperger's Are Us." Early this year, the brothers signed a first-look deal with the network, which stipulates that the duo will create an original film, TV and digital media projects for HBO.
Showrunners Mark and Jay Duplass own Duplass Brothers Productions, an independent film and television production outfit founded in 1996 with the release of their first film, "Connect 5."
The brothers initially produced thrifty, mumblecore films, which have a more naturalistic cinematic approach with often improvised acting and scripts, and a cast with non-professional actors. The brothers slowly transitioned to mainstream films, including "The Puffy Chair" (2005), "Tangerine" (2015) and then "Horse Girl" in 2020.
Take a thrill ride on Friday nights beginning July 24, when Season 4 of "Room 104" airs its first of 11 episodes on HBO.