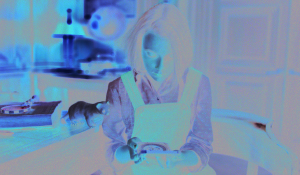 Dafne Keen stars in "His Dark Materials"
For eight seasons, HBO ruled the airwaves with fire-breathing dragons, wicked royals and rebellious wildlings in "Game of Thrones," and now the cable giant is bringing viewers another epic tale inspired by a series of fantasy novels.
Dafne Keen ("Logan," 2017) stars as Lyra Belacqua, an orphan from an alternate parallel universe who sets out to find her kidnapped friend in "His Dark Materials," premiering Monday, Nov. 4, on HBO. Her adventure leads her to uncover a nefarious plot involving stolen children and a mysterious substance known as Dust.
Based on the book series of the same name by Philip Pullman, the HBO-BBC co-production was a long time in the making. The success of the first book in the series spawned the 2007 feature film "The Golden Compass," but plans for big-screen sequels were scrapped due to the film's negative reception. Religious groups were critical of the source material's anti-religion themes, while fans of the books claimed the film actually omitted integral parts of the story that were critical of religion. In 2015, BBC One announced a television adaptation of the series, but it wasn't until 2018 that HBO signed on as co-producer and international distributor.
The first season hasn't even premiered yet, but the cast and crew have already started filming Season 2, a necessary move considering the age of the show's young star. Season 1 of "His Dark Materials" chronicles the events of the first book in the series "The Golden Compass" (known as "Northern Lights" in the U.K.), while Season 2 picks up with the events of the second book "The Subtle Knife," which continues just hours after the final chapter of Book 1. In a September interview with EW.com, executive producer Jane Tranter ("Succession") explained why working with young actors meant they couldn't stop filming for long.
"Suddenly they're six inches taller, and they're a different shape and their voices are different," Tranter said. "Our feeling was we really couldn't leave more than a very small gap between the end of when Dafne Keen finished filming, which was December 2018, and when she started again, July 2019. That was basically the biggest gap that we could possibly do and still have her come back and convincingly look like it was moments, hours later."
Given the challenge of keeping the series convincing, Tranter explained: "The BBC and HBO very kindly said, 'Let's make 16 episodes across the two books and go for it.'"
As the series opens, Lyra is living at Oxford's Jordan College under the tutelage of her uncle, explorer Lord Asriel (James McAvoy, "Split," 2016). When her friend Roger (Lewin Lloyd, "Judy," 2019) goes missing, Lyra stumbles upon a kidnapping plot involving other missing children. The unruly young girl also encounters a mysterious woman named Mrs. Coulter (Ruth Wilson, "The Affair"), who, according to Wilson in an interview with the Times, was described as "the mother of all evil and the cesspit of moral filth."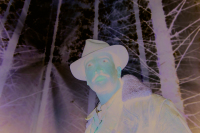 Lin-Manuel Miranda in "His Dark Materials"
While there are a few heinous villains in "His Dark Materials," there are plenty of heroes as well. Lin-Manuel Miranda, best known for creating and starring in the Broadway smash hit "Hamilton," portrays balloon pilot and adventurer Lee Scoresby, who befriends Lyra on her mission to save kidnapped children and uncover the truth about the substance known as Dust, the subject of her Uncle Asriel's research. They're aided by powerful witch queen Serafina Pekkala (Ruta Gedmintas, "The Strain"). As she journeys through alternate worlds, Lyra also befriends a courageous boy named Will (Amir Wilson, "The Kid Who Would Be King," 2019).
Other notable castings include James Cosmo ("Braveheart," 1995) as gyptian Farder Coram, and Anne-Marie Duff ("From Darkness") as Ma Costa, the gyptian mother of a boy who was kidnapped by the dreaded "Gobblers." Theater actor Will Keen portrays Father McPhail, a high-ranking Church official. Ariyon Bakare ("Good Omens") appears as Lord Boreal, an acquaintance of Coulter's. Clarke Peters ("The Wire") stars as the Master of Jordan College, Dr. Carne.
As in Pullman's novels, the show is set in an alternate universe where people's souls live outside their bodies as talking animal companions known as daemons. Lyra's daemon is a shape-shifting companion known as Pantalaimon (Pan) in the novels, voiced by Kit Connor ("Get Santa," 2014) in the HBO/BBC production. All children's daemons have the ability to take the shape of different animals, unlike those of adults. Asriel's daemon is a snow leopard known as Stelmaria (Helen McCrory, "The Queen," 2006), while Scoresby's daemon is an Arctic hare named Hester (Cristela Alonzo, "Cristela"). Famed British actor David Suchet ("Agatha Christie's Poirot") lends his voice to Kaisa, the gyrfalcon daemon linked to the witch Pekkala. Coulter's Golden Monkey daemon doesn't speak, but lead puppeteer and CFX coordinators Brian Fisher ("Florence Foster Jenkins," 2016) provides animal noises for the character.
Joe Tandberg ("The Innocents") voices the buzzed-about armored polar bear featured in the show's official trailer, aka Iorek Byrnison. The creature hails from a race of bear-like creatures with human-level intelligence and opposable thumbs. Unlike humans, they have no daemons. He, too, becomes a companion of Lyra's as she journeys through worlds.
With an ensemble of rich characters and stunning special effects, "His Dark Materials" could be yet another hit for HBO and BBC. Interestingly, the original novel series was marketed to young adults, an audience not typically targeted by HBO. It remains to be seen whether the new series will stay true to the books or change things up to appeal to a more grown-up audience. Either way, fans of fantasy won't want to miss the premiere of "His Dark Materials," airing Monday, Nov. 4, on HBO.