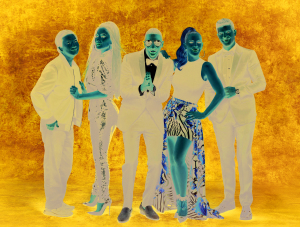 Ken Jeong, Nicole Scherzinger, Nick Cannon, Jenny McCarthy and Robin Thicke from "The Masked Singer"
There is an absolute smorgasbord of reality television to choose from these days, and performance competitions make up a large percentage of the most watched. It seems like we can't get enough of shows like "American Idol," "The Voice" and "America's Got Talent," but there's one such series that sets itself apart from the rest.
Season 3 of "The Masked Singer" premieres Sunday, Feb. 2, on Fox, right after Super Bowl LIV, and the new installment of this simultaneously strange and beautiful series promises to be bigger and better than ever. Series host Nick Cannon ("Berserk" 2019) returns along with the previous seasons' judges: actors Ken Jeong ("The Casagrandes") and Jenny McCarthy ("Return of the Mac") are back on the panel with musicians Robin Thicke and Nicole Scherzinger. This time around, there are 18 new masked mystery celebrities -- more than any season so far.
Unlike most performance competitions, "The Masked Singer" does not recruit previously unknown talents to vie for a prize. In this reality series, it's celebrities who face off against one another for fan votes, and each episode features spectacular musical performances. The catch is that the celebrities are wearing elaborate costumes that conceal their identities. Referred to only by the name of their costume, a contestant is not unmasked until they are voted off of the show, and despite Nick Cannon's shouts of "I knew it!" and hints given throughout, the final reveal is always a shock.
The man or woman behind the mask could be anyone. The Season 1 contestant known as The Raven turned out to be talk show host Ricki Lake, and last season's Ice Cream and Thingamajig shocked audiences when they revealed themselves to be professional video gamer Tyler "Ninja" Blevins and NBA star Victor Oladipo, respectively. While some of the masked singers are recording artists by trade -- such as the Empress of Soul, Gladys Knight, who took third place in Season 1, and last season's high-ranking competitors Patti LaBelle, Seal and runner-up Chris Daughtry -- most are taking a leap, amazing judges, fans and even themselves with their vocal chops. Simply imagining the celebs that could appear on the upcoming season of "The Masked Singer" is fun -- and imagining is all we can do. Series producers have said that a mere 25 people actually know the identities of the contestants before the big reveals.
The story behind the series is a good one. Sometime in 2018, Smart Dog Media (a reality television production company) CEO Craig Plestis became distracted, as we all so often are, by the TV while dining out in Thailand. Looking around, Plestis noticed that most of the guests had abandoned both their conversations and their meals in favor of watching the weird program airing on the television. It featured a "crazy kangaroo in a pleather outfit" dancing around on stage and singing. Entranced by what he had seen (and the other diners' reactions to it), Plestis and his dining companions didn't even finish their food before beginning to research the series.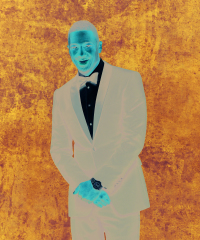 Nick Cannon hosts "The Masked Singer"
He discovered that the program originated in South Korea in 2015 as "King of Mask Singer" (or the much more fun literal translation, "Mystery Music Show: Masked Singer's King"). By the time Plestis saw it for the first time, the show had already become a franchise, expanding to China, Indonesia, Vietnam and, of course, Thailand.
As culture and values vary across the globe, so does the approach to television. Although American media dominates the airwaves in most of the English-speaking world, most people are able to spot shows that don't originate in the U.S. for multiple reasons, perhaps without even knowing why. Even muted, shows that come from across the pond can be identified by many people, thanks to technological differences that cause film to relay and display differently on screen (you can research the American color encoding system NTSC vs. the British system PAL for more insight).
Those who are used to the ultra-HD, high-contrast look of American films might describe the look of British shows like "Doctor Who" and "Coronation Street" as slightly hazy or dream-like. But sometimes it's the content of a series that betrays its origins, as is the case with "The Masked Singer." Take one look at the utterly glorious absurdity that is this show, and it evokes the same distinctly non-American feelings that other adaptations are known for -- consider the dry humor of Britain's "The Office," the interests of the titular character in Venezuelan series "Jane the Virgin" and the over-the-top costuming and acting in Japan's "Power Rangers."
Poaching plotlines from series abroad can lead to massive success stories, which "The Masked Singer" exemplifies perfectly. Fox's adaptation of "The Masked Singer" has done so well, in fact, that this year the franchise is expanding to more than 10 additional countries, from Austria to South Africa.
If Super Bowl LIV hasn't left you with a giant hole on your television screen, or too excited to sit still, you can tune in to find out which celebrity will be joining rapper T-Pain and comedian Wayne Brady as "Kings" when reality's most unbelievable competition series, "The Masked Singer," returns for a third season beginning Sunday, Feb. 2, on Fox.