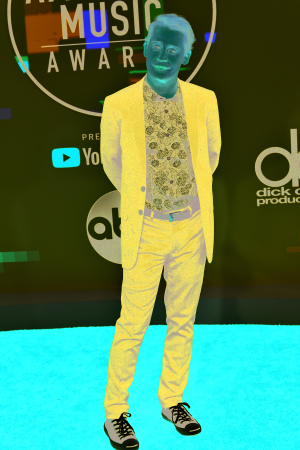 Macaulay Culkin joins the cast of "American Horror Story"
Into the Murphy-verse: Producer/writer/director Ryan Murphy ("Glee") has a knack for making good TV and buzz-worthy casting choices. In his latest casting move, Murphy has tapped former '90s child star Macaulay Culkin ("Home Alone," 1990) to star in the 10th season of his Emmy-winning anthology series, "American Horror Story."
For Culkin, this will be his first role as a series regular. The actor's most recent gig was a guest spot on the Hulu series "Dollface," but previous TV credits include voice-over work on "Robot Chicken" and a multi-episode arc in NBC's biblical-inspired drama, "Kings."
But let's get back to "American Horror Story." Murphy hasn't disclosed many details about Season 10, not even the theme (FX hasn't announced a premiere date, either). The official cast list was revealed in a gloomy, beach-themed video posted to Instagram. And since Culkin's name was the second one to appear, we can assume the actor will figure prominently in this latest installment.
There was talk last fall of bringing back some fan favorites, and the Season 10 cast certainly includes some notable Murphy-verse alums. Kathy Bates, Leslie Grossman, Billie Lourd and Lily Rabe are among the returning "AHS" cast members. Murphy muse Sarah Paulson and series mainstay Evan Peters are also back after sitting out Season 9 ("1984"), the only one to date that didn't feature the two in-demand actors.
The new season will air later this year, and FX has already renewed "AHS" for three more seasons.
Work-life partners: Do you have a "work spouse?" The term is used to describe a close but platonic relationship between two work colleagues who spend a lot of time together -- kinda like Kelly Ripa and Ryan Seacrest.
In fact, the hosts of "Live With Kelly and Ryan" are teaming up to serve as co-executive producers of a new comedy pilot for ABC titled "Work Wife."
It's said to be "partly" inspired by Ripa and Seacrest's on-air rapport and off-air friendship. But the two-decades-long partnership of the series creators, writer/showrunners Casey Johnson and David Windsor ("The Real O'Neals"), could probably provide plenty of source material to inspire several seasons' worth of storylines.
What's interesting about this one is that Ripa and Seacrest originally brought "Work Wife" to ABC back in 2018. Written by actor/comedian Michael Ian Black ("Wet Hot American Summer: Ten Years Later"), it was pitched as a multi-camera comedy that explored the dynamics of work spouses and how it affected the people around them. And that's where Ripa and Seacrest's friendship was first credited as the inspiration.
Fast-forward to this development season, and Black's original concept has been redeveloped as a single-camera project under the direction of Windsor and Johnson, who share writing and executive producing duties.
As widely reported, the story is set in the world of real estate and centers on Dani and Scott, "a platonic male-female team whose professional success, personal friendship and ability to share deodorant makes their lives work." When they decide to take the leap and become their own bosses, they quickly realize that the "yin-yang of their dynamic" is key to keeping their personal and professional lives afloat.
Tell me, Clarice: If you're a fan of Thomas Harris's Hannibal Lecter novels or their movie adaptations, you might be interested in a new series in development at CBS.
The drama is simply titled "Clarice," and it centers on FBI Agent Clarice Starling, Lecter's resilient foil in "Silence of the Lambs" (1991) and "Hannibal" (2001). According to Variety, the potential series is set in 1993, and it promises to reveal more of the character's backstory as Starling returns to the field following the events of "The Silence of the Lambs."
The project, which hails from "Star Trek: Picard" producers Alex Kurtzman and Jenny Lumet, scored a series commitment from the network in January, and it's already found its lead in Australian actress Rebecca Breeds ("The Originals").
As Starling, Breeds will certainly have big shoes to fill. Jodie Foster won an Academy Award for her portrayal in the 1991 film opposite Sir Anthony Hopkins, whose own performance earned widespread acclaim (though it seemingly ended his relationship with Martha Stewart).
Still, CBS is clearly interested in revisiting the iconic character, though it's not the first time the fictional FBI agent looked poised to make the leap to TV. Lifetime was working on its own "Clarice" series back in 2012 before the project stalled. And Bryan Fuller, the mastermind behind NBC's "Hannibal," confirmed in a recent Twitter exchange: "Martha [De Laurentiis] & I tried many times to work with MGM to include Clarice into our Hannibal story. They ultimately told us they had their own plans for Clarice and they didn't need Hannibal to tell her story." And for fans still hoping for a "Hannibal" revival (and there are many), Fuller went on to say the CBS series likely wouldn't impact "a potential #HANNIBAL S4 as we never had Clarice rights."