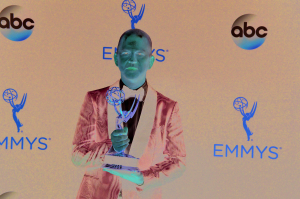 Ryan Murphy, seen here with his Emmy Award, to launch two new series
More 'Stories': Ryan Murphy's ("American Horror Story") TV empire just keeps growing, and that's great news if you love a good horror story, a sports-related one and/or a tragic love story (or just any good story, really).
It was announced last month that FX on Hulu opted to renew Murphy's "American Horror Story" spinoff, "American Horror Stories" (note the plural), for a second season. According to FX, the freshman anthology series was the most successful series to launch since FX on Hulu rolled out last year. Expect Season 2 to debut in 2022.
That's just the tip of the iceberg for Murphy and producing partners Brad Falchuk ("American Horror Story"), Nina Jacobson and Brad Simpson (both of "American Crime Story"). There are also two new spinoff series in the works: "American Sports Story" and "American Love Story." And if you have a soft spot for the sounds and fashions of the disco era, "American Crime Story" is planning to return with a Studio 54-themed fourth season.
According to FX, "American Love Story" will highlight "the sweeping true love stories that captured the world's attention," and the first installment promises to be a dissection of John F. Kennedy Jr. and Carolyn Bessette's romance. According to the plot synopsis, "What started out as a beautiful union for the young couple, widely regarded as American royalty, began to fray under the stress of the relentless microscope and navel-gaze of tabloid media. The pressures of their careers and rumored family discord ended with their tragic deaths when his private plane crashed into the ocean on a hazy summer night off the coast of Massachusetts."
"American Sports Story" also comes from 20th Television and will air on FX. Its first season is to explore the tragic life of former NFL star Aaron Hernandez, based on the podcast "Gladiator: Aaron Hernandez and Football Inc.," and will touch on his murder conviction and 2017 suicide.
Said FX chairman John Landgraf: "What began with 'American Horror Story' has spawned some of the best and most indelible programs of our generation, most notably 'American Crime Story,' which created a beautiful partnership between Ryan [Murphy], Brad [Falchuk], Nina [Jacobson] and Brad [Simpson]. Their alchemy and the way in which they construct these stories is done with such care, such clarity and such dimensionality that creates the magnificence that is 'The People v. O.J. Simpson,' 'The Assassination of Gianni Versace' and 'Impeachment.' We can't wait to see what comes next."
And neither can we.
Morticia Zeta-Jones: Catherine Zeta-Jones ("Prodigal Son") has joined the cast of Tim Burton's ("Edward Scissorhands," 1990) "Addams Family" Netflix series. Set to play the role of iconic matriarch Morticia, her status as guest star is an indication that her character won't be front and center during the live-action series' eight-episode run.
"Wednesday" is a mystery with a supernatural twist (it is a Tim Burton project, after all). It centers on Wednesday Addams' (played by "Yes Day" (2021) star Jenna Ortega) "attempts to master her emerging psychic ability, thwart a monstrous killing spree that has terrorized the local town, and solve the supernatural mystery that embroiled her parents 25 years ago — all while navigating her new and very tangled relationships at Nevermore."
Zeta-Jones will play opposite Luis Guzmán ("Shameless"), who stars as Addams family patriarch Gomez. Given that Nevermore Academy is a boarding school, that explains why Zeta-Jones and Guzmán are playing supporting roles in this one, though it's an interesting on-screen pairing.
The original Morticia and Gomez from the 1964 television series were played by Carolyn Jones ("King Creole," 1958) and John Astin ("Return of the Killer Tomatoes," 1988), but it was Anjelica Huston ("The Witches," 1990) and Raul Julia ("Kiss of the Spider Woman," 1985) who brought the couple to life on the big screen in "The Addams Family" (1991) and "Addams Family Values" (1993). Tim Curry ("The Rocky Horror Picture Show," 1975) later stepped in for the third film, "Addams Family Reunion" (1998), following Julia's death in 1994.
No word yet on when "Wednesday" will land on Netflix.
Burgess and 'Annie': The Hollywood Reporter was the first to break the news that "Unbreakable Kimmy Schmit's" Titus Burgess has joined NBC's live musical production "Annie Live," set to air Dec. 2.
The six-time Emmy nominee will play the role of Rooster, the underhanded brother of cruel orphanage headmistress Miss Hannigan (to be played by "Empire's" Taraji P. Henson, the first major star to be confirmed).
"I've always wanted to be a villain," Burgess said of his role, and he certainly will be in "Annie Live." His character escapes from jail and plots with his gold-digging girlfriend to get rich. Rest assured, despite all of these nefarious goings-on, the antagonists will still find the time to belt out the biggest musical number, "Easy Street."
In a statement, Henson paid tribute to the comedy legend who originated the role on the big screen: "Carol Burnett, who brought Miss Hannigan to life in the classic 1982 movie, is someone I have studied and idolized as far back as I can remember. So when the opportunity came to me to join NBC and this incredible group of producers, I jumped. Carol, I hope to do you proud."
Singer/actor Harry Connick Jr. ("Hope Floats," 1998) is set to star as billionaire Sir Oliver "Daddy" Warbucks, while Pussycat Dolls singer Nicole Scherzinger will play the role of Grace, Warbucks' assistant/chief of staff.
As for the titular role, NBC opted to hold virtual open auditions to find their Annie, who has to have "an excellent voice with a strong high belt, great comedic timing and excellent dance skills," and can presumably hold their own next to her celebrity co-stars.