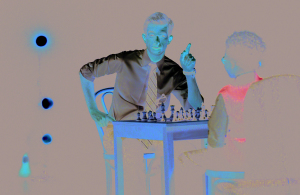 John Mulaney as seen in "John Mulaney and the Snack Lunch Bunch"
More 'Sack Lunch Bunch': Kids really do say the darndest things, especially when they're performing material written by two-time Emmy winner John Mulaney.
The former "Saturday Night Live" writer and three-time host recently signed a deal to headline and produce more "Sack Lunch Bunch" specials. And that's exciting news for fans of the first one.
Equal parts parody and homage to children's TV, the variety show "for kids, by adults, with kids present" debuted last December on Netflix and was very well received (it currently has a 96% rating on Rotten Tomatoes).
But Mulaney's new deal isn't with Netflix -- it's with Comedy Central, which aired his first standup special, "New in Town," back in 2012. It's also where Mulaney worked as an office assistant after graduating from Georgetown University, and he mentioned his first gig in the official news release. "I was an intern at Comedy Central when I was barely older than the kids in the 'Sack Lunch Bunch,'" Mulaney said. "I wasn't a very good intern, so I am psyched they hired me again. We are thrilled to bring these specials to Comedy Central, a place where I have had so many good times."
The deal is for two new installments, including a holiday team-up with the original cast that performed songs such as "Grandma's Boyfriend Paul" and "I Saw a White Lady Standing on the Street Just Sobbing (and I Think About It Once a Week)." No word yet on a return appearance by either "Mr. Music" Jake Gyllenhaal ("Prisoners," 2013) or Talking Heads frontman David Byrne, who gamely wore an Elsa (from Disney's "Frozen") costume the first time around.
'Dancing' With New Stars: Some shocking news for longtime TV viewers: "Dancing With the Stars" host Tom Bergeron is out as host of ABC's dance competition, and so is his hosting partner, Erin Andrews.
It's a surprising move given Bergeron's enduring popularity and extra-long tenure as host -- he's been at the helm for 28 seasons and more than 400 episodes since the show premiered in 2005. As for Andrews, she joined the show in 2014 after appearing on "Strictly Come Dancing," the BBC Studios show that inspired ABC's version.
Bergeron himself broke the news on social media, tweeting: "Just informed @DancingABC will be continuing without me. It's been an incredible 15-year run and the most unexpected gift of my career. I'm grateful for that and for the lifelong friendships made" Naturally, he ended his post with his trademark good humor: "That said, now what am I supposed to do with all of these glitter masks?"
Just a few hours after Bergeron's post, the news broke that Tyra Banks will be taking over hosting duties for Season 29. The creator of "America's Next Top Model" and "The Tyra Banks Show" will also serve as executive producer.
"I've been a fan of 'Dancing With the Stars' since its beginning," Banks said in the network statement. "The fun mixed with raw emotion, seeing celebrities push past their comfort zones, the sizzling dance performances … it's always transported me to my days of turning it up 10 notches on the catwalk."
Karey Burke, president of ABC Entertainment, added: "As we gear up for the show's 29th season, we can't wait to welcome Tyra Banks to our 'Dancing' stage. Tyra is an award-winning multi-hyphenate whose fierce female prowess and influence across many industries have made an indelible mark. Her fresh take on America's favorite dancing competition will surely bring more than a 'Smize' to fans everywhere."
Casting is already underway for Season 29, with former "Bachelorette" Kaitlyn Bristowe announced as the first celebrity competitor.
'Evel' Upheaval: Unlike the real Evel Knievel, it appears the planned limited series "Evel" wasn't able to get off the ground after all.
Despite a lot of interest in the project, USA Network has decided not to move ahead with "Evel," and COVID-19 is largely to blame for its demise.
Everything was in place and filming was about to begin when production was shut down on the last day of prep (March 13). But with the shutdown stretching on for months, timing became an issue.
Series lead Milo Ventimiglia originally agreed to play the part of the motorcycle-riding daredevil while his regular series, NBC's "This Is Us," was on hiatus. But with the months-long delay, Ventimiglia's availability was much more limited, and it was getting harder to sync up everyone else's schedules too. So USA Network was forced to pull the plug on the whole thing and release the cast and crew.
"Evel" would have picked up the story of Knievel as he prepared for one of his most famous stunts: the 1974 Snake River Canyon jump. In real life, it was a failed attempt: his rocket-powered motorcycle made it to the other side but drifted back into the canyon. There was another serious crash the following year at Wembley Stadium, but a defiant Knievel set a new record just a few months later by successfully jumping over 14 Greyhound buses.
Similarly undaunted, UCP, the NBCUniversal-owned production company behind "Evel," still intends to shop it around with Ventimiglia attached.