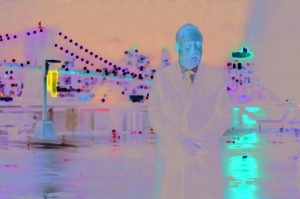 Paul Giamatti stars in "Billions"
When money is no object, the stakes are unbelievably high, and "no object" is an understatement when referring to billionaires. Popular Wall Street drama "Billions" premieres Part 2 of Season 5 this Sunday, Sept. 5, on Showtime. If you caught Part 1 in 2020, it will come as no surprise that the show has some shocking plans in motion to unfold over the rest of the season, from national bank building to a contentious divorce and hedge fund investing with a conscience.
Before getting into what viewers can expect from the second half of Season 5, let's back up to where "Billions" started. The show is about self-made billionaire and Axe Capital hedge fund manager, Bobby "Axe" Axelrod. Portrayed by Damian Lewis ("Homeland"), Axe keeps the "Billions" plots rolling with his extravagant personal life and strategic money moves.
While generous with his billions — Axe pays for the education of the children of his co-workers who died in the 9/11 attacks — his wealth also causes him problems with public perception when he indulges in luxuries for himself. One such indulgence, the near-purchase of a Hamptons mansion in the pilot, is what sets into motion the biggest thorn in Axe's side, an SEC investigation into his possibly illegal money-accumulating practices.
While the investigations certainly keep Axe aware of who exactly is on his tail, they haven't stopped him from setting unimaginable plans in motion (and sometimes even push him to do so). Season 5, Part 1 of "Billions" saw Axe attempting to set up a national bank, only to be set back at every step by Chuck Rhoades (Paul Giamatti, "Sideways," 2004) working behind the scenes.
While Axe's life is more of a gilded highway than a rocky road, the major pothole is the long-running investigation headed up by U.S. Attorney for the Southern District of New York, the aforementioned Charles "Chuck" Rhoades. Giamatti gives another unsurprisingly committed performance as Chuck, who matches Axe's cool with an intensity for going after what is right and holding the wrongdoers accountable.
After four and a half seasons, Chuck is still pursuing Axe and Axe Capital, but that doesn't mean he hasn't had his wins. He managed to turn the funeral of a politician into a mass arrest of key players in his investigation in Season 4, promising that he "will continue to purge these pews until corruption has been cleansed from the Empire State." Those are strong words, and Giamatti agrees, as he told GQ in 2020 that "the language is fun. He has a kind of high-flown, oratorical way of speaking."
While Chuck is passionate about his morality, his principles become more complicated where his marriage is concerned.
Maggie Siff ("Mad Men") plays Chuck's wife, Wendy Rhoades, an integral performance coach at Axe Capital, the very hedge fund her husband is investigating. Wendy has been working with Axe for longer than Chuck has been a U.S. Attorney, so it has always been difficult to determine exactly where her loyalties lie.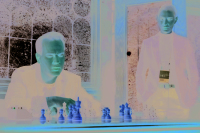 Mike Birbiglia and Asia Kate Dillon as seen in Season 5 of "Billions"
It may not be so difficult anymore, though, as Part 1 of Season 5 revealed that the Rhoades are officially separated and things are getting messier as restraining orders enter the picture. Wendy has come and gone and returned again to Axe Capital throughout "Billions," and another character very close to Axe made their complicated, triumphant return to the hedge fund in Season 5, Part 1.
Taylor Mason (Asia Kate Dillon, "Orange Is the New Black") is one of Axe's protegés and someone whom he has chosen to value for their ability to think differently than everyone else. Dillon joined "Billions" in Season 2 as the financial analyst who got their start at Axe Capital, left to start their own hedge fund and then returned with a secret up their sleeve. Upon their return, Taylor quickly reveals to Axe that they've been tasked with spying on him for Chuck, who is now investigating cryptocurrency miners tied to Axe.
While Taylor made their loyalty clear enough, it has not exactly been smooth sailing in their new role back at Axe Capital. Taylor opposes Axe over competing interests in investing in fossil fuel. And while Taylor's former fund folded into Axe Capital when they returned, their mission is more forward-focused than Axe's decision to continue investing in fossil fuel.
A tangled web is collectively woven by all of the "Billions" characters, and it's only strung tighter where venture capitalist Oscar Langstraat (Mike Birbiglia, "Trainwreck," 2015) pulls.
Oscar is, among other things, a love interest of Taylor's in Season 3 when he first appears in the show. A venture capitalist who endears himself to Taylor over a game of Netrunner, their relationship status becomes complicated when Axe involves himself in a deal with Oscar, thus mixing Taylor's personal and professional lives without their knowledge.
Oscar returns in Season 5, bringing a West Coast attitude to the well-established East Coast hedge funders.
Don't miss the next part in the dramatic hedge fund world of "Billions" when Season 5 returns to Showtime on Sunday, Sept. 5.