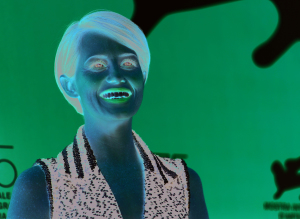 Claire Foy to star in Facebook drama series "Doomsday Machine"
Monarch to mogul: She's fresh off a second Emmy win for playing Queen Elizabeth II in Netflix's "The Crown," but in an upcoming TV project, British actress Claire Foy will be focusing on a different kind of empire -- the social media kind.
Foy is set to portray Facebook COO Sheryl Sandberg in the upcoming series "Doomsday Machine," from production companies Anonymous Content ("Mr. Robot" ) and wiip ("Mare of Easttown"). Penned by playwright/novelist Ayad Akhtar ("Homeland Elegies"), the scripted drama series is a TV adaptation of the bestselling book "An Ugly Truth: Inside Facebook's Battle for Domination" by Pulitzer Prize-winning journalists Sheera Frankel and Cecilia Kang, who are both also on board as consultants and executive producers.
As Sandberg, Foy will play a central role in "Doomsday Machine," which centers on the relationship between the COO and Facebook founder Mark Zuckerberg (a role uncast as of writing). The show will focus on a series of decisions made by the social media giant since 2016 and amid the rise of online disinformation.
But Facebook is none-too-pleased about "Doomsday Machine" and its potential for generating more controversy: it hired Mathew Rosengart, the lawyer who helped Britney Spears fight against her conservatorship, to defend the company against any "grossly misleading characterization."
Rosengart has already sent a letter to the series producers, warning them of possible legal action if the adaptation repeats any of the source material's "false and defamatory statements, characterizations, and implications about Facebook and its leadership."
This legal warning shot isn't surprising given Zuckerberg's dissatisfaction with the 2010 film "The Social Network," and in light of Facebook's attempts to reshape its image. The letter cited four key points of concern as potential legal traps, so it should be interesting to see how the final product looks once production on "Doomsday Machine" is completed.
Cast in 'Order': NBC is officially reviving Dick Wolf's original "Law & Order" series, the one that spawned such spinoffs as "Criminal Intent," "Special Victims Unit," "Trial by Jury" and more (but not "For the Defense," which was canceled this summer before it even aired).
The network's straight-to-series order was announced earlier this fall, and at that time few details were revealed other than the name of its showrunner (Rick Eid, one of Wolf's frequent collaborators).
We do know that the revival is being treated as the series' 21st season rather than as a reboot or spinoff, and now "Burn Notice" star Jeffrey Donovan holds the distinction of being its first official cast member.
After seven seasons on the USA Network series, Donovan joins the Law & Order family as an NYPD detective in "Law & Order." There's also been talk of former series stars revisiting their characters.
Expect more casting news to come, but in a 2015 interview with the Hollywood Reporter — back when Wolf was looking to revive the show as a limited series — actor Sam Waterston had stated he was open to reprising his role as District Attorney Jack McCoy, saying, "I'd love it. Got to break the record."
The record in question was "Gunsmoke's" 20-year, 635-episode run; a run that made it the longest-running live-action prime-time series at the time.
"Law & Order" was only a season away from smashing that record when NBC abruptly canceled it in 2010 due to declining ratings and budget constraints. That said, another Wolf-produced show, "SVU," successfully surpassed "Gunsmoke's" run in 2019.
(H)all good: Just last month, journalist and talk show host Tamron Hall was making news of her own with the release of her debut novel, "As the Wicked Watch." It's being touted as the first in a new series of fictional crime stories, but Hall will also be exploring true crime stories, too, come January (Jan. 9, 2022, to be exact), when the new series "Someone They Knew… With Tamron Hall" debuts on Court TV.
Hall's syndicated talk show is still going strong -- in fact, "Tamron Hall" just scored a two-season renewal, which ensures it'll be on the air through the 2023-24 season. Hall confirmed the renewal when she tweeted, "Tam Fam, we could not have done this without you!! We'[ve] been renewed for Season 4 Season 5 #tamronhallshow."
In August, ABC News took over production of the formerly Disney-produced syndicated show, which won a Daytime Emmy after launching in the fall of 2019. And it seems ABC continues to be pleased with the show's performance and contributions to daytime television.
"Tamron Hall is a trusted and accomplished journalist and an outstanding talk show host," ABC News president Kim Godwin said in an official statement. "She is a breath of fresh air in daytime, approaching every show and segment with her personal mix of curiosity and compassion. We are delighted to continue this collaboration with Tamron and her stellar team in presenting their distinctive brand of talk to our valued station partners, the TamFam and beyond."