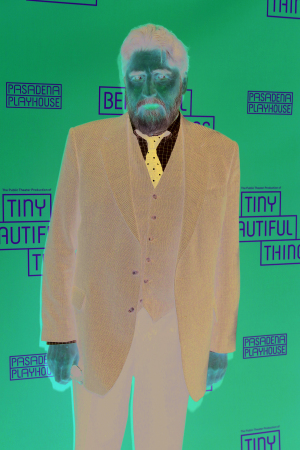 Alfred Molina to star in "Three Pines"
Molina's mystery: Look for actor Alfred Molina to return as Doc Ock in the upcoming MCU film, "Spider-Man: No Way Home," due out in theaters this December, but until then, the "Spider-Man 2" (2004) star will be busy filming a new Amazon Prime Video series in Canada.
An eight-part mystery, "Three Pines" is based on the bestselling books from Canadian crime novelist (and former CBC broadcaster/journalist) Louise Penny. The novels, including 2021's "The Madness of Crowds," follow Chief Inspector Armand Gamache as he investigates a series of murders in the idyllic (but fictional) community of Three Pines, which was inspired by the Eastern Townships village where Penny resides.
British-born Molina stars as Gamache, a man who seemingly sees things that others do not, and whose investigation will uncover some long-buried secrets -- including a few of his own ghosts. Filming is already underway in Montreal and rural Quebec, and production should continue through to December.
It's worth noting that "Three Pines" is the first Canada-based project for Left Bank Pictures, the British production company behind Netflix's "The Crown," which was the big winner at last month's Emmy Awards.
In an official statement, the company's CEO, Andy Harries, stated, "Alfred Molina is one of my favorite actors, and it's thrilling to be working with him again. His warmth, talent and charisma are perfect to play Louise Penny's much-adored Inspector Gamache. We are privileged to be shooting 'Three Pines' as our first-ever series in Canada, and bringing the originality and popularity of her incredible stories to a worldwide audience."
Christina Wayne, head of Canadian originals at Amazon Studios, added, "The series will be our first locally produced scripted drama, and we are thrilled to work with Left Bank to bring these layered characters, unique setting and masterfully constructed mysteries that Louise created to Prime Video. Alfred Molina perfectly embodies the cerebral and compassionate nature of Gamache and leads a tremendous cast."
That cast also includes Rossif Sutherland ("River," 2015), Clare Coulter ("I, Daniel Blake," 2016) and Anna Tierney ("Deceit").
Shue in: If you were around in the '80s, you know Elisabeth Shue from such films as "Adventures in Babysitting" (1987), "Cocktail" (1988), "Back to the Future 2" (1989) and "3" (1990), and, of course, "The Karate Kid" (1984) -- in fact, she recently reprised her role as Ali in the third season of Netflix's "Cobra Kai."
More recently, Shue starred in and served as executive producer of the Netflix comedy "On the Verge," and she put in a pretty memorable turn in Amazon Prime's "The Boys."
Count on Shue to keep adding more acting credits to her already lengthy resume as the actress recently joined the cast of the upcoming Showtime anthology series "Super Pumped," which brings viewers a different story from the business world every season. And given some of the scandals that have played out in the news in recent years, it seems there are plenty of stories to be mined there.
Season 1 will focus on the rise of Uber, the ride-hailing app that changed how we travel (and order takeout), as based on the book "Super Pumped: The Battle for Uber" by Mike Isaac.
While Joseph Gordon-Levitt ("Inception," 2010) leads the cast as Uber co-founder and CEO Travis Kalanick, Shue is now set to play his mother, Bonnie Kalanick, who is described as "the one person he can always count on for wisdom and truth."
Kyle Chandler ("Friday Night Lights"), Hank Azaria ("The Simpsons") and Kerry Bishé ("Penny Dreadful: City of Angels") also star.
'Drop Dead' Do-Over: According to Deadline, CBS is giving "Drop Dead Diva" the reboot treatment, and there's a twist.
The original series, which spans six seasons, is the story of self-centred model and "diva" Deb (played by Brooke D'Orsay, "Two and a Half Men"), whose soul resurfaces in the body of plus-size attorney Jane (Brooke Elliott, "Sweet Magnolias") after a car crash. The comedy-drama's focus on body positivity and its takedown of the beauty myth resonated with viewers and critics alike, and it was rewarded with multiple GLAAD Awards.
What's more, the last two seasons probably wouldn't have happened if it weren't for the fans: Lifetime, which ran the series from 2008 to 2014, canceled the series in January 2013 but resurrected it less than two months later after negotiating a more cost-effective arrangement with Sony Pictures Television. (It's worth noting that "Drop Dead Diva" remains one of the studio's top-streamed TV titles today.)
Now, creator/executive producer Josh Berman ("CSI: Crime Scene Investigation") is looking to freshen things up by adding a generational- and gender-related spin.
Written by Berman and directed by "Silicon Valley's" Jamie Babbit, "Drop Dead Dave" is the story of entitled Gen Z lawyer Dave, who meets an untimely end in a freak accident. As you'd expect, his soul resurfaces in the body of Rita, a complicated Gen X attorney, forcing Dave to gain an entirely new perspective on life, love and identity.
"Drop Dead Dave" is still in development as an hour-long series, but "Drop Dead Diva" is currently available to stream with a Starz subscription across various platforms.