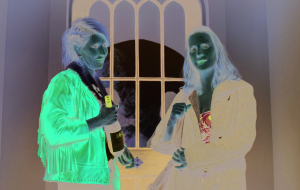 Julia Davis and Catherine Shepherd as seen in "Sally4Ever"
Midlife crisis: HBO's slate of original comedies continues to expand, and the premium channel is never afraid to search both near and far for its next hilarious hit. Its latest comedy, "Sally4Ever," premieres Sunday, Nov. 11, and springs from the mind of acclaimed English actress Julia Davis ("Love Actually," 2003).
The co-production between HBO and the United Kingdom's Sky Atlantic stars Catherine Shepherd ("Paddington," 2014) as Sally, a middle-aged marketer who's been living a quiet and dull life with her longtime boyfriend, David (Alex Macqueen, "The Inbetweeners 2," 2014), for the past decade. It's safe, it's comfortable, but when David suddenly proposes, Sally bolts and ends up in someone else's arms.
Those arms don't belong to another man, though -- they belong to a woman. Series creator Davis also stars as Emma, a beautifully seductive singer, actress and author who casts a romantic and lustful spell over Sally, drawing her into a side of her life that she'd never even known existed. Sally leaps head first into a wild affair with the other woman, but before she's even fully committed to her new life, the assertive Emma has already moved into her house, shuffled her furniture around and rearranged her life.
It's a hilarious look at midlife changes and the ways that a more assertive personality can run roughshod over a softer one, with the main cast supported by a slate of British actors, including Sean Bean ("Game of Thrones"), Julian Barratt ("The Mighty Boosh"), Joanna Scanlan ("Notes on a Scandal," 2006) and Mark Gatiss ("Sherlock").
Making a major midlife change is a big deal, but for Sally, who's used to a quiet, boring life with her boyfriend, the changes that are incoming are downright wild. HBO's new comedy "Sally4Ever" premieres Sunday, Nov. 11.
Into the deep: Discovery is venturing into the deep unknown. If "Shark Week" has proven anything, it's that there's an insatiable appetite out there for things that lurk in the ocean's depths, and now the channel is setting out to explore some of the least understood places and most inaccessible places on the planet.
Set to premiere sometime in 2019, "Deep Planet" will be a major multiplatform event that will, for the first time ever, bring a firsthand look at the deepest points in all five of the world's oceans to television. Five Deeps Expedition has spent three years planning, leaning on the expertise of the world's foremost submarine engineers, oceanographers and scientists, and the result is the Limiting Factor: a two-person submersible that's been specially designed for this exact endeavor.
Renowned explorer Victor Vescovo, who's climbed the world's highest mountains, will pilot the submersible as it descends to the deepest places in the Atlantic Ocean (Puerto Rico Trench), Pacific Ocean (Challenger Deep in the Mariana Trench), Indian Ocean (Java Trench), Arctic Ocean (Molloy Deep) and Southern Ocean (South Sandwich Trench).
Some of these depths have never before been witnessed by human eyes. "I was very surprised to discover that no one had ever been to the bottom of four of the world's oceans," Vescovo said in a statement, and it's anybody's guess as to just what the intrepid explorer will find down there. "Deep Planet" comes to Discovery later in 2019.
Killer dramedy: An Australian comedy-drama has made itself at home on this side of the Pacific, and it's settled right in. "Mr. Inbetween's" freshman season just wrapped its North American run a few weeks ago, but it's already been renewed for a second outing.
The dramedy, which airs on FX here and on Foxtel in Australia, stars Scott Ryan ("The Magician," 2005) as Ray Shoesmith, an ex-husband, a loving father, a devoted boyfriend and a loyal friend struggling to keep going through whatever life throws at him. Of course, the fact that he's also a killer for hire makes his life far more complicated, especially as he struggles to keep his "normal" life separate from his criminal one.
The first season's six half-hour episodes were a hit with critics, receiving heaps of praise for its snappy pacing, thanks to its 30-minute format and for its skillful blend of laugh-out-loud humor and serious drama. Ray's not a killer who enjoys the act -- it's just his job, one that he happens to be very good at, but it isn't one that brings him any sort of pleasure.
And therein lies the lynchpin that ties both the drama and the comedy: a professional killer, and a darned good one, who doesn't like killing. The first season was a quick, enjoyable treat and the second promises to bring more of the same when the Australian series returns to FX later in 2019.