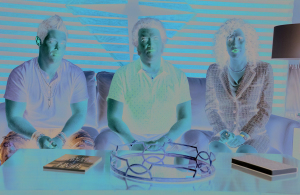 Adam Devine, Danny McBride and Edi Patterson in "The Righteous Gemstones"
Merry 'Gemstones': What would a "Righteous Gemstones" Christmas look like, exactly? We might find out later this year if series creator, executive producer, head writer, lead actor and general mastermind Danny McBride ("Eastbound & Down") has his way.
In an exclusive interview with Gold Derby, McBride revealed his plans for a possible Christmas special: "We have a script and HBO's into it. And we're into it. But we'll see if we're able to pull it off."
"Because of some actors' availability and some stuff, we really won't be shooting the second season until the beginning of next year," McBride explained. "But in the meantime, to get our crew back to work, and to give audiences another piece of the Gemstones since they won't get it this year, I've written a Christmas special that we're going to try to shoot. And it will be an hour-long [special] and about a two-week shoot. So hopefully, we get to do it."
No word on what said "stuff" might be, exactly, but the HBO series about a family of corrupt televangelists, also starring Adam Devine ("Modern Family") and Edi Patterson ("We Bare Bears"), was renewed for a second season last fall. And it's easy to assume he's referring to the industry-wide production shutdown, because all of the scripts for Season 2 have been finalized and production had just begun when things came to a screeching halt in March.
As for availability, John Goodman ("Roseanne"), who plays patriarch Eli, may be the one with the busiest schedule, due to his involvement with ABC's "The Conners" and a few upcoming TV projects, including Disney 's "Monsters, Inc." animated series. Devine, who plays Kelvin, also has a few projects planned for 2020, as does Tony Cavalero ("Miracle Workers"), who plays Keefe Chambers.
Still, production on a one-hour special is probably easier to schedule and co-ordinate than an entire season, so there is hope for fans of the show. In the meantime, the first season of "The Righteous Gemstones" has garnered nominations in several Emmy categories including Comedy Series, Comedy Supporting Actor, Comedy Supporting Actress and Comedy Actor for McBride.
Dr. Knows: Ben Whishaw ("Mary Poppins Returns," 2018) will be reprising his role as MI6 quartermaster "Q" in the next James Bond film, "No Time To Die" (2020), due out in theaters this November. But for his next TV project, the English actor is stepping away from international intrigue, modified Walter PPKs and tiny detonators and will be working with a stethoscope instead.
Whishaw recently signed on to star in the eight-episode dramedy "This Is Going to Hurt," a joint production for BBC Two and AMC. The series is based on the bestselling, identically titled memoir by British comedy writer Adam Kay. A former doctor, Kay's experiences working in the United Kingdom's National Health Service (NHS) are chronicled in the book, which he is now adapting for TV.
Whishaw will play a fictional version of Kay as he works his way up the ranks of the health-care hierarchy. Per the official announcement, Adam (Whishaw) is "junior enough to suffer the crippling hours but senior enough to face a constant barrage of terrifying responsibilities." Adam is constantly overwhelmed by workplace stress, whether it's the 97-hour work week or the life-and-death decisions, "all the while knowing the hospital parking meter is earning more than him."
An indie film darling, Whishaw won both a Golden Globe and an Emmy last year for his role in the Amazon limited series, "A Very English Scandal." He is also one of the new additions to the Season 4 cast of the FX drama "Fargo," though fans are still waiting for his Rabbi Milligan to make his debut -- production was halted by the pandemic and the premiere was pushed out to later this year.
Twice in a Lifetime: In December 1983, director Jonathan Demme ("The Silence of the Lambs," 1991) collaborated with members of the New Wave band Talking Heads -- frontman David Byrne, drummer Chris Frantz, bassist Tina Weymouth and guitarist Jerry Harrison -- to record their live performances and commit them to film.
The result was 1984's "Stop Making Sense," a concert film that continues to be hailed as one of the greatest ever made.
Fast-forward to 2020 and Byrne is still performing, albeit as a solo act. His live show, "American Utopia," ended its Broadway residency earlier this year, but TV audiences will have the best seat in the house when a filmed version airs later this year on HBO.
The concert performance will feature Byrne accompanied by 11 artists from around the world. There will be performances of songs from Byrne's 2018 album, some from his solo back catalog and, of course, some hits from his Talking Heads era, including "Burning Down the House" and "Once in a Lifetime."
The Broadway set list also included a timely and relevant addition: a rendition of Janelle Monáe's 2015 protest song, "Hell You Talmbout," with Byrne and the musicians taking turns calling out the names of Black victims of police brutality.
Director Spike Lee ("Da 5 Bloods," 2020) captured all of the action during "American Utopia's" 17-week run at the Hudson Theater in New York City. But this being a Byrne show, you have to go into it with the expectation of seeing a lot of movement and some high energy (and a famously big suit, one can hope). In fact, Lee reportedly had to employ 11 camera operators to get it all on film.