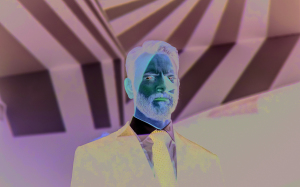 Alessandro Borghi stars in "Devils"
In a major acquisition by networks all over the world, the Sky Italia hit "Devils" will soon be making its way to audiences in the U.S. and Canada. It's slated to premiere Thursday, Oct. 7, on CW.
This is just around the same time Season 2 of the series will be premiering on Sky Italia. While this means another shift in CW's coronavirus-compromised time blocks, it's a scramble worth adjusting to. While we're not sure how the pandemic will actually affect the development of the show itself, we've seen so much creativity emerge in filmmaking during 2020 that we're confident it will be just as spectacular as Season 1.
The 10-part financial dramatic thriller is full of scandal, mystery and, of course, celebrity faces we've been missing from our television screens for too long. The plot follows Massimo Ruggero — played by Italian-born actor Alessandro Borghi ("Suburra: Blood on Rome") — and Dominic Morgan — portrayed by TV's "McDreamy," Patrick Dempsey of "Grey's Anatomy" fame.
Ruggero is a young and incredibly successful Italian stockbroker who is generating millions of dollars for his company. Just as he finds himself in the perfect position to rise the ranks to vice-CEO, a scandal breaks out involving his ex-wife. This, unfortunately, ruins the proverbial "everything" for Ruggero.
As a result, Dominic Morgan, the U.S.-based CEO, withdraws his support for Ruggero's promotion. And when the colleague who was promoted in his place suddenly dies, naturally, Ruggero is suspected of murder.
Taking place around the time of the 2008 stock market crash, the outlook for the rest of the story looks bleak. Pretty much anything that includes banks, financiers and lofty pride on television nowadays has a plot that ends up spiralling out of control; "Devils" is no exception.
In an effort to clear his name, Ruggero uncovers a political plot that only serves to deepen the ongoing European financial crisis. And though North American audiences have yet to see the juicy Sky Italia production, the teaser trailer for the series explains it all, from the corporate scenery and the stock charts to good-looking people in business attire sliding papers across the table.
Oh, and we can't forget the kiss of death, the sound of a bullet shell dropping, handshakes and betrayal — it's everything we want in a drama and more.
Audiences will not only catch a glimpse of the absolute mass and corruption of money but will dive deep into the characters themselves and their personal lives.
Joining Borghi and Dempsey is a star ensemble: Laia Costa ("Foodie Love"), Paul Chowdhry ("Swinging with the Finkels," 2011), Sallie Harmsen ("The Postcard Killings," 2020), Malachi Kirby ("Curfew"), Pia Mechler ("Adam Bloom," 2020) and Harry Michell ("Yesterday," 2019).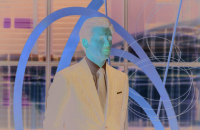 Patrick Dempsey as seen in "Devils"
Dempsey has been absent from American TV screens for a while, and his return is much anticipated. Last year, when the series first premiered on Sky Italia, Dempsey expressed how happy he was to work on an international story. Eyeing it as a passion project, he had no idea that it would be brought over to the States when filming began, but its energy and originality has proven magnetic as the show has been sent to more than 160 countries.
Perhaps even more refreshing for audiences, as it was for Dempsey, "Devils" is not a U.S.-centric banking story — it is a completely different perspective.
On the same note, the series is also a deviation from the norm for Borghi: this marks his first English-speaking role and is also the first time he's had to grapple with financial lingo. Being in a new world presented a daunting challenge for the actor, but he rose above it to give us quite an enticing and believable performance.
If you haven't noticed already, "Devils" is a pretty far cry from the average CW lineup. The network is tossing its teen-focused content this time for a more mature premise, raising its caliber of acting and plot structure to a whole new level.
You can further count on the strength of the show's plot since it was based on Guido Maria Brera's 2014 novel, "I diavoli." Brera's book drew much of its realistic tension from actual events surrounding the 2008 economic crisis, and it's clear from critics and audience reviews that the same tension shines through onscreen as well.
It's the show's credibility that keeps viewers wanting more, so it comes as no surprise that Brera was included on the writing team for the series.
"Devils" was developed by Sky Studios, the same company that brought us "Britannia" and "Gangs of London." The show originally aired in April 2020 in Italy but has since been distributed around the globe by NBC Universal. Directed by Jan Michelini ("Don Matteo") and Nick Hurran ("Sherlock"), "Devils" is produced by Orange Studio and Lux Vide.
Since the show wasn't in the original lineup for CW, the hour-long episodes will be replacing "Two Sentence Horror Stories." But don't worry. "Two Sentence Horror Stories" is getting an all-new, back-to-back time-slot on the network Saturday nights.
If you loved movies like "The Wolf of Wall Street" (2013) or "The Big Short" (2015), you won't want to miss this international thriller. You can catch the first season of "Devils" when it premieres Wednesday, Oct. 7, on CW.