Tom Cullen and Mark Hamill star in "Knightfall"
The warrior monks of the Knights Templar continue their quest to unravel an ancient mystery while struggling to keep their order alive in the second season of "Knightfall," premiering Monday, March 25, on History. Set in France in the early 1300s, the series follows the fictional Landry du Lauzon, played by "Downton Abbey" star Tom Cullen, as he recovers from the tragic events of last season.
In Season 1, Landry became the leader of the Paris chapter of the Knights Templar when his friend and mentor Godfrey (Sam Hazeldine, "Peaky Blinders") was murdered by mysterious assassins. During their investigation of the murder, the knights learned that the Holy Grail -- a relic they thought lost in the last crusade -- was not lost at all, and there were many villains who would do anything to get their hands on it. This season, as Landry reels from the loss of his queen and lover as well as the birth of his daughter, he also faces banishment from the Knights Templar for breaking his holy vows. His friends and fellow knights come to his defense and advocate for forgiveness and redemption -- so instead of being banished, he is forced to begin his service to the order again as an initiate. That's where the show's newest castmember comes in.
Mark Hamill ("Star Wars: The Last Jedi," 2017) joins the regular cast for the second season, trading his Jedi robes for those of a monk. He plays Talus, a battle-hardened veteran of the order who trains new recruits, a group that now technically includes Landry. A jaded warrior monk mentoring the next generation should be a comfortable fit for Hamill, who is best known for playing Luke Skywalker in the Star Wars film franchise.
At a February 2019 Television Critics Association event for "Knightfall," Hamill was asked about the similarities between his Star Wars character and this new television persona. He admitted that he "didn't really think it through," but expressed excitement about this opportunity to play Talus, whom he described as "basically the equivalent of a medieval drill sergeant."
Returning this season is "The Frankenstein Chronicles" actor Ed Stoppard as the complex and increasingly evil King Philip the IV of France. On portraying the nefarious royal, Stoppard told Syfy Wire that "it's not often seen in characters who ultimately behave in such an appalling manner that there's a scope there for the audience to instill some empathy." King Philip was, in fact, a friend of the order and of Landry himself, at the beginning of Season 1, but the revelations of an affair between his friend and his queen were the final nail in his "nice guy" coffin. It will be exciting to see Stoppard play a full-fledged villain this season.
Also returning are Genevieve Gaunt ("The Royals") as the clever, calculating Princess Isabella, Simon Merrells ("Spartacus: Blood and Sand") as seasoned Templar Tancrede and Jim Carter ("Downton Abbey") as Pope Boniface VIII.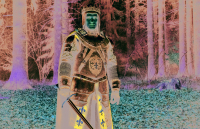 Ed Stoppard as seen in "Knightfall"
Aaron Helbing, whose resume boasts producing credits for series such as "The Flash" and "Black Sails," is the new showrunner for "Knightfall," and his enthusiasm for the series and the upcoming storylines is contagious. At a recent TCA event, an eager Helbing said that Season 2 is all about "brotherhood, redemption ... and revenge." He also shared that tons of research goes into penning the show's storylines, and that while "Knightfall" is "not beholden" to historical accuracy, most of what we see on screen is directly inspired by real historical figures and events.
Any medieval history buff would immediately know that "Knightfall" is not a direct or accurate retelling of history. Instead, showrunners have opted to use history as a jumping off point, and have framed the show as a mythology-inspired epic, much like History's own "Vikings."
There are many fascinating and layered secondary characters pulled straight from history in "Knightfall" (Pope Boniface VIII and King Philip come to mind), and the crux of the story is pulled straight from the past as well: though the Knights Templar and the King of France were once thick as thieves, their relationship had soured significantly by the late 1200s, and by 1312 the king had pressured the pope to dissolve the order completely. Of course, that doesn't mean the Templars disappeared forever. There are many tales of secret orders and clandestine missions, and the legend of the Templars has persisted throughout the centuries. It will be exciting to see how the show handles these events in future seasons.
And for those of you who couldn't care less about history or historical accuracy, there are epic battles, forbidden romances, murder mysteries, heartbreaking betrayals -- this series has it all. The star of the show, Cullen, may even be all it takes to keep you tuning in week after week. The "Black Mirror" actor is in top form, and he handles the deep emotional scenes as naturally as he handles the major battle scenes (that is to say, very well). He told AOL that he was inspired and excited by the role, saying, "It's a classic story that I've been obsessed with since I was a kid ... it's something I've been waiting my whole life to do." The appreciation for the part is clear considering how hard he works to make it come alive.
Find out what's next for Landry when the second season of "Knightfall" premieres Monday, March 25, on History.