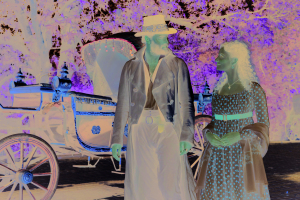 Tom Bateman and Dakota Blue Richards in "Masterpiece Classic: Beecham House"
Opulent period dramas have seen a resurgence in popularity in recent years, with TV series such as "Downton Abbey" and "The Crown" amassing loyal followings. Luckily for fans of the genre, one of the U.K.'s most buzzworthy period dramas has made its way across the pond to rivet American audiences.
Tom Bateman ("Cold Pursuit," 2019) stars as John Beecham, a former British soldier with a mysterious past who moves into a mansion in Delhi in 1795 in "Masterpiece Classic: Beecham House," airing Sunday, July 19, on PBS. He brings with him a biracial baby, causing a stir among the estate's staff.
As the series unfolds, Beecham welcomes his overbearing mother, Henrietta (Lesley Nicol, "Downton Abbey"), rebellious brother, Daniel (Leo Suter, "Victoria"), and others to his new home, all the while falling for English governess Margaret Osbourne (Dakota Blue Richards, "The Golden Compass," 2007). The enigmatic Chandrika (Pallavi Sharda, "Lion," 2016) soon arrives as well and wastes no time exerting her authority in the house. John's staff includes the beautiful Chanchal (Shriya Pilgaonkar, "Fan," 2016), the baby's nursemaid.
Combining mystery and romance with lavish sets and intricate costumes, the six-episode miniseries was originally produced for the U.K.'s ITV. Director Gurinder Chadha ("Bend It Like Beckham," 2002), who co-created "Beecham House" with her husband Paul Mayeda Berges ("Blinded by the Light," 2019) and author Shahrukh Husain ("In Custody"), explained that she came up with the idea for the miniseries while working on the script for the 2017 film "Viceroy's House."
"'Downton Abbey' was very popular at the time and I always loved 'Upstairs, Downstairs,' so I thought I'd like to do my own version of one of those shows with a twist," Chadha said in an interview on "Masterpiece's" official website.
While many of Chadha's past films focus on Indians living in England, "Beecham House" turns the tables on her usual MO to explore the life of an Englishman living in India who is determined to make a name for himself as a trader while living a quiet, peaceful life with his family.
"Masterpiece" executive Rebecca Eaton had high praise for the miniseries in a news release announcing that it would be airing on the PBS flagship series.
"I haven't seen a series as visually sumptuous as 'Beecham House' in a long time," she said. "This is a new time and place for our audience ... India in 1795, before the Raj. There is love and passion, too, and a storyline full of deepening mystery."
In the aforementioned interview, Chadha made it clear that she was determined to film at least part of the series in India, explaining that the setting couldn't really be duplicated anywhere else.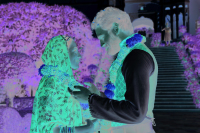 Saiyami Kher and Tom Bateman in "Masterpiece Classic: Beecham House"
"You can't beat India on camera," Chadha explained. "One of the things about India that existed long before the British came along and carried on long after they left, and will carry on, is their architecture, the palaces, the forts. We have used many, many shots of those amazing buildings, and that is India, for me. You cannot shoot that anywhere else."
The setting is one thing. But the cast is equally impressive. Bateman starred in Sky TV's "The Tunnel" in 2013, the same year he began his run as Giuliano Medici in the TV series "Da Vinci's Demons." He gained notoriety for his role as the title character in 2015's "Jekyll & Hyde" TV series. Bateman also starred in the Hollywood films "Snatched" (2017) and "Murder on the Orient Express" (2017) before returning to TV in ITV's "Vanity Fair." Up next, he's set to appear in the Netflix series "Behind Her Eyes."
Nicol is, of course, familiar as "Downton Abbey" cook Beryl Patmore. The English actress is a three-time SAG award winner, known for her roles in the BBC's adaptations of "The Lion, the Witch and the Wardrobe" and "The Silver Chair." American audiences may recognize her for her work on such TV series as "Supernatural," "The Catch" and "The Odd Couple."
After getting his start on stage as a boy, Suter appeared in films such as "Maleficent" (2014) and "Fallen" (2016). He has also been seen in the television series "Ransom" and "Sanditon."
Richards began acting as a child as well and landed the role of Lyra in "The Golden Compass" (2007) at the age of 13. She was cast in the British teen drama "Skins," as well as the TV movie "Dustbin Baby" (2008) and the fantasy film "The Secret of Moonacre" (2008).
In addition to the Bollywood films "Besharam" (2013) and "Hawaizaada" (2015), Sharda starred opposite Nicole Kidman in the Hollywood film "Lion" (2016) and appeared in the Australian medical drama "Pulse."
The daughter of two actors, Pilgaonkar began her onscreen career at the age of 5 in the Hindu television series "Tu Tu Main Main." She worked on the French film "Un plus une" (2015) before making her Bollywood debut in "Fan" (2016).
While "Beecham House" was not based on actual events as some have speculated, there is at least one character who was based on a real-life figure, Emperor Shah Alam II (Roshan Seth, "Gandhi," 1982).
Other notable characters include John's friend and business partner, Samuel Parker (Marc Warren, "Band of Brothers"), French mercenary General Castillon (Grégory Fitoussi, "Mr. Selfridge") and Beecham family friend Violet Woodhouse (Bessie Carter, "Howards End").
The miniseries has not exactly garnered widespread critical acclaim and, despite a cliffhanger ending, the program failed to earn a second season in the U.K. But perhaps it will have better luck with American audiences. In this week's episode, it appears that only the Emperor can save John. When he eventually returns home, it's evident that tragedy has struck again in "Beecham House," airing Sunday, July 19, on PBS.