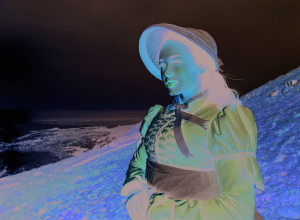 Rose Williams stars in "Sanditon"
Next year marks the 20th anniversary of one of the most groundbreaking achievements in cinema history. The first chapter in J.R.R. Tolkien's epic Middle-Earth trilogy, "The Lord of the Rings: The Fellowship of the Ring," was released in late 2001 to critical and commercial acclaim. After decades of failed big-screen adaptions, the fantasy series was eventually brought to life by Peter Jackson ("They Shall Not Grow Old," 2018) and forever changed the Hollywood landscape.
But there are many works of Tolkien that have never received the Hollywood treatment, works that are arguably just as important and relevant as the Lord of the Rings series. There are many authors in this same boat, and one of the most notable is Jane Austen. "Pride and Prejudice" has been recreated hundreds of times for television, the big screen and the stage (the 1995 BBC production has yet to be topped, in my opinion). "Emma," "Sense and Sensibility," "Mansfield Park," "Persuasion" -- all of these wonderful novels have been adapted in some form for global audiences. But Austen's "Sanditon" has been largely ignored by the film and television industries.
Admittedly, an unfinished book, even by one of the most popular writers in history, doesn't seem like an obvious choice for a TV adaptation. But on Sunday, Jan. 12, PBS will take you back to the Regency era and introduce you to some wonderfully colorful characters as "Sanditon" comes to life on PBS as part of its "Mastepiece" program.
After the great success of last year's "Les Misérables," legendary scribe Andrew Davies has once again set his sights on a lofty work from one of the greatest and most influential authors of all time. When Austen came down with a mysterious illness in 1817, she decided to take her mind off her failing health and focus her attention on something lighthearted and cheery: she began work on "Sanditon." Unfortunately, she never finished her witty novel and died only months after starting.
In this "Masterpiece" adaptation, the lively, impulsive and unconventional Charlotte Heywood (Rose Williams, "Reign") makes her way from her rural home of Willingden to the coastal fishing village of Sanditon. Thanks to a serendipitous mishap, the ambitious Tom Parker (Kris Marshall, "Death in Paradise") makes the acquaintance of the respectable Heywood family and invites their eldest daughter, Charlotte, for an extended stay at Sanditon. There, she attempts to reinvent herself as she is exposed to a world of intrigue, dalliances, high society and colorful characters, like the mysteriously charming and brooding Sidney Parker (Theo James, "Divergent," 2014), Tom's brother. Naturally, sparks fly between the adventure-seeking Charlotte and dapper-yet-unpredictable Sidney, and like all great romantic stories, many obstacles stand in the way of their relationship.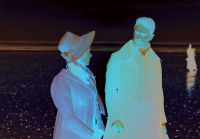 Rose Williams and Theo James in a scene from "Sanditon"
Over the course of the eight-episode limited series, we are introduced to a bevy of curious and unpredictable characters that Charlotte could never imagine meeting back home. As Tom, a kind family man, works towards his dream of transforming the sleepy seaside village into something bigger and better, the townspeople do not always co-operate. He hopes to turn the village into a fashionable health resort and partners with the wealthy Lady Denham (Anne Reid, "The Aeronauts," 2019), a twice-widowed woman who lives with her ward, Clara Brereton (Lily Sacofsky, "Summer of Rockets").
While promoting the series last year, writer Davies discussed what brought him to the project but also what viewers could expect: "Jane Austen managed to write only a fragment of her last novel before she died -- but what a fragment. 'Sanditon' tells the story of the transformation of a sleepy fishing village into a fashionable seaside resort, with a spirited young heroine, a couple of entrepreneurial brothers, some dodgy financial dealings, a West Indian heiress and quite a bit of nude bathing. It's been a privilege and a thrill for me to develop "Sanditon" into a TV drama for a modern audience."
On the surface, the period piece might seem like your typical costume drama, but there is much more to it. As The Guardian put it, the partially completed novel is a strange fiction about encroaching modernity in the industrial age and, more specifically, a seaside resort on the Sussex coast. Readers of "Sanditon" can attest that it is indeed a strange and compelling bit of fiction worth adapting into a bold and lavish series.
With that said, the adaptation process has not been an easy one. ITV, the British network that originally aired the series last fall, decided to use the unfinished source material as the basis of only the premiere episode. Davies used Austen's incomplete work as a launching pad for the rest of the episodes.
As with all adaptions, some fans of the source material will not be happy, and while "Sanditon" is already a huge hit overseas, it's also a source of great controversy and debate. Tune in to the dazzling period piece to find out why when "Sanditon" premieres Sunday, Jan. 12, on PBS.