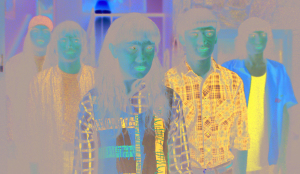 Eduardo Franco, Charlie Heaton, Millie Bobby Brown, Noah Schnapp and Finn Wolfhard in "Stranger Things"
For every TV fan who thinks of "Stranger Things" each time they play Dungeons and Dragons, hear the number "11," or pull a string of colorful lights out of storage during the winter months, this newest season of the 1980s sci-fi/horror mystery is for you. Also the series' final season, "Stranger Things" Season 4 will be split into two parts, with Volume 1 of the saga premiering Friday, May 27, on Netflix.
Responsible for a Netflix craze that launched a 1980s aesthetic revival and, arguably, the expansion of Winona Ryder's ("Edward Scissorhands," 1990) career to a younger audience, "Stranger Things" aired its first episode July 15, 2016. Now nearly five years since its inaugural season, the Duffer Brothers' ("Wayward Pines") supernatural mystery series prepares to take its final bow — though not before making some serious waves in its hometown of Hawkins, Indiana (and the Upside Down).
For the few Netflix subscribers who haven't yet taken the dive into "Stranger" lands, the series follows a group of friends in 1980s Indiana who must band together and rescue one of their own when he goes missing. Along the way, they encounter a myriad of supernatural entities — from a mysterious and powerful young girl named Eleven to a terrifying monster called the Demogorgon — before they eventually try to uncover what the government has been hiding from the American people all along. (Hint: It isn't good.)
Now three seasons later, the friends have grown into their own, seen and shared more than their fair share of trauma, and had to leave their beloved Hawkins behind; that is, until they are called upon to save day ... again.
But before diving into all that lies ahead, a brief Season 3 recap is in order. For those not yet caught up, beware of spoilers.
When Season 3 concluded July 4, 2019, (the same day it was launched on Netflix) things are bittersweet as Eleven (Millie Bobby Brown, "Enola Holmes," 2020) has been injured but appears to have removed the piece of the Mind Flayer that had been trapped in her wound, a piece that had removed all of her otherworldly powers. Nevertheless, the Mind Flayer was still very much active and has trapped Eleven and her group of friends inside the mall.
While Hopper (David Harbour, "Hellboy," 2019), Joyce (Ryder) and Murray (Brett Gelman, "Fleabag") tried to bring the kids to safety with help from Dustin (Gaten Matarazzo, "The Angry Birds Movie 2," 2019) and Erica (Priah Ferguson, "The Oath") and destroy the machine, their plans are diverted, and Billy (Dacre Montgomery, "The Broken Hearts Gallery," 2020) ends up sacrificing himself for the good of the group. Hopper's fate, too, appears dark as he becomes trapped within the machine while trying his best to kill Grigori (Andrey Ivchenko, "Counterpart"), and Joyce is forced to detonate the explosives when time runs out.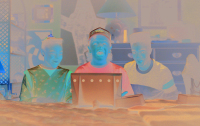 Priah Ferguson, Gaten Matarazzo and Caleb McLaughlin in "Stranger Things"
With several deaths now on their conscience — including, presumably, Hopper, Billy and the Mind Flayer — and the government still plotting various sinister cover-ups, Joyce and the kids prepare to move out of Hawkins. While all seems quiet on the Midwestern front, the season concludes with a shot of Soviet Russian scientists (just as it began) preparing to feed a human, though "not the American," to a captive Demogorgon.
As Season 4 begins, it appears Eleven is powerless, in the most literal sense, and while very little information has been divulged about the new season as of writing, the official trailer alludes to the reappearance of a character or two thought dead at the end of Season 3.
Also, despite Eleven and Mike's (Finn Wolfhard, "It," 2017) confession of love to one another during last season's finale, their lives are anything but the way they'd hoped coming into Season 4. As Max (Sadie Sink, "Eli," 2019) notes in the trailer, "For a while we tried to be happy, normal. I know it's impossible."
Her statement, backed by a looming sense of dread, begins to manifest when the group learns they must return to Hawkins to fight one last battle; this time without the help of Eleven's powers.
In a joint statement ahead of Volume 1's release, the Duffer Brothers said, "With nine scripts, over 800 pages, almost two years of filming, thousands of visual effects shots, and a runtime nearly twice the length of any previous season, 'Stranger Things 4' was the most challenging season yet, but also the most rewarding one."
Among the returning cast members this season are Ryder, Brown, Wolfhard, Matarazzo, Harbour, Sink, Ferguson and Gelman, as well as Caleb McLaughlin ("Concrete Cowboy," 2020) as Lucas, Natalia Dyer ("Things Heard & Seen," 2021) as Nancy, Charlie Heaton ("The New Mutants," 2020) as Jonathan, Joe Keery ("Molly's Game," 2017) as Steve, Cara Buono ("Person of Interest") as Mrs. Wheeler, Noah Schnapp ("Bridge of Spies," 2015) as Will, and Matthew Modine ("Full Metal Jacket," 1987) as Dr. Brenner. Eduardo Franco ("Booksmart," 2019) also joins the cast as new friend Argyle.
See you on the other side: "Stranger Things" Season 4 premieres its first volume Friday, May 27, on Netflix. The remaining five episodes are slated to premiere on the streamer July 1.