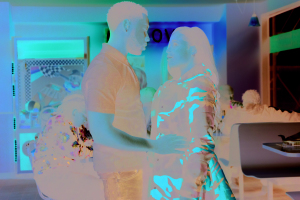 Jacob Latimore and Hannaha Hall star in "The Chi"
Television can be a great medium for storytelling, and the industry is finally embracing a more diverse range of subject matter. Some programs have even transcended entertainment to educate viewers on life realities for various underrepresented communities. One such series, chronicling the lives of several people living in Chicago's South Side, is about to wrap up for the season.
Neighbors in the primarily African American community have struggled to cope in the aftermath of an act of police brutality in the fourth season of "The Chi," which takes its final bow on Sunday, Aug. 1, on Showtime. The one-hour drama was created by Lena Waithe, an Emmy-winning performer, writer and producer who grew up on the South Side of Chicago.
Waithe was the first Black woman to win a Primetime Emmy for Outstanding Writing for a Comedy Series for her work on Netflix's "Master of None" in 2017, but "The Chi" marks a departure from comedy.
The first three seasons of the drama have attracted a loyal following and performed decently in the ratings. In fact, Season 3 doubled its audience on streaming platforms, so it came as no surprise when Showtime announced the Season 4 pickup in September 2020.
Showtime executive Gary Levine praised Waithe and fellow writer/executive producer Justin Hillian ("Snowfall"), who also serves as showrunner for the series, saying, "Each season, 'The Chi's' authentic storytelling resonates more deeply with its devoted and growing audiences. Lena Waithe, together with Justin Hillian, explore[s] the joys and the heartbreak of life on the South Side in a way that is unique on television."
Those stories of joy and heartbreak range from romantic entanglements and family ties to violence and a series of difficult choices. It's a formula that has worked well for "The Chi" so far.
"For us, we're never chasing a story, we're always just making sure to tell one," Waithe explained in a May interview with Deadline.com.
Of course, a part of what makes those stories so compelling is the characters and the actors who play in them. Season 4 has featured a talented core cast who bring the tales to life.
Jacob Latimore portrays Emmett Washington, a young father who tries to provide for his son. Latimore started out in the music industry before jumping into acting. Hailed as one of the Sundance Film Festival's most talented emerging artists after his appearance in the movie "Sleight" (2016), his other credits include "Black Nativity" (2014) and "The Maze Runner" (2014).
Hannaha Hall plays Tiff, the mother of Emmett's baby. The actress has appeared in "Chicago Med" and previously worked with Waithe on an untitled TV movie project.
Yolonda Ross stars as Emmett's mother, Jada, who encourages her son to do the right thing for himself and his child. Ross started her career in television in shows such as "New York Undercover" and "Third Watch" before landing the lead in the indie film "Stranger Inside" (2001). She went on to appear in "Law & Order," "Law & Order: Criminal Intent" and "Treme."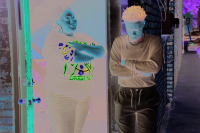 Genesis Denise Hale and Alex Hibbert as seen in "The Chi"
Young actor Alex Hibbert plays Kevin, a character who witnesses an act of police brutality involving one of his friends in Season 4. The performer made his film debut in the Oscar-winning film "Moonlight" (2016) and also had a role in the 2018 blockbuster Marvel hit "Black Panther."
Michael Epps portrays Kevin's friend Jake, who is involved in an altercation with police this season. A relative newcomer to the industry, he's appeared in "Chicago Fire" and "Empire." Epps also released his debut album, "Drip," in 2019.
Shamon Brown Jr. is known as Papa in "The Chi," a confident young man who loves food and hanging out with his best friends, Kevin and Jake. A Chicago native, Brown began his career as a child actor and has appeared in "Chicago Fire" as well as the Plain White T's music video for "American Nights."
Birgundi Baker stars as Kiesha, Kevin's sister, who has been struggling with the decision to keep the baby that resulted from her kidnapping and rape last season. Baker is known for her work in TV series such as "Black Lightning," "Empire," "Station 19" and "Chicago P.D."
Luke James and Curtiss Cook were both promoted to series regulars for Season 4.
James, who portrays Jake's older brother and local gang leader, Trig, can be seen in "Star," "Insecure" and "Unsolved: The Murders of Tupac and the Notorious B.I.G.," while Cook, who plays Otis "Douda" Perry, the crooked mayor in "The Chi," has appeared on Broadway in "The Lion King" and "Miss Saigon." His television credits include "Narcos," "Mayans, M.C." and "House of Cards."
To add to the authentic feel of the show, the actors get to tell their stories in the Windy City as, true to the show's title, the series is shot entirely in Chicago -- all 40 episodes. Aside from a slight delay in March 2021 when production was paused due to a positive COVID-19 test, the cast and crew forged ahead with Season 4.
This season, many of the South Side residents have been inspired to rise up and take action in the wake of police brutality. The Season 4 finale is titled "A Raisin in the Sun," presumably a tribute to the iconic Lorraine Hansberry play and subsequent 1961 film about a Black family in South Chicago.
As creators continue to explore diverse stories, it has never been more important to listen up and pay attention. Find out how everything unfolds in the Season 4 finale of "The Chi," airing Sunday, Aug. 1, on Showtime.