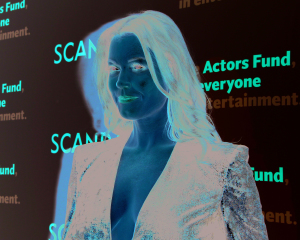 Bellamy Young joins the cast of "Promised Land"
Life after 'Scandal': Actress Kerry Washington ("Little Fires Everywhere") has several projects coming down the pipeline, including a star turn in Netflix's "The School For Good and Evil" (2022) and a producer-director role in the upcoming Hulu series "Reasonable Doubt." But Washington isn't the only "Scandal" alum who'll be popping up on our screens in 2022.
Fresh off Fox's "Prodigal Son," Bellamy Young -- a.k.a. first lady/President Melody "Mellie" Grant in "Scandal" -- is returning to ABC with a role in "Promised Land," which is on track to premiere Monday, Jan. 24.
The series, which stars John Ortiz ("American Gangster," 2007) in the lead role, has been described as an "epic, generation-spanning drama about two Latinx families vying for wealth and power in California's Sonoma Valley." Young will play the role of hotel magnate Margaret Honeycroft, who is the longtime nemesis of Ortiz's character, vineyard owner Joe Sandoval.
ABC has also welcomed Jeff Perry -- better known to "Scandal" fans as Chief of Staff/Vice-President Cyrus Beene -- back into the fold.
Perry recently boarded a new untitled drama that was ordered to pilot back in September. He's been tapped as the male lead opposite series star Hilary Swank ("Away"), whose character is a disgraced journalist who finds redemption after moving to Alaska and joining a daily newspaper in Anchorage -- a newspaper run by her former colleague, played by Perry.
That project is still in the pilot stage but would likely air in the 2022-23 broadcast season. In the meantime, look for Perry to appear in Shonda Rhimes' upcoming limited series "Inventing Anna," which reunites him with "Scandal" co-star Katie Lowes (she played Quinn).
"Inventing Anna" should arrive on Netflix sometime in the new year.
Ranger down: "Walker" is just barely into its second season, but already some big changes may be coming to CW's reimagining of "Walker, Texas Ranger."
Former "General Hospital" actress Lindsey Morgan, who plays Texas Ranger Micki Ramirez on the show, recently made the surprise announcement that she is exiting the series for "personal reasons."
In a statement, Morgan explained: "After much thoughtful consideration and introspection, I have made the incredibly difficult decision to step away from my role as Micki Ramirez on 'Walker' for personal reasons, and I am eternally grateful to have the support of the producers, CBS Studios and The CW in allowing me to do so."
She continued: "The opportunity to play Micki has truly been a blessing, as has working alongside the incredible cast and crew of this terrific series. Please know that I will continue to root for my TV family and wish them all the best."
No word yet on when Morgan's final episode as a series regular will air, but it is possible that audiences could see her return at some point as a guest star.
The decision to return would be up to Morgan, of course, but that possibility was mentioned in the supportive joint statement that was issued by CBS Studios and CW: "We respect and support Lindsey Morgan's decision to step away from her role as a series regular on 'Walker' and wish her only the best. She is a tremendously talented actress who will certainly be missed, and we will, of course, leave the door open for Micki to return."
Showrunner/executive producer Anna Fricke ("Dawson's Creek") also came out in support of Morgan's decision to step away, and said, "We truly support her and celebrate the impact she has had on this show," while series star/executive producer Jared Padalecki ("Supernatural") praised Morgan as "a wonderful person, inside and out" before adding, "I'm honored to consider her a friend."
To Dubai: Bravo is expanding its Real Housewives franchise once more, and this time it's going international.
To recap the franchise's history, the original series, "The Real Housewives of Orange County," has led to other installments set in New York City; Atlanta; New Jersey; Washington, D.C; Beverly Hills; Miami; Potomac, Maryland; Dallas and Salt Lake City, as well as a more recent "Ultimate Girls Trip" edition.
The Real Housewives brand and format have also been licensed (a key distinction) to other networks that are based outside of the United States, which is how "The Real Housewives of Vancouver," "The Real Housewives of Toronto" and other "global" iterations came to be.
But in terms of Bravo-produced installments, Dubai has been selected to be the franchise's 11th city and its first overseas setting.
"Everything's bigger in Dubai, and I couldn't be more excited to launch Bravo's first international Housewives series in a city I've been fascinated by for years, with an outstanding group of friends as our guides," executive producer and "Watch What Happens Live" host Andy Cohen said in an official statement.
"The Real Housewives of Dubai" is set to premiere next year and it promises to focus on women "navigating their relationships, careers and supremely lavish and ultra-wealthy lifestyles in the United Arab Emirates."
As for the cast, there's been some speculation that Caroline Stanbury, who appears in Bravo's "Ladies of London" and has a home in Dubai, might be on board, but expect more details to come.