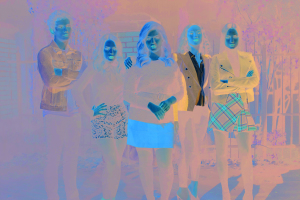 Eli Brown, Janel Parrish, Sasha Pieterse, Sydney Park and Sofia Carson star in "Pretty Little Liars: The Perfectionists"
Liar, liar: No word of a lie, "Pretty Little Liars" is back. Well, sort of. The popular teen drama has a new spinoff, and even if it isn't quite the original series, the return of some popular characters should be enough to get fans excited.
"Pretty Little Liars: The Perfectionists" premieres Wednesday, March 20, on Freeform, filling holes in countless hearts that have been gaping ever since the original show wrapped up for good in 2017. The new series has a new story to tell, along with a new cast of characters, but two returning faces mean that the spinoff should feel just like home.
Both Sasha Pieterse ("Heroes") and Janel Parrish ("To All the Boys I've Loved Before," 2018) star in the new series, reprising the roles that they played in "PLL." They join a cast of young actors that includes Sofia Carson ("Descendants 2," 2017), Sydney Park ("The Walking Dead"), Eli Brown ("Cupid's Paradise," 2018) and Hayley Erin ("General Hospital").
Details about the new series, its plot and its characters have been kept tightly under wraps, but what is known sure sounds intriguing. Whereas "Liars" was about a group of high school students trying to solve a deadly mystery, "The Perfectionists" has grown up with its audience. It's set in a sleepy college town where the overachieving students find their quiet lives rocked when the pressure to be perfect leads to a horrific murder.
"The Perfectionists" is the second spinoff of "Pretty Little Liars." The first, "Ravenswood," premiered in 2013 and was canceled after only one season, but with "Liars" having been off the air for almost two years now, there's a good chance hungry fans will keep this one around for a lot longer. "Pretty Little Liars" enthusiasts won't want to miss the premiere when it airs Wednesday, March 20, on Freeform.
A bloody documentary: Corporate greed. A self-made billionaire whose wealth and fame are built on a lie. Innovative technology that turns out to be just smoke and mirrors. The real-life story of medical technology company Theranos is as gripping as a Hollywood blockbuster, and on Monday, March 18, HBO brings the story of its founder to the screen in "The Inventor: Out for Blood in Silicon Valley."
The documentary premiered at the Sundance Film Festival earlier this year and hails from director Alex Gibney. He's no stranger to tackling rich and powerful organizations that he believes are frauds or abusing their power. The documentary maker is also the man behind 2015's Scientology exposé "Going Clear: Scientology & the Prison of Belief," 2005's "Enron: The Smartest Guys in the Room" and 2012's "Mea Maxima Culpa: Silence in the House of God" about the clerical sex abuse scandal.
In "The Inventor," Gibney turns his cameras on Theranos founder Elizabeth Holmes, the charismatic young entrepreneur who dropped out of Stanford to start her company. Theranos claimed to have developed a medical device that could analyze a single drop of blood to detect dozens of diseases, and within only a few years Holmes was a media and investor darling, with the company valued at more than $9 billion at its peak.
Of course, when the house of cards fell, it fell hard. In the end, it turned out that the technology didn't actually work, and Holmes was disgraced and faced legal action. It's a story that almost seems too over the top to be true, but it couldn't be more real. Catch the documentary's television premiere on Monday, March 18, on HBO.
More medicine: NBC is doubling down on medical dramas. The network is already home to the popular "Chicago Med," and earlier this season it took a chance on a second medical drama with "New Amsterdam." Well, that gamble has paid off, and the younger series has officially secured itself a second season.
"New Amsterdam" stars Ryan Eggold ("BlacKkKlansman," 2018) as Dr. Max Goodwin, the medical director of one of the oldest public hospitals in the country. It's an aging, struggling facility, and he's taken it upon himself to rip up the old bureaucracy and do whatever it takes to turn the place around and give the best care possible to its patients.
As if that weren't already enough of a challenge, Dr. Goodwin was diagnosed with cancer early on in the series, throwing a wrench into his plans. It's made for a deeply personal drama that not only deals with the day-to-day struggles of the hospital and its staff, but also with Goodwin's treatment and his frustrations that stem from how they affect his life and job.
It's a series that's ripe with drama, and it's clearly resonating with audiences. Dr. Goodwin and the rest of the staff at New Amsterdam aren't going anywhere for at least one more season. Watch for the sophomore season next fall on NBC.