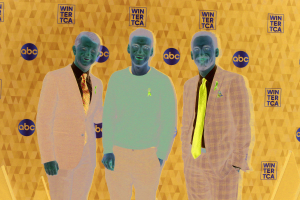 Ken Jennings, James Holzhauer and Brad Rutter star in "The Chase"
ABC's impressive lineup of game shows is about to get even better as the alphabet network adds not one, but two new series, set to premiere on Thursday, Jan. 7. First up is "The Chase," hosted by actress and writer Sara Haines ("The View"), followed by "The Hustler," which sees Craig Ferguson ("The Late Late Show with Craig Ferguson") return to hosting a network series.
Modelled off successful shows from the United Kingdom, the upcoming American version of "The Chase" features "Jeopardy: Greatest of All Time" winners Ken Jennings, James Holzhauer and Brad Rutter taking on the role of the Chasers — trivia geniuses who individually face off against teams of four contestants and do everything they can to stop them from winning.
Not surprisingly, the GOAT winners are practically household names. For nearly half a year, Ken Jennings made headlines as he met (and trumped) the record for the most consecutive wins on the show in 2004, winning 74 matches in a row. Brad Rutter, on the other hand, made fame as the all-time top-grossing contestant on the show, while James Holzhauer is the highest-grossing winner outside of tournament play.
Staggeringly, each of them won more than $2.5 million in their game show appearances, so it's no surprise that they've gained their own cult following.
The U.K. version of "The Chase" has been in production since 2009 on ITV and is still going strong. Previously developed for the U.S. in 2013, it aired on the Game Show Network and featured host Bradley Walsh ("Dr. Who") alongside British quiz genius Mark Labbett ("Loose Women") as the Chaser. But this ABC production is all new.
If you're a game show fan, or if you love all things British, you'll definitely want to check this one out. The network has only put in an order for nine episodes so far, but if its success in the U.K. is any sign of its future in North America, it'll likely be on the air for much longer. So far, "The Chase" has been picked up for national versions in 11 other countries.
"The Hustler," however, is a horse of a different color. The show — premiering immediately after "The Chase" — is both a mystery and a quiz show rolled into one. Along with Ferguson, you get to figure out which one of the seemingly wholesome contestants is not so innocent after all. In fact, they'll be a "hustler" who's out for themself. Can you sense a little sabotage? We can.
Originally from Scotland, Ferguson is an Emmy-winning game show host, actor, writer and standup comedian. His acting breakthrough in the U.S. came as Mr. Wick in ABC's "The Drew Carey Show," a role he played from 1996 to 2003. Craig also hosted the well-liked and trendy "Celebrity Name Game," which kept audiences in stitches. The show's producers felt strongly that Ferguson would bring an upbeat, off-the-cuff persona to the show.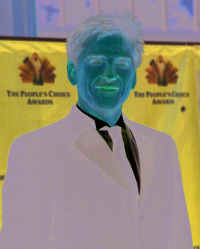 Craig Ferguson hosts "The Hustler"
"The Hustler" is based on British television and radio presenter Richard Bacon's series "This is MY House," wherein several people walk onto a property and claim that it belongs to them. A team of celebrities then competes to figure out — if they can — who the real owner is. While this new adaptation has a different premise, it has taken key components from Bacon's original series and has even brought the creator on board as a producer.
Thanks to its unique and unusual format, "The Hustler" is sure to get a lot of attention from dedicated game show lovers. In each episode, a team of five players will work together to figure out the answer to a set of trivia questions, building a collective prize pool that grows with each right answer.
But wait, there's more! One of them is secretly the Hustler — a contestant who has come to the show already knowing the answer to every single question they'll be asked. It is important to note that this doesn't necessarily mean they will win, though — nothing in this show is that easy. To have a shot at winning the grand prize, the Hustler has to keep their identity a mystery throughout the game and make it to the final round without getting caught.
The show may seem a touch more complicated than its parent show, but adding a mystery twist to the classic trivia premise will definitely keep viewers on the edge of their seats and craving more.
Sharpen your mind with the kings of trivia in "The Chase" before catching the con in "The Hustler," both premiering Thursday, Jan. 7, on ABC.