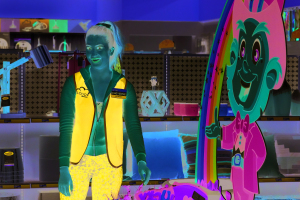 Nichole Sakura as seen in "Superstore"
As is too often the case nowadays, another beloved business is closing its doors for good. The big-box store Cloud 9, known to fans of NBC's hit sitcom "Superstore," is set to close shop this Thursday, March 25, and the series plans to wrap up with a special one-hour finale on the network.
In its almost six-year run, "Superstore" has won over fans with its endearing, true-to-life themes, including, most recently, the COVID-19 pandemic and how it changed the lives of Cloud 9's oddball employees.
When Season 6 began, all of Cloud 9's employees were shaken by two major events: the sudden changes caused by the pandemic and the departure of their fearless leader, Amy (America Ferrera, "The Sisterhood of the Traveling Pants," 2005). From that point on, the team — Jonah (Ben Feldman, "Drop Dead Diva"), Dina (Lauren Ash, "Lars and the Real Girl," 2007), Bo (Johnny Pemberton, "King Knight," 2020), Garrett (Colton Dunn, "Parks and Recreation"), Sandra (Kaliko Kauahi, "Raven's Home"), Mateo (Nico Santos, "Crazy Rich Asians," 2018) and Cheyenne (Nichole Sakura, "Shameless") — was left looking to Glenn (Mark McKinney, "The Kids in the Hall"), their newly reinstated store manager, in order to face the chaos brought on by the pandemic.
Production for Season 6 began in September of last year under all of the necessary precautions and protocols in light of the threat of COVID-19. During filming, everyone — producers, writers and actors alike — was hesitant to center an entire season around a serious, worldwide emergency, but everyone agreed that the pandemic must be mentioned, especially when taking into consideration that the characters are front-line workers.
The series, praised by critics and fans for its social consciousness, has always been aware of the world around it, tackling issues such as health care, unionization and the day-to-day concerns of the average working-class, retail employee. In fact, to carry on as usual without any mention of the current global health crisis would have been highly out of character for the show, so the biggest issue quickly became not if the pandemic would be incorporated, but how.
Writers initially brought face masks into the mix as a core element of the current season, but after a large amount of research on different types of masks and reviewing episode footage to find the masks largely interfered with the show's quality, that idea was quickly nixed. Nevertheless, despite the absence of the real-life essential tool, COVID is still clearly present at Cloud 9 — Glenn was even forced into quarantine after having possibly been exposed to the virus while at church.
The series' sixth season has also shown timely interest in matters unrelated to the coronavirus pandemic, such as their address of the Black Lives Matter movement. "Superstore" faced systemic racism head-on in a recent episode when the store's policy on Black beauty products changed, inspiring Garrett to bring to light many of the race-based systemic issues that are present within Cloud 9, retail chains and various consumer industries at large.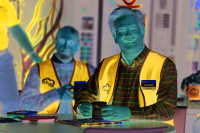 Mark McKinney stars in "Superstore"
With storylines like this, it's no surprise that "Superstore" has actually been one of the highest-rated series on NBC, averaging a rating of 1.03 among audiences aged 18 to 49, based on an average of 3.72 million total viewers across the first five seasons. If anything, it might come as a surprise to many fans that the show's ending at all, especially for any one of the 7.2 million viewers who tuned in for the pilot (rated 1.98) across all platforms.
While both ratings and viewership have been steadily dropping since the series' debut in 2015, many were expecting the series to carry on without Ferrera. Many other sitcoms (such as "Nashville," "Vampire Diaries" and "The Office," to name a few) have continued on successfully for a few seasons following the departure of one of their lead actors. In "Superstore's" case, however, it seems that Ferrera's departure was the cause of some underwhelming feelings in relation to the newest season and, after just four episodes, the network announced that the show's current season would also be its last.
When NBC confirmed its decision in December 2020 and officially announced that the series would end after airing a total of 113 episodes, news leaked about a potential spinoff featuring Bo and Cheyenne. Unfortunately for fans, no other details have yet been released as to whether that will happen.
Despite this being "Superstore's" final season, the show does still have a loyal fan base who are anxiously awaiting the finale. Viewers are hoping that everyone at store No. 1217 will get their happily ever after as the series comes to a close. Perhaps Amy will return and reunite with Jonah, or Dina and Garrett will finally sort out the destiny of their on-again, off-again relationship. Maybe everyone will apologize for berating Sandra. Not to mention, who knows what will happen with Carol and her ongoing lawsuit?
These are just a few of the many plot possibilities fans have been talking about online as the series draws to a close, but the only way to find out for sure how it ends is to join the Cloud 9 store party during the special, one-hour series finale of "Superstore," airing Thursday, March 25, on NBC.