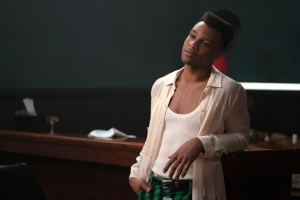 Dyllon Burnside as seen in "Pose"
When director Ryan Murphy got together with Brad Falchuk and Steven Canals to mastermind "Pose," FX's drama series about LGBTQ ballroom culture in 1980s New York City, he was intent on creating a show that would break barriers for queer characters and actors. When the project was greenlit by the network, they wasted no time in making good on this vow, filling the cast and writing room with trans and queer talent, and even breaking a record for the largest number of transgender actors to play regular roles in a scripted TV series.
Many of the "Pose" cast members are rising stars with formidable experience in LGBTQ advocacy and arts scenes, including Angelica Ross ("Her Story," 2016), Ryan Jamaal Swain ("Engaged," 2019) and Dyllon Burnside ("Peter Pan Live!" 2014). The show premiered in June 2018 to resounding acclaim from LGBTQ communities, who were delighted at the authenticity and heart of the characters and their stories. The series is now well into its second season and has been renewed for a third. Catch the next episode of "Pose" when it airs Tuesday, Aug. 20, on FX.
Set in late-1980s New York City, the first season of "Pose" hopped between a few different social backdrops, covering social scenes from the swanky Trump-era world, the downtown social scene and the ball culture world. The breadth of the setting allowed writers space to explore stories that run across boundaries of privilege and class, but which are threaded together by core themes of human vulnerability and the search for community and belonging.
The central characters of the series are all members of New York's ballroom culture, a network of LGBTQ people who organize themselves into competitive "Houses," vying for awards and status in different performance categories. "Balls," explains Blanca (Mj Rodriguez, "The Big Take," 2018) in the first season's trailer, "are a gathering of people who are not welcome to gather anywhere else."
For many decades, ball culture has provided homes and families to queer African-American and Latinx youth who have been kicked out of their homes or been otherwise disenfranchised, and the characters of "Pose" candidly portray the typical experiences of many of these people. At different points, Angel (Indya Moore, "Saturday Church," 2017) and one-time House mother Elektra (Dominique Jackson, "Strut," 2016) each rely on sex work to keep themselves afloat; teenager Damon (Swain) joins the ballroom scene when he is disowned by his evangelical parents and is taken under the wing of House mother Blanca; Pray Tell, the community emcee, faces the loss of a partner to AIDS before discovering he's contracted it himself. "Pose" does not shy away from any topic as it shines the spotlight on a subculture that is often invisible to mainstream television audiences.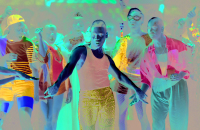 Ryan Jamaal Swain in a scene from "Pose"
It was no easy feat for the show's creators to get such a project off the ground. In an interview with Entertainment Weekly, Canal explained that he and his co-creators were "in and out of rooms for two years, and being told, 'No, it's too niche, it's too urban, it's a period piece, too many black people, too many queer and trans people.'" It's now clear that this was far from the truth, as "Pose" has been a success both critically and among fans who are hungry for all the drama, passion and heartache that goes down in this fictionalized ball culture society.
"Pose" is a project that has, from the outset, been dedicated to putting storytelling power in the hands of the minorities it represents at all levels of production. This commitment to authenticity has resulted in evocative and true-to-life stories playing out on screen. Our Lady J ("Transparent"), a prominent trans television writer and artist who was sought out by Murphy for the writing room, has praised the defiantly uplifting nature of the script, saying that the stories of HIV-positive and queer characters are "often cloaked in darkness or sickness or victimization, and these characters are really leading with strength."
Don't be fooled, however. The show's extensive efforts to be a positive and uplifting force have by no means come at the expense of brutal drama. On "The Wendy Williams Show," writer Janet Mock said the cast of characters comes with some catty interpersonal relationships: "We have villains, we have shady queens, we have threatening queens, we have violent queens!."
Speaking of which, there's no shortage of tension and intrigue waiting in the wings as the current season unfolds. Elektra seems to be back on her feet with a job as a dominatrix, but that's complicated by an accidental death on her watch. Angel fends off exploitation while finding success in the modeling industry. Blanca recently announced her HIV-positive status at the AIDS benefit cabaret, and Ricky and Damon are experiencing tumultuous relationship drama with accusations of cheating.
By all accounts, "Pose" is a groundbreaking TV series. Beyond breaking records for employing LGBTQ talent, it shines an unprecedented light on stories and characters that are rarely brought to the forefront of audiences' attention. Heralded for its loud, fun and unabashed celebration of life and survival, "Pose" isn't quitting any time soon. Catch the next episode when it airs Tuesday, Aug. 20, on FX.