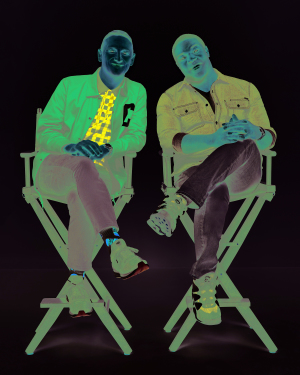 Tim Robinson and Sam Richardson star in "Detroiters"
Laughter, as advertised: Who ever would have thought that the world of advertising could be this funny? Before AMC's "Mad Men" came along in 2007, the industry probably didn't seem all that glamorous to very many people, but that behind-the-scenes peek into the highly competitive business of ads definitely opened it up to TV audiences.
Unlike that storied series, "Detroiters" is not a tense drama that takes a serious look at advertising. No, this Comedy Central series swings in the other direction, batting for laughs and hitting a home run along the way, with its second season premiering Thursday, June 21.
Sam Richardson ("Veep") and Tim Robinson ("Saturday Night Live") star in the comedy, which they also co-created. Together, they play Sam Duvet and Tim Cramblin, a pair of local Detroiters with their own ad agency that makes low-budget commercials for local businesses. They may be competing with the big out-of-town firms, but what they lack in resources, experience and glamour of the "big guys," they more than make up for with laughs -- and there are lots of them here.
At its heart, "Detroiters" is a buddy comedy about two best friends and business partners getting into all sorts of crazy situations against the backdrop of Detroit's skyline -- already a far cry from "Mad Men's" take on an ad agency. Also different here is the complete focus on Sam and Tim, with other characters ebbing and flowing through their lives but never staying around for long.
The Motor City is experiencing a revival, and best friends Sam and Tim are poised to capitalize on it -- if they can get their act together. The second season of "Detroiters" premieres Thursday, June 21, on Comedy Central.
The final course: Even the greatest and most delectable feasts have an end, and the same is true for TV shows. For "Young & Hungry," the meal's last course is finally being served.
The second half of the Freeform romantic comedy's fifth and final season premieres Wednesday, June 20, following a yearlong hiatus that's left fans champing at the bit for a resolution after the first half's cliffhanger ending. And while it's the end of the show as a TV sitcom, there's more "Young & Hungry" in store for its fans, with a two-hour movie in the works that will serve as the true finale for the beloved series.
Emily Osment ("Hannah Montana") stars as young chef Gabi Diamond, who was hired by self-made millionaire Josh Kaminski (Jonathan Sadowski, "Live Free or Die Hard," 2007) as his personal chef way back in the series premiere. After the two ended up having a one-night romantic fling, the series has dealt with their on-again, off-again relationship as they continue to fall deeper and deeper in love with each other.
It's a classic love story to be sure, but the twists, the laughs and the clear chemistry between the two leads has kept the show fresh through all five seasons. The two main stars are supported by Aimee Carrero ("Elena of Avalor") as Gabi's best friend, Sofia, Kym Whitley ("Rango," 2011) as Josh's housekeeper, Yolanda, and Rex Lee ("Entourage") as Josh's publicist and confidant, Elliot.
As the series returns from its yearlong hiatus, fans will be eager to see if Josh and Gabi can finally make their relationship stick. The mid-season finale left audiences hanging after Josh recovered from a bout of amnesia and finally told Gabi that he loves her. With only 10 episodes to go on the small screen, it looks like the two young lovers may finally be ready to commit to each other.
The first of the final 10 episodes of "Young & Hungry" premieres Wednesday, June 20, on Freeform.
Game, set, 'Match': The networks are always on the hunt for the next big game show, but it turns out it's often the classics that find the biggest success.
"Match Game" got its start way back in 1962, and over decades of revivals, network changes (it's been on NBC, CBS, ABC and in syndication at various points) and different hosts, it's never failed to find an audience eager to play along at home -- and laugh at the outrageous answers that its celebrity guests come up with.
The modern "Match Game" launches its third season on Thursday, June 21, on ABC, with host Alec Baldwin ("30 Rock") back for more bouts of fill-in-the-blanks. Each episode finds two contestants attempting to match the answers of a celebrity panel, and the answers are typically downright hilarious.
With astrophysicist Neil deGrasse Tyson ("Cosmos: A Spacetime Odyssey"), Ellie Kemper ("Unbreakable Kimmy Schmidt"), Adam Pally ("The Mindy Project"), Laverne Cox ("Orange Is the New Black") and Kenan Thompson ("Saturday Night Live") just a few of the many celebrities lined up to appear this season, it looks like the laughs are going to be in full force as the contestants compete for the potential $25,000 prize.
"Match Game" premieres Thursday, June 21, on ABC.