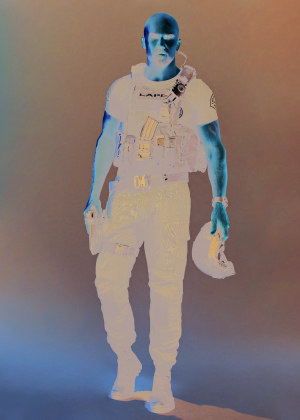 Shemar Moore stars in "S.W.A.T."
As long as there are television time-slots to fill, there will be crime dramas in all their gritty, derivative, procedural glory. Aside from the multi-camera sitcom, there really is no television genre quite as familiar or immediately satisfying as the cop show. Throughout the decades, this genre has cemented itself as a staple of any network television lineup. Its heavy hitters include shows such as "Law & Order," "Hawaii Five-0" and "Criminal Minds" -- these programs have a rhythm, and many have become appointment television by virtue of their formulaic narratives and the reimagining of a set structure, as opposed to fresh or shocking plot points.
In this grand tradition, a new episode of S.W.A.T." airs Wednesday, Jan. 15, on CBS, and this series, while sticking to many of the previously mentioned formulas, has a lot going for it.
First of all, it's a reboot of the 1975 original series of the same name (another trend that's picking up steam these days). The show follows the men and women who make up a Los Angeles Special Weapons and Tactics unit, led by Sgt. Daniel "Hondo" Harrelson, as played by television veteran Shemar Moore ("Criminal Minds"). It has all the makings of a successful crime show: with elaborate set pieces, incredible action sequences, timely social commentary, complex internal team dynamics and incomprehensible-but-legitimizing military jargon.
Now deep into its third season, "S.W.A.T." has seen Hondo, along with Metro Capt. Jessica Cortez (Stephanie Sigman, "Anabelle: Creation," 2017) and officers Victor Tan (David Lim, "Quantico"), James Street (Alex Russell, "Carrie," 2013), Christina Alonso (Lina Esco, "Kingdom") and Dominique Luca (Kenny Johnson, "Bates Motel"), run through the streets of Los Angeles tackling the kind of situations that earn them their special-ops qualifier. Casino robbers, hostage takers, abducted Middle Eastern human rights activists, drug cartels and serial drone bombers are just a few of the cases they've dealt with in the past.
It's material that gives "S.W.A.T." a leg up on other shows of its kind, in terms of the urgency and size of their issues. However, these are qualities that, though important and genre-specific (with these kinds of shows, a well-designed explosion is often as crucial to its viewership as a thought-out storyline), don't really say much in terms of how it reinvents and maintains its audience's interest when there are so many other catch-the-bad-guy dramas to choose from.
What's really worth pointing out about "S.W.A.T." and its run thus far is the way it relies on the relationship between its lead character and the community the team serves. Hondo is a native of the Los Angeles area, a man who wants to fix his city's mess as much as he wants to understand and justify it. It's an extremely effective device, one that gives stoic and hardened Hondo an immediate empathic through-line and provides a place for the show's action to swell up in every now and then.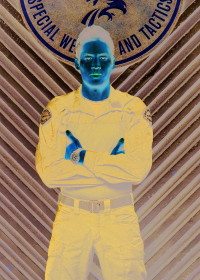 David Lim in "S.W.A.T."
It's not a fully innovative detail for a crime drama -- the use of a city's socioeconomic dynamics as fodder for narrative has been done many times before. However, and perhaps this is due to Moore's acting chops and long-overdue position as lead of a show, "S.W.A.T." has proven to be particularly adept at handling this part of their storytelling.
From the bureaucracies Hondo deals with in his attempts to gain legal guardianship of his son, Darryl (newcomer Deshae Frost), to his estranged, sick father's (Obba Babatundé, "The Bold and the Beautiful") re-entry into his life and the strained return of his older sister, Winnie (April Parker Jones, "Supergirl"), to the city, there is a sense that the impulse to protect Los Angeles goes beyond a moral sense of justice for the character.
It's a feature of the show that even permeates the character's romantic relationships, like Hondo's newest love interest, Nichelle (Rochelle Aytes, "Mistresses"), whom he meets when she helps save a man's life after a car accident. A community center director, Nichelle shares Hondo's love for the city, but having grown up in a more privileged area of Los Angeles, her background adds another dimension to their push-and-pull dynamic and helps paint a fuller picture of Los Angeles' culture and population.
In a show that has featured insane action sequences like shootouts with militant groups holding live streams to publicly execute politicians and hunts for escaped convicts with military weapons, "S.W.A.T." has made its way through three seasons and an overdone genre by highlighting the dynamics of Los Angeles itself, as well as the officers' personal lives. As Shemar Moore has said about the show: "Even though [the characters] come off as super cops, once you really get to understand them and see underneath the armor and the human side of us, we all have kryptonite." "S.W.A.T." airs Wednesday, Jan. 15, on CBS.