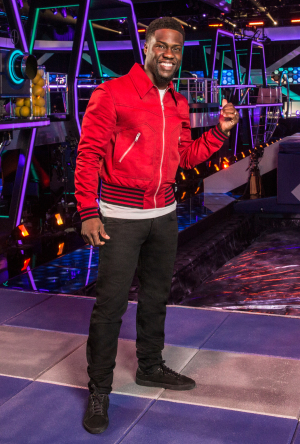 Kevin Hart hosts "TKO: Total Knock Out"
Knock this: Obstacle courses are definitely tricky, but sometimes the biggest obstacle of all is the other competitors. CBS's new summer series "TKO: Total Knock Out" may look like a typically entertaining obstacle course at first glance, but a closer look reveals the ultimate wild card.
Actor and comedian Kevin Hart ("Jumanji: Welcome to the Jungle," 2017) hosts the new series, which premieres Wednesday, July 11, on CBS, and runs throughout the summer. Each week, five new contestants tackle a cleverly designed obstacle course one by one, aiming to get to the finish line in record time. That's easier said than done, though. The obstacles themselves are tricky to get past, but they aren't even the real challenge: that distinction belongs to the other competitors.
While one contestant works his or her way through the course, the other four man a series of battle stations and use them to fire projectiles designed to slow down or even knock the racer off the course. With evocative names like "The Slammer" (a huge, swinging hammer) and "The Spiker" (a launcher that hurls giant balls with foam spikes attached to their sides), the various battle stations are ludicrous, over-the-top and specifically designed to give each racer a very hard time.
"TKO: Total Knock Out" definitely has shades of ABC's "Wipeout," a similarly over-the-top obstacle course series that ran from 2008 to 2014. "TKO's" additional element of the competitors working to sabotage each other definitely adds a new dimension to the genre, though, and it's one that's bound to inspire just as many laughs as it does gasps.
Join Kevin Hart when "TKO: Total Knock Out" premieres Wednesday, July 11, on CBS.
Winter is spreading: Westeros is getting bigger. "Game of Thrones'" eighth and final season isn't scheduled to premiere until sometime in 2019, but HBO is already developing plans for what will happen once the fantasy series wraps up.
Five potential spinoffs have been in the early stages of development for some time now, and the specialty channel recently put in a pilot order for one of them -- one of the first steps on the long road for a TV series to get made.
While it's very unlikely that all -- or even most -- of the possible spinoffs make it all the way to TV screens, it's clear that HBO is committed to continuing and expanding the series and is playing around with several ideas for how best to do so. The as-yet-unnamed pilot is set thousands of years before the events shown in "Game of Thrones" and reveals the story behind humanity's descent from a legendary golden age and the origins of the terrifying White Walkers.
The pilot comes from an idea developed by "Game of Thrones" creator George R. R. Martin and "Kingsman: The Secret Service" (2015) writer Jane Goldman, and will feature an entirely new cast of characters. That's reportedly the plan for all of the potential spinoffs -- while fans would undoubtedly love to see more of Tyrion (Peter Dinklage, "Three Billboards Outside Ebbing, Missouri," 2017), Daenerys (Emilia Clarke, "Solo: A Star Wars Story," 2018) and Jon (Kit Harington, "Pompeii," 2014), their stories will have been told once "Game of Thrones" wraps up next year.
A pilot is no guarantee that a series will be made, but with several "Game of Thrones" spinoffs in development, there's a strong chance that at least one of them will see the light of day. The story of Westeros, it seems, is far from finished.
Now you see him, now you don't: CW's "Legends of Tomorrow" is making some changes for its upcoming fourth season. The series, which is based on a cast of characters from DC Comics and set in the Arrowverse shared continuity with a number of other shows, has a number of casting changes in store.
"Love, Simon" (2018) star Keiynan Lonsdale has announced that he's stepping back from his role of Wally West/Kid Flash. His take on the superhero originated in "The Flash," another Arrowverse series, and he's since become a regular in both series, as well as a fan favorite.
The young actor isn't ruling out future appearances in either series, though, writing on his Instagram "...Wally West will still be 'round when you need him the most! It's just that I won't be full time anymore."
While Lonsdale is leaving open the possibility of returning as a recurring character, two other actors who've been recurring up until now have been promoted to series regulars. Matt Ryan ("Constantine"), who plays exorcist John Constantine, and Jes Macallan ("Mistresses"), who plays Ava Sharpe, will both be seeing a lot more screen time come season 4.
Lonsdale may be stepping back from his role in both "Legends of Tomorrow" and "The Flash," but neither series is losing him for good. Both superhero series are scheduled to return this fall on CW.