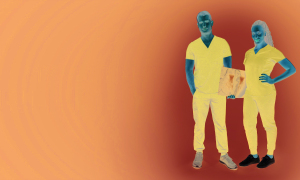 Dr. Brad Schaeffer and Dr. Ebonie Vincent from "My Feet Are Killing Me"
Fans of medical reality TV, be prepared to get swept off your feet: TLC's "My Feet Are Killing Me" is back for Season 3. It's cameras on for Drs. Brad Schaeffer and Ebonie Vincent as they solve some of the most confounding and extreme cases of podiatric problems we — and they — have ever seen. Sure to be a parade of rare and strange medical maladies, Season 3 premieres Wednesday, Aug. 4, on TLC.
"My Feet Are Killing Me" follows Dr. Ebonie Vincent at her West Coast podiatry practice in California and Dr. Brad Schaeffer at his East Coast practice in New Jersey. Despite their geographically distant locations, together the pair transform the lives of patients suffering from serious foot problems across the country.
The season premiere, titled "Hellish Horns," says it all. The first episode follows a man who is growing horns from his toes and a woman whose foot suffered major trauma when it went through a windshield.
Throughout the rest of the season, viewers are in store for feet with bark-like growths and a woman suffering from Olmstead Syndrome — a congenital disorder in which a person's skin grows and thickens abnormally.
The doctors will also treat a patient with a condition so rare that only a handful of people in the world have been diagnosed with it. (Audiences can only assume that whatever it is, one of the doctors will perform a life-changing procedure as they have been wont to do many times during past seasons.)
Drs. Brad and Ebonie and their teams have treated everything from bunions and ingrown toenails to plantar warts and extra toes since the series began last year. Viewers watched Dr. Brad treat one of the worst cases of foot fungus he's ever seen; people suffering complications from extra-long toes and large feet; and he's even worked with a patient who'd been giving himself amateur foot surgeries in his own bathroom.
Meanwhile, audiences have joined Dr. Ebonie as she has taught people how to walk again following their reconstructive procedures — some of them intensive surgeries on people whose feet are their livelihood: dancers and athletes. (Fans may remember the touching highlight from Season 1 when she delicately operated on a toddler born with 12 toes.)
And though the show may not tout her as one of the two main doctors, Dr. Sarah Haller has been an integral part of the series since Season 1 as well, having worked with Dr. Brad for years. She officially made her debut in Season 2, handling challenging post-op amputations and high-risk surgery. Following this procedure, Dr. Sarah quickly became a fan favorite, with many excited to see her return for Season 3.
As with other television programs in 2020, Season 2 of "My Feet Are Killing Me" looked different from what viewers are used to. The COVID-19 pandemic resulted in innovations in the telehealth field, and fans got a first-hand look at what it's like for patients with serious foot problems who have to meet over a camera.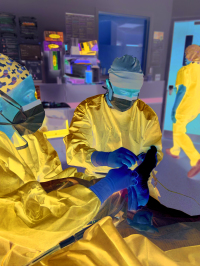 Dr. Sarah Haller and Dr. Brad Schaeffer operate in "My Feet Are Killing Me"
But these virtual consultations didn't stop progress. As patients lifted up their feet on one screen, the doctors gave feedback from another. We don't have any leads on whether the show will continue with this format into Season 3, but as with anything the doctors do, safety is a top priority.
This in mind, "My Feet Are Killing Me's" team of doctors and surgeons have tackled some pretty impressive podiatric puzzles — and, no, not just for the sake of TV. Dr. Ebonie even addressed this as she demonstrated how to wash up before surgery, which called out and put all other TV dramatizations of the process to shame. Like Dr. Sandra Lee from TLC's "Dr. Pimple Popper," the trio are certified medical professionals with years of experience and an impressive track record in the field.
Dr. Ebonie received her doctor of podiatric medicine degree at Des Moines University in Iowa and trained under some of the top professionals in adult and pediatric limb-lengthening practices, bone defects and foot deformities (among others). She holds several specialties, including diabetic limb salvage, minimally invasive surgical techniques and reconstructive foot and ankle surgery.
Dr. Brad has an equally impressive resume. Besides being a collegiate baseball athlete for three years, he received his doctor of podiatric medicine degree from Temple University School of Podiatric Medicine in Philadelphia before going through a rigorous residency program for foot and ankle reconstruction surgery. Now specializing in sports medicine, he was also a contestant on Dwayne "The Rock" Johnson's ("Jungle Cruise," 2021) "Titan Games."
After attending Columbia University in New York City for her bachelor's degree, Dr. Sarah Haller continued her education at Barry University School of Podiatric Medicine in Miami, where she received her doctor of podiatric medicine degree. She specializes in sports medicine and reconstructive surgery, with a focus on musculoskeletal deformities. Dr. Sarah also reviews medical journals, so it's safe to say that she's well respected in her field.
These podiatrists are the real deal, handling medical mysteries and debilitating conditions regularly. In other words, don't try anything they do at home in your bathroom — especially with what viewers get a glimpse of in the upcoming season premiere.
Be sure to catch Dr. Brad, Dr. Ebonie and Dr. Sarah when they each put their best foot forward in Season 3 of "My Feet Are Killing Me," premiering Wednesday, Aug. 4, on TLC.