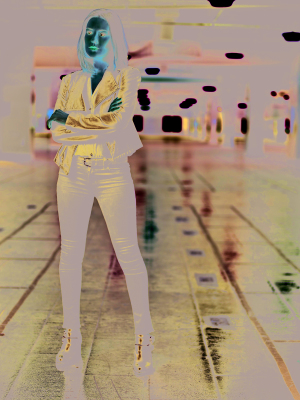 Megan Boone exiting "The Blacklist"
Keen to move on: "The Blacklist" has lost its leading lady, and now its creator, too.
The NBC series starring James Spader ("Boston Legal") was renewed for a ninth season in January, but by that time, Megan Boone ("Law & Order: LA") had already decided to leave her career-defining role (thus far) as FBI agent-turned-fugitive Elizabeth "Liz" Keen.
However, fans were kept in the dark -- they only found out last month, shortly before the Season 8 finale aired. And to avoid spoiling things for anyone who is a bit behind on episodes, let's just say the writers had enough time to give her character a proper send-off.
The day the finale aired (June 23), series creator/executive producer Jon Bokenkamp ("Taking Lives," 2004) took to Twitter to thank his leading lady: "Words can't express my gratitude, Megan. You have been an incredible collaborator, a tireless partner, and I couldn't be more proud of what we've built together. From the bottom of my heart, thank you for this incredible ride. I can't wait to see what you dream up next."
But the next day, Bokenkamp had a surprise announcement of his own: he, too, was exiting the show (and he, too, had been planning his departure for a while).
Like Boone, Bokenkamp explained his decision to leave arose from a desire to move on to new things. On Twitter, Bokenkamp explained, "It's time for me to step out of my comfort zone, try something new, and explore some of the other characters and stories that have been crawling around in my head."
So after eight years on "The Blacklist," what's next for Boone? It looks like her next role may keep her behind the scenes, having recently launched her own production company (Weird Sister) and signed a first-look deal with Sony Pictures Television.
As for "The Blacklist," only Spader, Diego Klattenhoff ("Pacific Rim," 2013) and Harry Lennix ("Man of Steel," 2013) remain as original cast members, while executive producer John Eisendrath ("Alias") will move from co-showrunner to sole showrunner for Season 9.
Lithgow's a go: Dexter Morgan (played by Michael C. Hall, "Six Feet Under") may have killed John Lithgow's ("3rd Rock From the Sun") character in the original "Dexter" series, but that won't stop the venerable screen star from popping up in Showtime's upcoming 10-episode revival.
Lithgow will be making a "short but decisive appearance" per Deadline, which broke the news.
Showtime didn't officially comment on the news, but it seems the writers have found a way to bring back the Trinity Killer without deviating from the larger narrative, which is quite the teaser for fans. Lithgow was only expected to be on the Los Angeles set for a day or so, so expect that "short but decisive appearance" to come in the form of a brief cameo appearance.
Already a multiple Emmy winner before "Dexter," Lithgow first appeared as Arthur Mitchell, aka the Trinity Killer, in 2009 during the fourth season opener. His character proved to be both a source of fascination and a formidable opponent to Dexter, who brutally murdered him in the finale upon learning of Mitchell's role in the death of Dexter's wife and the trauma inflicted upon his son.
The role earned Lithgow his fifth Emmy, as Outstanding Guest Actor in a Drama Series, and a Golden Globe, too. He went on to win another Emmy in 2017 for his turn as Sir Winston Churchill in Netflix's "The Crown," and that puts him one shy of tying Edward Asner's ("The Mary Tyler Moore Show") seven Emmy wins.
'Unknown' sequel: Liam Neeson ("Taken," 2008) is proof that age is just a number. The 69-year-old actor's latest action thriller, "The Ice Road," (2021) landed on Netflix last month, and he has several other projects in the works -- including an unexpected sequel to his 2011 film "Unknown."
In the original film, Neeson starred as Martin Harris, a doctor who suffers memory loss after a car accident. He wakes up to find his identity has been stolen, and he's now being targeted by mysterious assassins.
The sequel will pick up the story where the movie left off, although it will focus on a new lead character that suddenly finds themself thrust into an adventure filled with wild twists and dramatic turns.
But forget the box office: the story will play out as a one-hour drama series. Similarly titled "Unknown," the TV sequel will air on TNT, which has had a string of successes lately with two other offshoots of feature films: "Animal Kingdom" (based on the 2010 film) and "Snowpiercer" (based on the 2013 film and a 1982 French graphic novel). So, if the "Unknown" TV sequel proves to be a hit, we'll likely see this trend continue.
The 2011 film's director, Jaume Collet-Serra ("The Shallows," 2016), is currently attached to the project as both director and executive producer. It's worth noting that Collet-Serra previously directed several Neeson-led thrillers, so this TV sequel is a reteaming of sorts since Neeson is also on board as one of the executive producers, along with Ethan Erwin ("The Book of Eli," 2010), Alex Mace and Hal Sadoff of Dark Castle, and Erik Olsen ("The Dirt," 2019).
Sean Finegan ("Free Fall") has been tapped to write the pilot and serve as executive producer, while Karl Gajdusek ("Stranger Things") and Speed Weed ("Arrow") are the showrunners and, yes, executive producers, too.