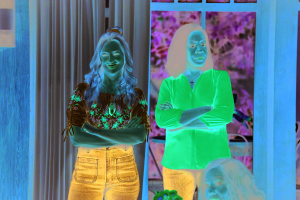 Beth Behrs and Tichina Arnold in "The Neighborhood"
The Season 3 premiere of the hit show "The Neighborhood" is airing Monday, Nov. 16, on CBS. And, if you haven't seen it yet, the premise is simple but hilarious.
A wholesome, outgoing, white, midwestern family moves from their friendly part of the country to settle in a rough-around-the-edges, historically Black neighborhood in Los Angeles. Hearing that his new neighbors, the Johnsons, have just moved in, Calvin Butler (Cedric the Entertainer, "The Soul Man") resolves to welcome the family. What he wasn't expecting, however, was to meet an overly friendly white man on the other side of the door. While the color of their skin didn't initially strike the Johnsons as a problem, they quickly learn that not everyone in their new neighborhood has the same experiences and perceptions of the world as they do. As the two families work together to find a common ground, a series of misunderstandings, suspicions and a healthy dose of perspective await them.
New to L.A., Dave Johnson (Max Greenfield, "New Girl") and his wife, Gemma (Beth Behrs, "2 Broke Girls"), may be far friendlier than what their new neighbors are comfortable with, but Dave, given his line of work as a professional mediator, simply doesn't see the racial differences as a problem. Resolved to navigate his way through any problems that come up, Dave quickly learns through an immersive experience that life isn't quite as simple for others as it has proven to be for him.
Fans of the show will be excited to know that all "The Neighborhood's'" main characters are expected to return for the upcoming new season. Not only are they all coming back, but Calvin and his wife, Tina (Tichina Arnold, "Everybody Hates Chris"), have somehow found themselves closer than ever to the Johnsons. Finally starting to see each other's side on many issues, the warm and fuzzy Johnson family has snuggled its way into the lives of the Butlers — though between stuck-in-his-ways Calvin and the realistic and focused Tina, the relationship still isn't without a bit of pushback.
Other regular characters in the show include Calvin and Tina's sons, Malcolm (Sheaun McKinney, "Vice Principals") and Marty (Marcel Spears, "The Mayor"), and Dave and Gemma's son, Grover (Hank Greenspan, "13 Reasons Why"), which helps to add a tone of generational complexity as we see how age, upbringing and life experience really can make a difference on a person's perspective.
Tackling many tough themes — first and foremost being racism and reverse racism — the show examines exactly what it means to "belong." "The Neighborhood" takes the sensitive topics and approaches them with an often other-the-top sense of humor, which is far more challenging than it sounds. The result of these efforts is a show that presents a lot of food for thought about the ways in which we relate to each other and our often-overlooked and under-considered biases. But make no mistake, this series is definitely a comedy.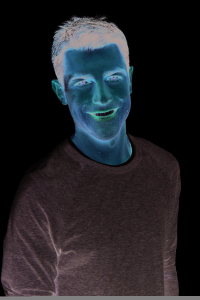 Max Greenfield stars in "The Neighborhood"
In the Season 3 premiere, the Butlers and the Johnsons unite stronger than ever when a member of their community is the victim of racial injustice. The show's creator and showrunner, Jim Reynolds ("The Big Bang Theory"), was recently quoted as saying, "We really have a responsibility to use our platform to say something — both to validate and honor the experiences of some of our audience, while also trying to give insight to and enlighten other parts of our audience." And so far, the sitcom has done just that.
Last season wrapped up with Dave running for city council. Having tried desperately to get Calvin's support for his campaign (Calvin happens to be a well-respected member of the local community), his efforts fell short as Calvin refused to believe that Dave had any real chance of beating the current incumbent, Isaiah Evans (Wayne Brady, "Whose Line Is It Anyway"). Completely in tune with his character, Dave was determined to prove Calvin wrong, but when a compromising photograph involving Dave's "Dukes of Hazzard"-themed 10th birthday party and a Confederate flag birthday cake mysteriously comes to light, it threatened to derail Dave's campaign completely.
Naturally, by the end of Season 2, the photo of the cake had not been well received by the local voters, and Dave's run for office stood seriously under threat. Is it possible that Isaiah had a hand in the photograph's mysterious and timely appearance? Regardless of who leaked it, Calvin — knowing that Dave is absolutely not a racist — winds up defending his neighbor to the outraged community, going on to give Dave his all-important endorsement.
Birthday parties shouldn't be contentious, of course, but tackling the subject of racism as signified by the Confederacy was a bold move, given the U.S.'s current and past political climates. "The Neighborhood" is a show that refuses to shy away from real-life controversy, even as a comedy. Last season's series finale, "Welcome to the Campaign," was well-received by critics, and Wayne Brady's addition to the cast proved to be a successful move.
Despite the fact that viewers have given the show mixed reviews since its debut, many of the fans are clear: "Forget the critics, watch the show!" Some viewers have even mentioned that the show gave them a way to approach the subject of race and prejudice with their own families.
More generally, "The Neighborhood," delivers a variety of important messages, the main one, of course, being that we must not simply co-exist but that each person, no matter their background, brings something unique and important to the table. This comedy allows its viewers to realize that diversity encourages us to be better people and better neighbors.
The upcoming Season 3 premiere will take a closer look at the ways in which an entire community is affected when racially motivated crimes are perpetrated against one of its own. This true-to-life approach may make some viewers uncomfortable, regardless of race or experience, and the reality of it is that perhaps not everyone will be open to that kind of head-on problem solving. But, by balancing truth with comedy, the show's intent is to educate as well as to entertain.
Fans of the show won't have to wait much longer to see how things pan out for everyone in "The Neighborhood." The eagerly anticipated season premiere airs Monday, Nov. 16, on CBS.