Kumail Nanjiani in "Welcome to Chippendales"
Everyone, please welcome to the stage the latest true crime-based drama miniseries, "Welcome to Chippendales!"
Premiering Tuesday, Nov. 22, on Hulu, the series stars Kumail Nanjiani ("The Big Sick," 2017) as Chippendales founder Somen "Steve" Banerjee, following the entrepreneurial businessman as he builds his male revue empire and becomes embroiled in shocking crimes along the way.
The storied history of the Chippendales dancers begins in 1979 when Banerjee attempts to bring in more female patrons to his Los Angeles club by introducing a male striptease troupe into the club's social calendar. When the concept takes off, Banerjee enlists the help of club promoter Paul Snider, portrayed by Dan Stevens ("Legion") in "Welcome to Chippendales," who flips the idea to another choreographer. Snider's involvement sets off a series of events that leaves several people in the Chippendales orbit dead.
The choreographer Snider lets in on the revolutionary new exotic dance format, Emmy-winning producer Nick De Noia, is portrayed by "The White Lotus" star Murray Bartlett, whose character is yet again doomed from the start in "Welcome to Chippendales."
The miniseries is based on the true events documented in the book "Deadly Dance: The Chippendales Murders," by K. Scot Macdonald and Patrick MontesDeOca, so for those who have yet to read the book or old news releases, please beware of spoilers ahead.
After several tenuous years as business partners, with De Noia handling the company's touring performances and Banerjee fuming over the legally binding cocktail napkin contract they signed, De Noia is killed in his New York City office in 1987. Given the nature of their relationship, Banerjee is high on the suspect list.
It won't be long, however, until tragedy strikes nearly every person involved in the early Chippendales days, leaving devastation that has had true crime fanatics' eyeballs glued to the story for decades.
There is so much more to the story than the business dealings between Banerjee, Snider and De Noia, and the rest of the cast filling in the "Welcome to Chippendales" tale is packed with Hollywood star power. Annaleigh Ashford ("American Crime Story: Impeachment") plays Banerjee's wife, Irene; Juliette Lewis ("Yellowjackets") stars as passionate Chippendales patron Denise; Quentin Plair ("Roswell, New Mexico") takes on the role of Chippendales dancer Otis; stage and screen star Andrew Rannells ("Black Monday") portrays a club investor; Robin de Jesus ("Law & Order: Special Victims Unit") is Banerjee's accomplice, Ray Colon; and Nicola Peltz Beckham ("Bates Motel") stars as Playboy model and actress Dorothy Stratten.
Nanjiani's portrayal of Banerjee, however, is one of the biggest draws to the series thus far, as it's a far cry from his usual repertoire of the quirky, funny guy (such as Dinesh in "Silicon Valley" and Jibran in 2020's "The Lovebirds"). This switch in character even necessitated a change of posture that gave Nanjiani a constant reminder of the serious, unsatisfied character he had to become during filming.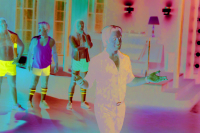 Murray Bartlett in "Welcome to Chippendales"
In an interview with E! Online, Nanjiani said he developed a knot in his shoulder while embodying Banerjee onscreen and decided, "That's where Steve lives. I can't get rid of this knot until I wrap."
Later in the interview, Nanjiani notes his Banerjee has a "certain kind of masculinity" that presents in "aggressive, even violent ways ... if you're not processing your sadness or your fear." He also added that his take on the Chippendales founder is "a guy who was completely cut off from his inner life, from his emotions. He's very scared of what he is and he doesn't like himself."
In contrast to Banerjee's insecurities, Bartlett told E! that his take on De Noia has an easy confidence that his business partner lacks.
"I think it's a little infuriating to Steve [Banerjee] because he's really disconnected from his body," Bartlett said. "You can see he's very stiff, whereas Nick [De Noia] is very fluid and comfortable with movement."
Those more removed from the true crime sphere may even find this story familiar. The tragedies that followed those at the top of the Chippendales empire have been entertainment fodder since they were first reported. Takes on the events were adapted into the 2000 TV movie "The Chippendales Murder," featuring "The Dropout" star Naveen Andrews as Banerjee. More recently, the podcast "Welcome to Your Fantasy" detailed the rise and fall of the empire.
What drew "Welcome to Chippendales" writer and creator Robert Siegel ("The Wrestler," 2008) to the tale wasn't that an adaptation was lacking, but that there was still more ground to till.
With the recent Hulu hit "Pam & Tommy" under his belt, Siegel has become motivated to take on more real-life stories, and he was quickly taken with Banerjee's story.
"It hit a lot of my pleasure buttons," Siegel told Vanity Fair. "It felt like 'Scarface' or 'Goodfellas' or 'Boogie Nights.' ... It's bad people doing bad things. But what differentiates it from another wannabe Martin Scorsese movie is that you take out Tony Montana and put in this nerdy, socially awkward Indian immigrant."
Don't miss the first two episodes of "Welcome to Chippendales" when they premiere Tuesday, Nov. 22, on Hulu.