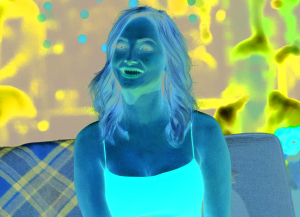 Clare Crawley appears in "The Bachelorette"
It's complicated: So. Much. Drama. That's the simplest way to describe what's been going on behind the scenes of the upcoming season of "The Bachelorette."
It looks like Season 16 will break with tradition by featuring two Bachelorettes: Clare Crawley, the previously announced Bachelorette, and, unexpectedly, Tayshia Adams.
This is bigger news than Crawley throwing shade on Twitter or doing some online sleuthing to learn about her suitors (those didn't go over well with Bachelor Nation). And it comes amid rumors that Crawley's pandemic-delayed quest for love was a little too successful -- or rather it was successful too soon.
Crawley allegedly exited the show just two weeks into filming after a suitor, said to be Dale Moss, quickly won her heart. And it wasn't long before Adams, already a Bachelor Nation favorite, was spotted on location at the La Quinta Resort and Club in La Quinta, California, where the cast and crew have been filming in a quarantine bubble.
Instead of tossing all that footage of Crawley interacting with her suitors, producers have opted to lead with her short-lived journey before switching to Adams' quest for true love.
And speaking of quarantine, for the first time in the franchise's history, a replacement had to be brought in for longtime host Chris Harrison. Before cameras started rolling, the entire cast and crew had to quarantine on location for 14 days, but Harrison was asked to self-isolate for another 14 days after dropping his son off at college mid-production. Season 12 Bachelorette Jojo Fletcher, whose June wedding was postponed due to the pandemic, filled in for Harrison, who was able to film the final episodes of an already memorable season.
It's 'Tool Time': History (the channel) seems to be in a "rebuild" mode, and executives have called in Tim "The Tool Man" Taylor to help them out.
That's the character played by Tim Allen ("Last Man Standing") in the 1990s sitcom "Home Improvement," which ran for eight seasons on ABC. The series featured a show-within-a-show, "Tool Time," which was hosted by Allen's character and Al Borland, played by Richard Karn (Hulu's "PEN15").
It's been over 20 years since the series wrapped, but nostalgia is running high because Allen is still fielding questions about a possible reboot. It's all just talk at this point -- after all, Allen is busy with "Last Man Standing," which has been renewed for a ninth season.
But fans, take heart: History has greenlit a new TV project that might be the next best thing to a "Home Improvement" revival.
Allen is set to re-team with Karn in "Assembly Required" (working title), an unscripted building series that celebrates the can-do spirit. In each of the 10 episodes, Allen and Karn will step into the workshop of one the country's top builders to watch them renew household items that need some serious fixing.
"We're living in a throwaway society," Allen said. "We buy, break, replace ... rinse and repeat. Whatever happened to repair and rebuild? There are some people who unfriend, unfollow and dispose of anything that offends, annoys or breaks, so I've created a show to remind people of the satisfaction and pride that comes from rebuilding something on their own. And who better to join me than my buddy from the old 'Tool Time' days: Richard Karn."
This is a competition series, so these builders won't be tasked with just fixing or rebuilding an item -- they'll have to build it better. And, seeing as it's a History series, Allen and Karn will also talk about the story behind each item, the people who originally crafted them and the techniques they used. Look for this series to air sometime in 2021.
It's on: Hollywood is champing at the bit to bring you a dramatized retelling of "Tiger King: Murder, Mayhem and Madness," which was a huge hit for Netflix earlier this year.
There are currently two high-profile adaptations in the works, but in this race to big ratings numbers, NBC and Kate McKinnon ("Saturday Night Live") might have the edge.
McKinnon's project, "Joe Exotic" (working title), recently received a straight-to-series order from NBCUniversal. It's not your typical series order, either -- it's a cross-platform order, which means "Joe Exotic" will air on NBC (broadcast), USA (cable) and Peacock (streaming).
It's worth noting that "Joe Exotic" was pitched last fall, before the docuseries premiered. It's based on the second season of the Wondery podcast "Over My Dead Body," which focused on Carole Baskin's battle to end big cat ownership and her escalating clashes with exotic animal lover Joe "Exotic" Schreibvogel.
McKinnon is attached to the limited series as both executive producer and cast member, and she'll be playing the role of Baskin. The story will chronicle Baskin's attempts to shut down Schreibvogel's zoo and breeding operations, resulting in a shocking turn of events. No news yet on who will play Joe Exotic, who (spoiler) was given a 22-year prison term for hiring a hitman to kill Baskin.
As for Baskin, the big cat sanctuary owner has been in and out of the news since the documentary dropped on Netflix. She's been critical of the way she was portrayed in the film and with its examination of her former husband's disappearance (Baskin is now facing a lawsuit filed on behalf of his family). It will be interesting to see what Baskin thinks of McKinnon's take on her story, especially after Baskin stated in an interview that the actress has yet to reach out to her.