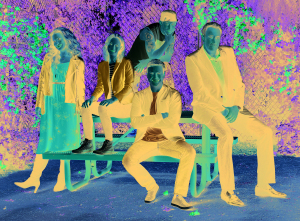 Kimrie Lewis, Leighton Meester, Jake Choi, Taran Killam and Brad Garrett star in "Single Parents"
This isn't your average TV family. "Single Parents" is a new ensemble comedy from ABC that centers around the lives of an unlikely group of friends who come together over their shared single-parent experiences. The premise of the series fills a consumer craving for on-screen representation of less-conventional family structures.
The idea of a cobbled-together support network made up of wildly divergent personalities is one that readily lends itself to slice-of-life comedy. Earlier this year, ABC picked up the series created by "New Girl" collaborators Elizabeth Meriwether and J.J. Philbin. By the fall, the show had been so well received that the network ordered an additional nine episodes, bringing season 1 to an anticipated 22 episodes. You can get in on the hype when a new episode airs Wednesday, Dec. 12, on ABC.
The series begins when the lead character, Will (Taran Killam, "Saturday Night Live"), moves to a new neighborhood with his daughter, Sophie (newcomer Marlow Barkley), who ends up in the same second-grade class as the children of other single parents. The rest of the titular squad consists of frazzled paralegal Angie (Leighton Meester, "Gossip Girl"); the empathetic Poppy (Kimrie Lewis, "Peeples," 2013); straight-laced Republican Douglas (Brad Garrett, "Everybody Loves Raymond"); and young DJ Miggy (Jake Choi, "Front Cover," 2015), who has a baby, not a second grader, but he melds with the rest of the group by virtue of his friendship with Poppy.
The established clique decides to take Will under their collective wing when they perceive that, after being ensconced in bachelor fatherhood for so long, he is woefully out of touch with his adult identity. Thus begins the day-to-day journey of surviving parenthood alone, together. The show recognizes the borderline corniness of its premise and takes the necessary moments to poke fun at its own overbearingly wholesome "it takes a village" ethos (even the kids let out a collective "ugh" when Will describes the group this way).
Of course, the main appeal of "Single Parents" is the creators' decision to tell a story that gives the spotlight not to the typical nuclear family model, but to the underexplored chaos and hilarity of raising a child while single. In an interview with AV/TV Club, creator Meriwether and writer Philbin explained the process that went into deciding the subject matter of the show.
As their first collaboration, "New Girl," came to a close this year, the characters they had been following since 2011 were beginning to embark on new life experiences, including having children. As a result, Philbin and Meriwether opened up about their own parenting experiences in the writing process, which led to the birth of a new project idea: the exploration of family narratives through the vulnerability of single parenthood. Reflecting on all the potential for juicy material inherent in this idea, Meriwether said, "If all the characters are single, we can tell dating stories and we can tell our crazy family stories! And married parents are kind of smug and boring."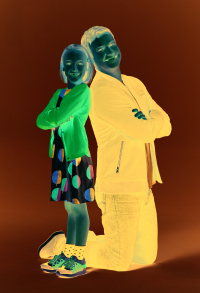 Marlow Barkley and Taran Killam as seen in "Single Parents"
Choosing to depict the story of one big, happy, thrown-together, dysfunctional "family" has allowed the writers some creative freedom in displaying the complicated relationships between parents and their kids. Angie and her son, Graham (Tyler Wladis, "A Christmas Story Live!"), for example, experience mutual sleepover anxiety when Graham is nervous to spend the night somewhere away from home, while Angie is apprehensive about spending the night with a man.
The show is also proving its relatability, thanks to the ways in which the cast members have been able to connect with their characters. In an interview with Glamour, Meester commented that she "can only imagine [that single parenting] is the hardest job in the world, because being a parent is the hardest job in the world."
Meester also believes that, beyond its relatable entertainment value, the content of "Single Parents" reflects an important shifting social awareness about non-nuclear families and the candid ways in which they are beginning to be represented on the screen. "We still aren't forgiving enough of ... working mothers," she said. "Playing this role definitely enlightened me."
Similarly, Choi has expressed delight in playing a misfit single father, since he grew up with the cultural dissonance of being raised in America by a single, first-generation Korean mother.
"Single Parents" is at once a lighthearted, irreverent comedy and a collection of stories that strike deeper chords about the meaning of family and the importance of having support networks, however unconventional they may be. If you're ready to delve into some entertaining family dysfunction, catch the next episode of "Single Parents" when it airs Wednesday, Dec. 12, on ABC.