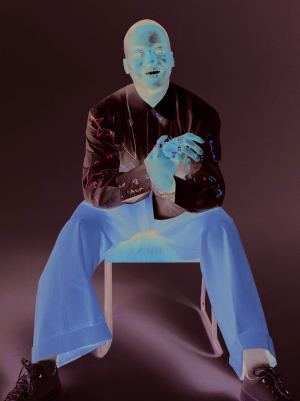 Ncuti Gatwa to star as next Doctor in "Doctor Who"
'I'm the Doctor': Fans of "Doctor Who" are a patient lot, given the often-long gaps between seasons, but that patience has always been rewarded. And indeed, good things seem to be on the horizon for fans of the long-running BBC series.
Back in May, returning showrunner Russell T. Davies announced Scottish-Rwandan actor Ncuti Gatwa ("Sex Education") had been selected as the next TARDIS-traveling Time Lord. He'll be taking over for the current Doctor, Jodie Whittaker, whose four-year tenure ends next month with a 90-minute episode that is part of BBC's centenary celebrations (hence its title, "Centenary Special").
"Ncuti dazzled us, seized hold of the Doctor and owned those TARDIS keys in seconds," Davies stated when Gatwa's casting was announced. "It's an honor to work with him, and a hoot. I can't wait to get started. I'm sure you're dying to know more, but we're rationing ourselves for now, with the wonderful Jodie's epic finale yet to come. But I promise you, 2023 will be spectacular!"
It was recently announced that Gatwa's first season as the 14th incarnation of the Doctor should begin filming this November, though it's unlikely to air until 2024 (sorry, fans).
However, there has been speculation that the BAFTA winner might make an appearance in the 60th anniversary special planned for 2023. The special will bring back former companions Bernard Cribbins and Catherine Tate (aka Donna Noble), as well as David Tennant, who played The Tenth Doctor under Davies' original stewardship (2005-10).
The special will also feature Neil Patrick Harris ("Uncoupled") as "the greatest enemy the Doctor has ever faced," and his comments may have sparked much of the speculation that Tennant's incarnation may regenerate into Gatwa's, according to The Hollywood Reporter (which also speculated that there may actually be up to three specials in the works).
"I got to meet and interact with him a bit and he's glorious," teased Harris in a recent "Just for Variety" podcast.
He went on to casually drop the big news that "Doctor Who's" first Black lead will also be "the first gay Doctor, which is going to be super cool — a sexier Doctor."
Deep Wood: Season 2 of "Yellowjackets" was scheduled to begin filming a few weeks ago and its cast will include one new, but very familiar, face.
"Lord of the Rings" alumnus Elijah Wood (yes, Frodo Baggins himself) is set to play a season-long guest role in the Emmy-nominated drama about the survivors of a plane crash and their experiences while stranded deep in the Ontario wilderness (though many of the scenes in Season 1 were shot in and near Vancouver, British Columbia).
Showtime hasn't revealed many details, but it did say that Wood will star as Walter, a dedicated citizen detective who will challenge present-day Misty (played by Christina Ricci, "Casper," 1995) in ways she won't see coming.
Wood isn't the only new face in Season 2, either.
Simone Kessell, who played Breha Organa (Princess Leia's adoptive mother) in Disney 's "Obi-Wan Kenobi," will play the adult version of Lottie Matthews; Courtney Eaton ("Line of Duty," 2019), who plays the teen version of Lottie, has been upped to series regular.
"Six Feet Under" star Lauren Ambrose will play the adult version of Vanessa "Van" Palmer, played as a teen by Liv Hewson ("Santa Clarita Diet"). Hewson was also upped to a series regular this season, so it stands to reason that these characters will figure more prominently in upcoming storylines.
Aidan returns: Will he or won't he? "Sex and the City" fans have been wondering if Carrie Bradshaw (Sarah Jessica Parker, "Hocus Pocus," 1993) and her one-time fiancé Aidan Shaw (John Corbett, "Serendipity," 2001) would ever cross paths again, especially after that (unlikely) run-in in Abu Dhabi in the second "Sex and the City" movie (2010).
In 2021, Corbett told Page Six that he had agreed to reprise his role in HBO Max's "And Just Like That…" and that "I might be in quite a few" episodes. But according to Parker, Corbett was just joking around, and fellow executive producer Michael Patrick King later commented that affable Aidan's return was never really part of the plan for Season 1.
"This season was a lot," King said in an interview with People. "We wanted to get her [Carrie] through this and into the light ... We wanted to get her out. [Aidan's return] is a big storyline that everybody at home wrote that we had never intended."
Things might be different for Season 2, however.
According to Deadline, Corbett's laid-back furniture maker will not only be reunited with his on-off girlfriend, but the actor is also "set for a substantial, multi-episode arc."
That said, reps for both HBO Max and Corbett did not comment on the story, so viewers will have to wait and see how/if the reunion will play out onscreen.
In the meantime, Corbett fans can expect to see him reprise another iconic role in the third "My Big Fat Greek Wedding" movie, which recently wrapped production in Greece.