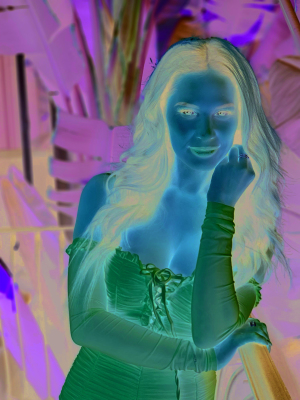 Rocsi Diaz hosts "Alter Ego"
Fans of Fox's "The Masked Singer" are going to love this one.
Fox is excited to announce the series premiere of a brand-new singing competition, "Alter Ego." The show is a one-of-a-kind concept, merging technology and traditional competition rules. So what's the connection between "The Masked Singer" and "Alter Ego"? The singers perform behind a persona.
While "The Masked Singer" has the performers dress up in identity-concealing costumes, "Alter Ego" sees the competitors design their own avatar, which they control from behind the scenes as they perform.
Catch the premiere Wednesday, Sept. 22, on Fox, right after the Season 6 premiere of "The Masked Singer."
Hosting the series will be producer, actress and Emmy winner Rocsi Diaz ("Always and Forever," 2020).
This is not Diaz's first stint as a TV host: in 2016 she hosted "Dating Naked" (similar to "Naked and Afraid" without the survivalist spin) and was one of the hosts of "Cha@tter" in 2018. TV viewers may best know her for her seven years as a correspondent on Entertainment Tonight, however.
Her charming, straightforward and charismatic personality is sure to drive the show forward, bringing contestants, judges and the audience together under one roof.
Speaking of judges, "Alter Ego" has an absolutely stellar lineup with two major names hailing from Canada. Can you guess? "You Oughta Know" that perhaps the most exciting name on the judge's panel is none other than seven-time Grammy-winning singer-songwriter and Ottawa native Alanis Morissette ("The Price of Desire," 2015).
This is the 1990s alt-rocker and angsty music queen's first time sitting as a judge, but certainly not her first time on screen. Appearing as everything from God in the Kevin Smith comedy "Dogma" to Dr. Audra Kitson in the Showtime comedy "Weeds," Morissette has also made several appearances in beloved series "Degrassi: The Next Generation," "Sex and the City" and "Curb Your Enthusiasm." She currently voices a recurring role on the animated sitcom "The Great North."
The other representative from Canada is producer, songwriter, singer and visual artist Grimes. Best known for her synth-pop and experimental music, the artist received a Juno for Electronic Album of the Year with her 2012 album "Visions."
Joining the two Canadian songstresses are some other big names in the music industry, with TV personality, actor and singer Nick Lachey ("Rise: Blood Hunter," 2007) — best known for his heartthrob role in the multi-platinum boyband 98 Degrees — among them.
From his first reality show, "Newlyweds: Nick and Jessica," in 2003 to hosting Nickelodeon's musical competition "America's Most Musical Family," Lachey is definitely qualified to be a judge with personality. He even appeared as Piglet in "The Masked Singer," so he's already fairly familiar with the concept of an alternate-identity singing competition. Lachey knows what audiences want, and he knows how to spot talent.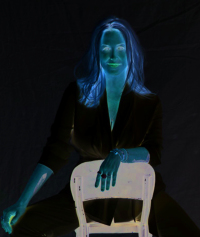 Alanis Morissette serves as a judge in "Alter Ego"
Last, but certainly not least, is one of the biggest names in American music today: multi-Grammy-winning singer/songwriter will.i.am, whose hip-hop group Black Eyed Peas defined a generation of music.
He parted from the group when they announced a hiatus in 2011 to pursue a successful solo career, produced Fergie's first solo album and has since collaborated with industry names Britney Spears, Alicia Keys, Jennifer Hudson, Shakira and the late Michael Jackson.
Will.i.am also has plenty of experience in made-for-TV music competitions, which puts him ahead of most other judges in what to expect from avatar-disguised competitors. He has appeared as a coach on "The Voice" in both the U.K. and Australia.
A star-studded ensemble, to be sure.
Fortunately for audiences, Fox's series trailer offers a look at what can be expected of these avatars. Resembling video game and anime characters, contestants are not limited to human features. They can be pink, purple or green, have wings and sparkles, and even sport flames of passion in their eyes.
It may be strange to say of a music competition, but the addition of this avatar technology feels like the beginning of a highly futuristic trend. Instead of masking oneself in costumes, like in "The Masked Singer," these avatars reflect the personalities of the singers rather than hiding them. It's an alter ego, not a disguise.
In many cases, these avatars are what the contestants want to be.
Unlike "The Masked Singer," these competitors are not celebrities, they're real people. The series emphasizes that the competitors are from all walks of life, each pursuing a second chance to follow their dreams. The avatar is a way to reinvent themselves, starting fresh with an image or persona they want people to see.
While smaller details of the show will certainly develop over time, the fact that each contestant has a past in the industry means that the series is bound to share many of their backstories. No performance-style competition is complete without inspirational, heartbreaking and emotional stories, right?
"Alter Ego" has a touch of redemption, a bit of whimsy, a whole lot of tech and some major star power. Catch the series premiere Wednesday, Sept. 22, on Fox, after the Season 6 premiere of "The Masked Singer."